also known as Somdet Phra Narai National Museum
This museum was established in 1923 near the royal palace (known as PhraNaraiRatchaniwet) as a collection of exhibition halls. Currently, three historical buildings serve as museums to display a variety of objets d'art, including an impressive collection of Lop Buri-style sculptures and Khmer, Dvaravati, U-Thong and Ayutthaya artwork. Shadow puppetry exhibits are also on display, along with a variety of other art genres. There is a particular focus on the arts and lifetyle of Thailand's central region in several of the exhibits. Another exhibit is dedicated to the life and accomplishments of King Rama IV.
The museum is open every day from 9.00 am-4.00 pm, except for Mondays, Tuesdays, and public holidays. The entrance fee is 30 baht. For further information, please contact 0 3641 1458.

King Narai's Palace (พระนารายณ์ราชนิเวศน์)

Check in S.M.
 show some Social Media love ......
  all channels, best hashtags
like, review, a tag, share 
just do it !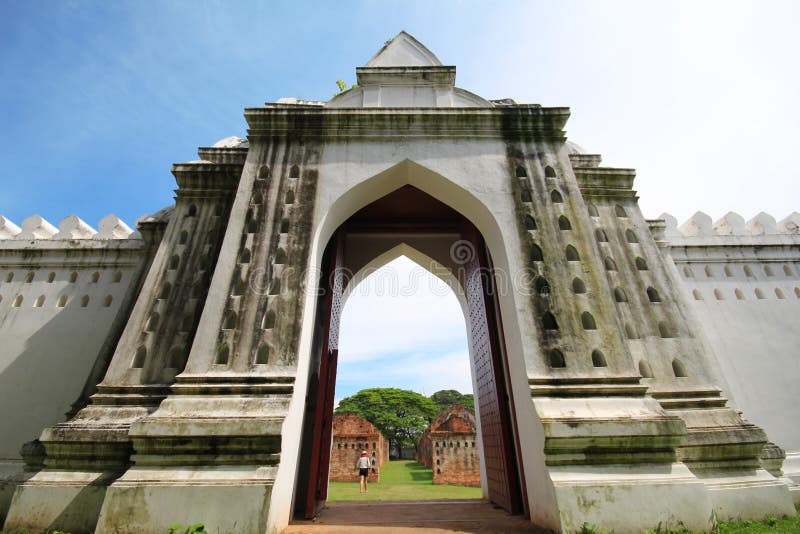 Location
ถนน สรศักดิ์ Tambon Tha Hin, อำเภอ เมืองลพบุรี Chang Wat Lopburi 15000
Google map link in SM menu for GPS navigation
Bookings
check the prices from the various online booking services 
Accredited Viator (TripAdvisor) topic:  
Lopburi
   I  
Youtube

below -

external link


shorter version
Video 360 spherical
Video scene: arrive, walk and fake it out all around .. lol  
note: if the youtube screen does not show spherical then copy and paste (right click copy) the link into your mobile app browser
This video was made with material from Theme tour BUP PE SAN NIVAS - details 
Options 
Social media hub this page 
360 Spherical photos
Best view with smartphone.
why:
VR: Virtual Reality effect, 
turn device at any angle or better turn around while holding the device for 360 / Spherical view, 
about 360 Spherical Photo apps
Note: Images are hosted in different sites for different effects
Site: Theta:  
Powerful zoom in / out
click a thumbnail to watch in 360 
  - 
have fun morphing the images
Theta site lets you change the display styles - see options below images in Theta site or  

Virtual Tour
images are 360 Spherical
Tour covers: 
The King Narai's Palace (Thai: พระนารายณ์ราชนิเวศน์; RTGS: Phra Narai Ratchaniwet) in Lopburi was built by King Narai the Great, the king who ruled Ayutthaya from 1656 to 1688. He ordered the palace built in 1666 in the same area as King Ramesuan's Palace. King Narai stayed here for about 8–9 months a year, except during the rainy season. He designated Lopburi as the second capital of the Ayutthaya Kingdom. The palace was a place for relaxation, hunting, administering the country's affairs, and welcoming official visitors. When the king died in 1688, Lopburi and the palace were abandoned.
King Mongkut (Rama IV) of Rattanakosin ordered the restoration of King Narai's Palace. He built a new throne hall complex (Phiman Monkut Pavilion) for his stay in 1856. He also renamed the palace Phra Narai Rajanivet. During King Chulalongkorn's (Rama V) reign, Phiman Mongkut Pavilion, which had been King Mongkut's accommodations, was given to the government to use as the Lopburi City Hall. On October 11, 1924, Prince Damrong Rajanubhab and Prince Narisara Nuvadtivongsopened the Chantarapisarn Pavilion in King Narai's palace as a museum, calling it the Lopburi Museum. Later, in 1961 the name of the museum was changed to Somdet Phra Narai National Museum. To date, the museum has exhibited more than 1,864 items of the collection of ancient artifacts in different pavilions and buildings of the palace.
Street view
Starting point:  Entrance 
Street view map tips summary
Desktop:  F

ullscreen: Icon top right | Arrows: direction; click to move | 

White frame on cursor: click to jump or zoom  

| Reposition: drag street Icon (orange person)

Smartphone: get Google street view app
Hotels nearby
Social Media
SM channels & hashtags below
Like, review & share
your network will see your post when they visit the channel
more channels below.....  
SM channels
show the love... like, share and stuff 
do more ..
Copy the media hub link / hashtags (above) and paste to your
post (Hashtags 
group posts into a stream
 ... cool!)
Pls share me
Tip: Copy & paste these hashtags & web page url into your post for search match



King Narai palace in Lopburi of period 1660 became a National Museum in 1993, the spacious grounds, parks, gardens are inviting for photos as is the history of the Palace and supporting buildings, SM hub https://goo.gl/bjXc4o

BEST HASHTAGS
#KingNarai   #NationalMuseumKingNarai   

#

BkkAchiever   #BpacApproved

  #

TourZoneLopbur

i 

 

#Thailand 





live hashtag links: click on a live hashtag link below to see how it works


How to use Hashtags for Social Media

Tour zones
Buy us a coffee
when I roam around town with a few bags of camera gear, phones and compass I get tired 
ultimately I prefer support for visit my local charity project 
Join our Community
Tourism Bangkok
Other stuff
Recommended Events
Places visited  
Where we have been link
why try .. . see places of interest, sort table by any column
Bangkok Hospitality & Tourism
Donate Photos, videos to to our Community Groups
Become a Roaming reporter
how it works
News