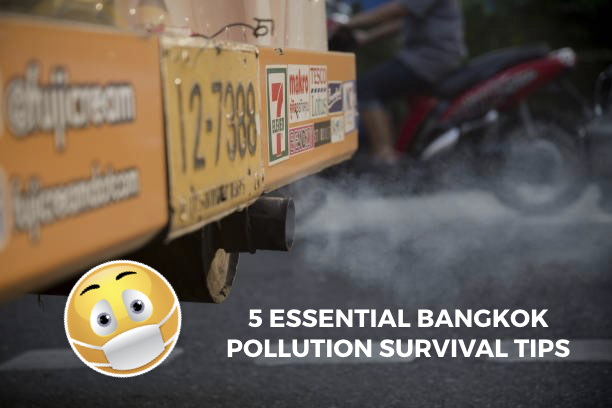 FAQ
Should you wear a mask in Bangkok?
Wear a Mask – If the pollution in Bangkok is causing you respiratory problems then, by all means, wear a mask outside. Just make sure you buy one of the heavy-duty masks that actually do filter out pollution, as the flimsy cloth masks you'll see a lot of Asians using in heavy traffic don't do anything.
Why do people wear face masks in Bangkok?
BANGKOK (THE NATION/ASIA NEWS NETWORK) - As high-quality face masks to protect users against dangerous smog are in short supply, research found that common face masks with several levels of additional tissue paper or a folded handkerchief inside may suffice to protect Bangkok residents from small airborne dust


Does mask help in pollution?
Simple paper dust masks are largely useless when it comes to lessening air pollution exposure. ... While N95 masks do not remove harmful gases from the air, they can be combined with features such as activated charcoal that also reduce exposure to gases


Why do Thai wear masks?
Covering the face with scarves and masks became an attempt to fend off the Influenza epidemic in the early 1900s. In 2002, Thailand experienced the SARS outbreak followed by 2006 Bird Flu panic. So, the face mask went viral again. Actually, surgical masks provide minimal protection from environmental viruses.Sep 22, 2017


Are n95 masks effective?
N95 Respirators. An N95 respirator is a respiratory protective device designed to achieve a very close facial fit and very efficient filtration of airborne particles. ... However, even a properly fitted N95 respirator does not completely eliminate the risk of illness or death.May 15, 2018


Blue= Virus   Pink= bacteria   Orange= Dust & Pollution    Green=  Pollen

credit dept of health Thailand 
Survival guide
source
Bangkok's rising levels of air pollution.
Hovering between 100-200 recently. This has us in the 'unhealthy for sensitive groups' range on good days, and plain, straight-to-the-point 'unhealthy' on bad days.
QUICK SCIENCE: The measurement most commonly used for harmful air pollution refers to "PM (Particulate Matter) 2.5", 
which are particles that are 2.5 microns in diameter or smaller. These are particularly dangerous because they can get lodged in the lungs and cause long-term health issues.
Here's a summary to what the numbers mean for air quality: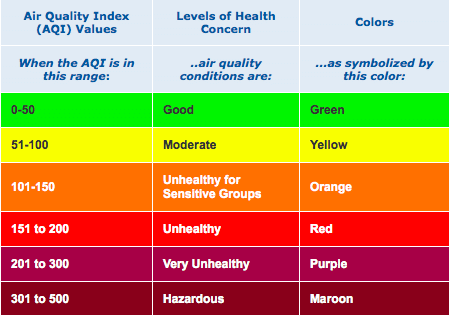 On the bright side, it could be worse: 
Onitsha in Nigeria is 594 which is literally off the scale and reportedly the cockroaches are even wearing face masks.



Then again, Auckland in New Zealand was 6 today, so I'm already making my retirement plans.

We always knew that Bangkok's air was never going to be as clean as the Amazonian rainforest but when it reaches these levels, measures should be taken to keep as safe and as healthy as possible.

Ideally you should move to Hawaii, but if that's not an option here are BASE's 5 tips to surviving Bangkok's air pollution:
Wear effective protection

Paper masks, sleeves or bandanas DO LITTLE 
to protect against the harmful micro-particles 
that cause the most damage so whilst you may feel 'protected', 
this isn't really the case.

Use masks designed for industrial use that offer stronger protection such as N-95 or P-100 masks.
For your best Bangkok option we recommend these US-made face masks: the
N-95 mask
and
this R-95 mask
from Paleo Robbie.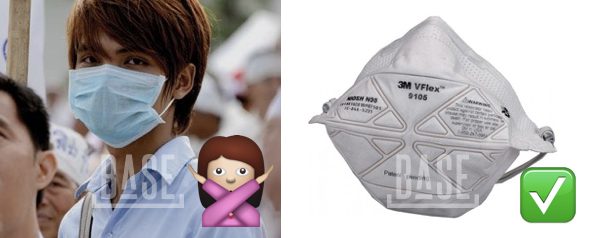 Use apps to monitor pollution levels
Pollution levels will go down day to day, hour to hour, so keep track of what's going on outside and make an informed decision about whether to exercise or go out.
We recommend the
Air Visual App
. This is what the app told us was happening in Bangkok today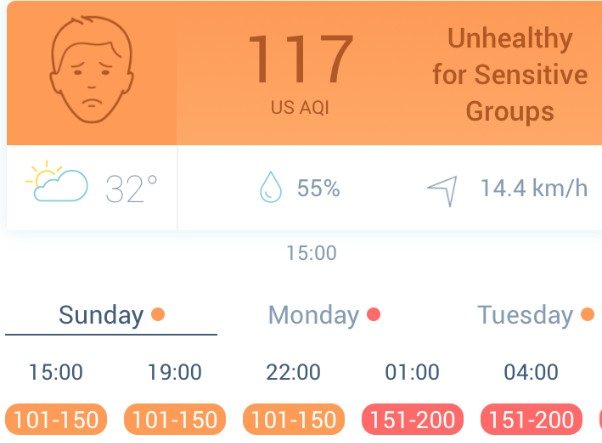 Get out of the city regularly

This one is simple – if the air's no good in Bangkok, go somewhere where it is! Thailand has no shortage of beautiful, clean travel options so there are no excuses.


Exercise early or indoors
There is debate on the
risks/rewards of exercising in a polluted environment
, but it's typically agreed that the benefits outweigh the risks. If you are to exercise outdoors then use your app to check on the pollution levels before you go.
As a general guide, stay away from heavily congested urban areas and exercise early in the morning or indoors where possible. If levels are very high then avoid outdoor exercise altogether.

Cleanliness!


This one isn't heard as often but keep your home nice and clean to clear up potential pollutants. Sleep in a closed room with a regularly cleaned air conditioning unit and replace the filters often.

When you get home from a busy day of Bangkok pollution exposure, strip down and scrub yourself clean. We should aim to reduce exposure to all harmful substances like lead, carbon monoxide and particulate matter as soon as possible in an environment that we can more closely control – our home.


In Short - simple  
if your friend offers some insight don't assume a trusted friend has trusted information 
If its important take the time to find out from the correct sources 
If you immune system is weak (old or young or existing illnesses including hangovers) your exposed 
your vulnerable 
give me attention to details on how best to survive longer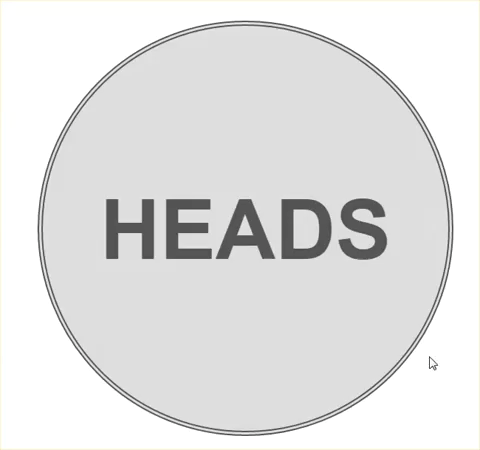 undecided .. flip it heads or tails 
So you don't know WTF to do with your life? You're not alone.
Let the internet determine your future destiny. This website exists as a choose-your-own adventure guide to happiness and life fulfillment.
WA 
All you have to do is click here
Share the love
Bangkok Adventure
Public group · 24,951 members
The focus: BANGKOK TOURISM: Activities, tours and Adventure Mission / Group rules @ http://www.thaibis.com/a-z/f/facebook/Bangkok-h-and-t#TOC-GROUP-R...
Other topics
  Prices from online booking services 
Join our Community
Buy us a coffee
when I roam around town with a few bags of camera gear, phones and compass I get tired 
ultimately I prefer support for visit my local charity project 
Other stuff
Recommended Events
Places visited
Where we have been link
why try .. . see places of interest, sort table by any column
Bangkok Hospitality & Tourism
Donate Photos, videos to to our Community Groups
Become a Roaming reporter
how it works
News