Why SMS is dying  
SMS is on the way out and here's why.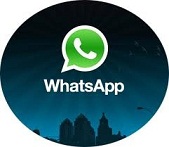 SMS average prices have been dropping rapidly - halving since 2008 to an average 16c each.

Unfortunately that still leaves this data service amazingly highly priced, at over $1000 per MB (given SMS is limited to 160 characters) - as compared to less than 1c per MB for common business mobile data tariffs. SMS accounts for 12% of Australian business mobile costs.
Worse, recent research shows how poor a service for business purposes SMS is.
55% of SMS on business mobiles is sent outside of business hours
30% of SMS costs are generated on weekends, but only 
0.4% of these SMS are sent to other staff members

Whilst facilitating the social life of employees may be laudable, SMS clearly is not doing much for business.
Messenger for BlackBerry, or messaging apps such as Whatsapp on iPhone and Android handsets are a cheap and effective substitute for SMS.
Lets not forget a popular alternative and big cost savings
Skype viop telephone lets you call / video chat free world wide, they also have discounted rates for SMS and calls to landlines and mobile phones.
I small business in Perth West Australia recently published their project that demonstrated massive savings, read more