Top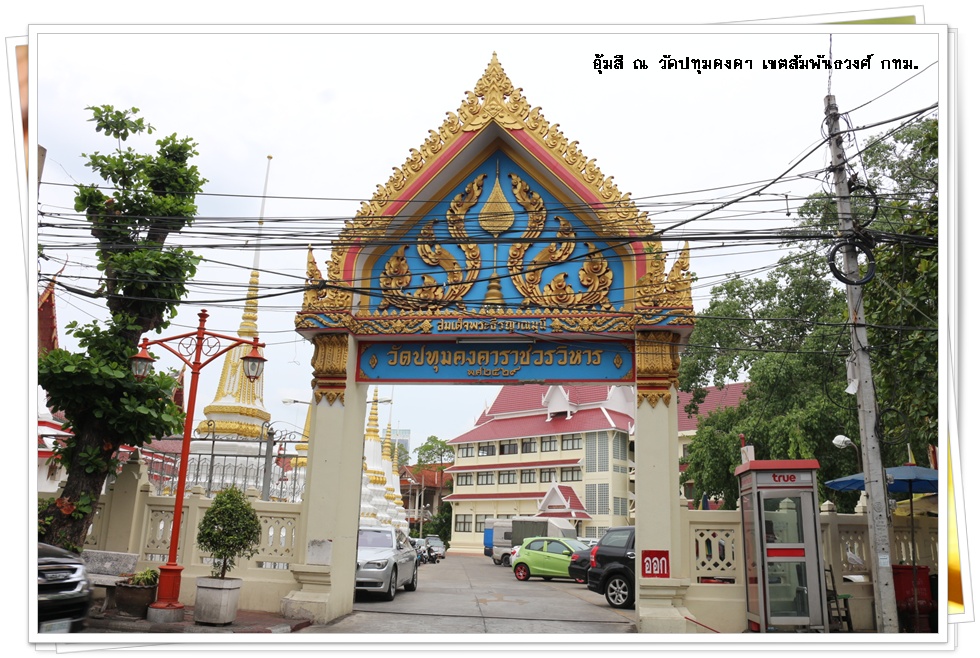 Buddhist temple in 
Khet Samphanthawong
on the board of Talad Noi a heritage area riverside of Chinatown 
and short walk to local Pie Sawasdee 
for shuttle boat across the river 
This area, at the Pieris home to
Lhong 1919
a former Chinese Merchant Mansion now converted into tourism centre 
Background
Wat Pathum Khongkha Ratchaworawihan is a royal monastery in Bangkok. It seems like an unremarkable temple, but upon a little research you discover it once served a rather grisly purpose. Not only a place of religion, but it was also where some members of the Royal Family were executed in the early years of the Bangkok kingdom. On its execution stone (the gray altar-like photo), several members from the reigns of Kings Rama I and III were disposed of...Previously known as Wat Sampeng, this monastery was founded long before Bangkok was the capital -- pre-1767. It was renovated for King Rama I by a rich Thai. The main Buddhist image in the temple is in the subduing Mara (a sort of devil) posture. The doors and windows are exquisitely decorated with lacquered ornamentation in gold leaf patterns. The temple has recently been restored. ..Behind the temple is the Execution Stone, where King Rama III ordered the execution of Krommaluang Rak Ronnaret for planning a rebellion against him. The canal in front of the temple is a holy site as the ashes of cremated members of the royal family and the royal white elephants are scattered here.
Location
1620 Song Wat Rd, Khwaeng Samphanthawong, Khet Samphanthawong, Krung Thep Maha Nakhon 10100
Google map link in SM menu for GPS navigation
Google+ below: open album  I  by location   I  slideshow
Facebook album at B.Pac: open album
IN PRODUCTION
Gallery this page in SM links below or google search
Google street view
Starting point:  Entrance 
Street view map tips summary
Desktop:  F

ullscreen: Icon top right | Arrows: direction; click to move | 

White frame on cursor: click to jump or zoom  

| Reposition: drag street Icon (orange person)

Smartphone: get Google street view app
Tourism Bangkok
Hotels nearby
Other stuff
New to town?
Be Served
Serve yourself > D.I.Y. 
New 
to town?
Bangkok 
Novice to Advanced
, multiple search engines
Tour zones
Buy us a coffee
when I roam around town with a few bags of camera gear, phones and compass I get tired 
ultimately I prefer support for visit my local charity project 
Join our Community
Recommended Events
Places visited
Where we have been link
why try .. . see places of interest, sort table by any column
Bangkok Hospitality & Tourism
Donate Photos, videos to to our Community Groups
Become a Roaming reporter
how it works
News