Top
Art in Paradise - Bangkok
อาร์ตอินพาราไดซ์ กรุงเทพ
3D Interactive Art Museum, a
 permanent exhibition where you can interact and create you unique 3D art and capture photos for your memories to share with friends and family. 
Photos vary according to the pose, the angle in perspective to the camera stand, don't worry they have recommended anchor points for photos as well as suggested poses to help you get started.
Art in Paradise offers a unique point of difference from other museums, here you can enjoy watch others go crazy with funny poses and wood be actors .. lol or join in and snap cool pics to share with your network. 
The Museum has 6 zones and in each zone there is example menu of suggested poses and best positioned anchor points for the photographer, now all you need do is join in the artwork and create your 3D art and watch the creation come to life on your camera.
Art in Paradise museum is full of memories and fun people can enjoy art with the whole family, friends, couples and tourist. Besides 3D painting, there is a new corner, interactive media; media exhibition that can with the audiences by responding to their facial expression and gesture
Logistics
Best ages: suites all age groups
Price: Medium low - see website
Language: English and Thai
Duration: allow minimum 2 hours, you need time consider your photos and queue if busy 
Hospitality Services: Small caf'e on site, the Shopping Mall is 5 floors with other attractions, shopping and dining
Transport: MRT (Subway) 150 mtrs from entrance, details below
Tourism:YES, awesome night bazaar market behind the shopping mall
one of 6 zones capturing a photo
zoom all the way out to may a ball shape then rotate it ..
Check in S.M.
show some love ......
all SM channels and best hashtags
Give a review, tag friends, share into network/s 
Location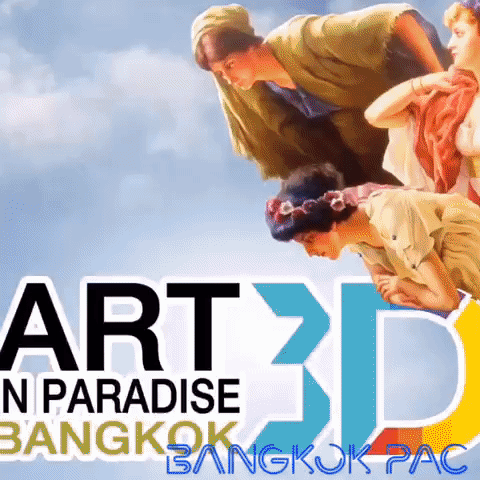 Google map link in Social media menu for GPS navigation
Getting there: 
approx 100 mtrs from MRT (Subway) station 
Thai Cultural Centre
 exit gate 1 or 2 (always check signs before leaving as its a big walk back) or by Taxi 
located directly behind Esplanade Shopping Mall 
     Longdo map tips: transport, hospitality, tourism in longdo map best search
the Bonus is there is an awesome night markets behind the shopping centre

Youtube by Proshow

2.03 min

more in social media menu
Gallery this page in SM links below or google search
Google street view
Starting point:  Esplanade Shopping Mall  (go to 4th floor) 
Street view map tips summary
Desktop:  F

ullscreen: Icon top right | Arrows: direction; click to move | 

White frame on cursor: click to jump or zoom  | Reposition: drag street Icon (orange person)

Smartphone: get Google street view app  
HOW TO access "Street view and 360 Photo Spheres":  from google map drag street view Icon to Position 
help video
Hotels nearby
Agoda Search: 
Tip: Copy & paste these hashtags & web page url into your post for search match

Art in Paradise Bangkok, interactive 3D Museum in Esplanade Shopping Mall Bangkok, create your unique photo art or watch others performing lol   SM hub
http://goo.gl/8szx0Y
BEST HASHTAGS

#ArtInParadiseBkk  Industry #BkkMuseum   #BkkKidsStuff  #BkkFamilyFun
related #MrtThaiCulturalCentre   #BkkAchiever  #BpacApproved


How to use Hashtags for Social Media


SM channels
show the love... like, share and stuff 
do more .. 
Copy the media hub link & hashtags (above) and paste into your
post, the hashtags 
will group the posts into a stream
 ... cool!
QR code: This page
No typing, just point & scan 
for instant access
Social Media QR Menu: Pending
Hotels nearby
Other stuff
Places visited  
Where we have been link
why try .. . see places of interest, sort table by any column
Bangkok Hospitality & Tourism
Donate Photos, videos to to our Community Groups
Become a Roaming reporter
how it works
News