visit to Art in Paradise Bangkok 
July 2017 
What we thought 
good value for money, aircon comfort, no time limit so explore as you wish, modern shopping centre 
at the entrance are brochures, it's smart move to check out the zones and calculate the size of the crowd in front so you can keep moving
each zone has help photos to get you started as well as an ideal anchor point for the photographer which is the best help for the ideal illusion 
good fun afternoon and good photo memories, easy transfer with local subway station next day 
ummmm  what a loving family ..  lol 
zoom all the way out to may a ball shape then rotate it ..
Photos
Videos
360 Video
Best view
: smartphone tablet for 
V
irtual
R
eality effect
1. set quality: select HD  
(
gear icon
in corner of player): how to
2. Smartphone: turn device in any direction, 
rotate with finger swipe or pinch zoom
If you can not rotate screen/view see help notes below
Scene:  
video
 embedded
 below for desktop view
, remember ...  best viewed in 
smartphone to rotate screen for VR effect
Don't forget - best viewed in smartphone 
If you can not see 360 (rotate screen) 
Desktop: should work in this page
Smartphone: copy and paste (not click) the video link into your app browser or youtube app
but wait .. there's more see below 
NOTE: watch in "flat mode" (non 360) to see all, how to:-  
Smartphone - click play button in widget/window above - 
help
PLAYLIST - 360 clips:  raw clips Spherical video HT ft PT  tba 
Location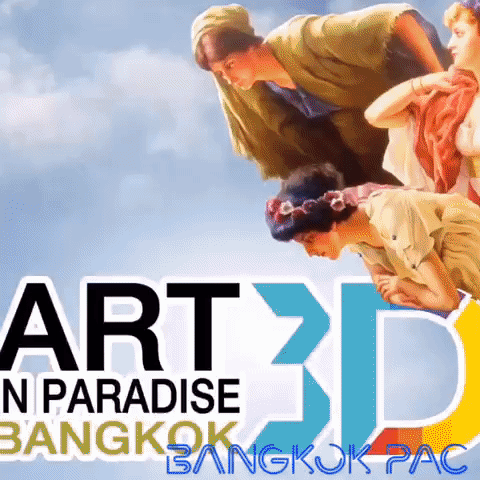 Google map link in Social media menu for GPS navigation
Getting there: 
     Longdo map tips: transport, hospitality, tourism in longdo map best search
the Bonus is there is an awesome night markets behind the shopping centre
Prices from online booking services 
Art in Paradise Bangkok is an family fun interactive museum where you can create cool stuff, our visit 
https://goo.gl/9yf8uB
BEST HASHTAGS

#ArtInParadiseBkk  Industry #BkkMuseum   #BkkKidsStuff  #BkkFamilyFun related #MrtThaiCulturalCentre   #BkkAchiever  #BpacApproved
Check in S.M.
show some love ......
all SM channels and best hashtags
Give a review, tag friends, share into network/s 
Distribution
apart from using the SM channels above we have access to 
B.PAC Recommended
We use and recommend this venue for our guests and visitors to Bangkok
Bangkok Personal Assist Concierge make regular visits to venues with guests to experience local hospitality and populate the information in various Social Media Channels
Hotels nearby
Agoda Search: