Top
Damnoen Saduak Floating Market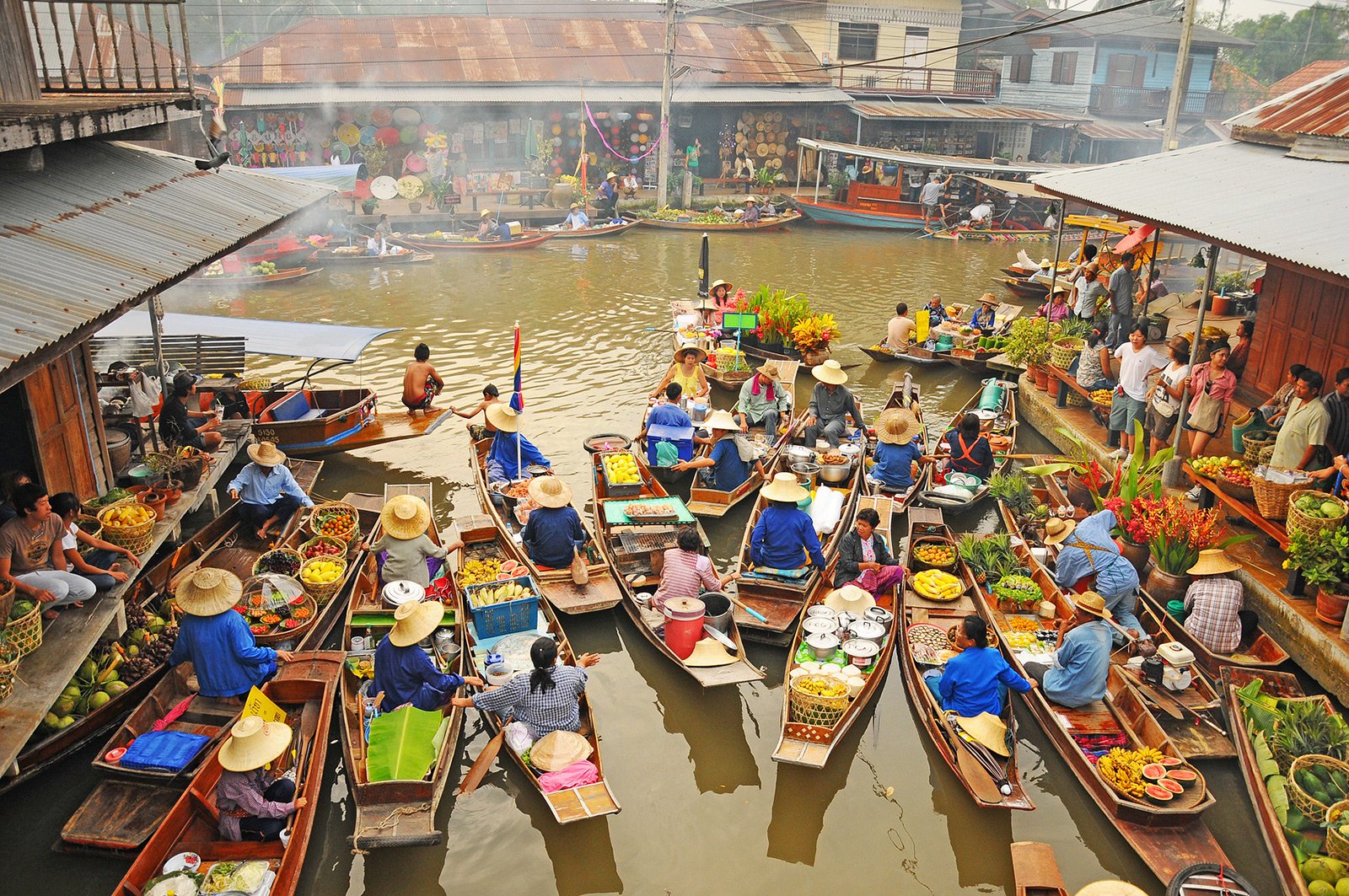 Bangkok's longest known popular tourist destination 
very commercial but open every day and very popular, see it all in one (1) place 
The Floating Market most associated with Bangkok is at Damnoen Saduak which actually about 40 miles (60km) southwest of the city, but easily within coach or boat trip distance making it a great day trip with plenty of time to see some of the glorious countryside of Thailand.
Floating Market boats line the side of the main khlong or canal as well as smaller side canals.  They are supplemented by stalls in buildings at the edge of the water.
When you visit the town of Damnoen Saduak, which is in the province of Ratchaburi, you'll be experiencing some of the real life of Thai people.
The market itself has a long history although it had been reduced to a small level until it was revitalized by the influx of tourists who want to experience this traditional part of Thai culture.  It is now a must-see destination for any tourist to Thailand.
The importance of the floating market to Thai and Indochinese culture comes from the type of landscape that is so common in the area, with many rivers and wet flat plains.  These have naturally lead to frequent use of boats for transport, for business and for accommodation over the centuries.  So with much of the population in many districts either living on boats or in houses directly on the river ways it is no surprise that enterprising merchants start to deliver their goods by boat.
When a large number of merchants take to the water in the same area then it becomes a market, and the floating market was formed.
Today with the reduction in use of waterways and boats for commerce and living the floating markets have instead become a respected part of history and culture.  Combined with the interest of the many foreigner visitors to Thailand this has helped to preserve this tradition which is unique to the area.
Logistics
Best ages: suites all age groups
Language: English and Thai
Tourist attraction:  Yes > photo ops Canal 


Check in S.M
.


 show some Social Media love ......
  all channels, best hashtags
like, review, a tag, share
Location
Damnoen Saduak, Damnoen Saduak District, Ratchaburi 70130
Google map link in SM menu for GPS navigation
BUS: From the Southern Bus Terminal in Bangkok, buses leave every 30 mins from 6.00am. The journey takes around 2 hours and costs 50 baht (less than $2)
TAXI: They won't go on the meter so you have to use your bartering skills to full effect! Expect to pay around 700 Baht for the return trip, they'll pick you up from your accommodation around 7am, drive to the market (about 90 mins) wait for 2 hours or so and drive you back at lunchtime.  
SCAMS: When you arrive in Damnoen Saduak people will try to lure you into their boat jettys. You can take a long boat around the canals, the trip finally gets you to the market for the last 10 minutes of the hour–long journey. The cost of the boat is approximately 800 baht per person or 1500 baht per boat – and to be perfectly honest, it's a cheap scam.
360 Video
Best view
: smartphone tablet for 
V
irtual
R
eality effect
1. set quality: select HD  
(
gear icon
in corner of player): how to
2. Smartphone: turn device in any direction, 
rotate with finger swipe or pinch zoom
If you can not rotate screen/view see help notes below
Scene:  
video
 embedded
 below for desktop view
, remember ...  best viewed in 
smartphone to rotate screen for VR effect
Don't forget - best viewed in smartphone 
If you can not see 360 (rotate screen) 
Desktop: should work in this page
Smartphone: copy and paste (not click) the video link into your app browser or youtube app
but wait .. there's more see below 
NOTE: watch in "flat mode" (non 360) to see all, how to:-  
Smartphone - click play button in widget/window above - 
help
Bookings
check the prices from the various online booking services 
Google+ below: open album  I  by location   I  slideshow
Facebook album at B.Pac: open album
IN PRODUCTION
Gallery this page in SM links below or google search
360 Spherical photos
Best view with smartphone.
use external link option for best effects
why use smartphone
Virtual Reality effect, 
turn device at any angle or better turn around while holding the device for 360 / Spherical view, 
more at about 360 Spherical Photo apps

 
Note: Images are hosted in TWO (2) sites for different effects
Site 1. Theta:  
Powerful zoom in / out
for Virtual Reality mode view 
Dermander
Best view: smartphone tablet for Virtual Reality effect
Site 2 Dermandar:  
VR (Virtual Reality) effect
album: SM  Damnoen Sudak - >  
you can 
change search: 1. deselect tag words from directory 2. select new tag words 
use the links to post the 360 pics into your social media
Please do share into your social media 
Google street view
Starting point:  Entrance 
Street view map tips summary
Desktop:  F

ullscreen: Icon top right | Arrows: direction; click to move | 

White frame on cursor: click to jump or zoom  

| Reposition: drag street Icon (orange person)

Smartphone: get Google street view app
Interactive map
three areas: base of steps, inside top floor, roof
Hashtags this gig
Tip: Copy & paste these hashtags & web page url into your post for search match



Damnoen Saduak Floating Market is renown as most popular for Bangkok Tourists, approx 80km from the city

, more in Thaibis Popular tours page 

https://goo.gl/ILyraL, or this page https://goo.gl/flPi0a

BEST HASHTAGS


#

DamnoenSaduakFloatingMarket   Industry #

BkkFloatingMarkets 

 

#BkkTourIcon 

 

 

#BkkFamilyFun    #

BkkAchiever   #BpacApproved

  





live hashtag links: click on a live hashtag link below to see how it works


How to use Hashtags for Social Media


Share this page
No typing, just point & scan 
for instant access
Social Media QR Menu: Pending
Similar Places
last nine (5) by latest edits: see all at bottom of page
 (sort by any column)
Updates
Other stuff


Places visited  
Where we have been link
why try .. . see places of interest, sort table by any column
Bangkok Hospitality & Tourism
Donate Photos, videos to to our Community Groups
Become a Roaming reporter
how it works
News