Top
Photo log
last 9 entries sorted by: latest edits
log no longer using:   best tip use google doc excel system
Download file
currently the only option 
load into facebook then at bottom of post (in stream view) (get someone to like the post then view view the like link to see in stream
the option for download will be a lower quality 
you can then tinker with the image include resize and then upload into other sites 
FAQ's
stuff people have asked or things I thought to record to share faq 
hangar
Hanger 360 site
Test app
for newbies 
always wait for the gps to be set, this can be a few seconds or 20 seconds ... wait !!
work thru the initialise checklist
when the launch engages  (u can cancel anytime in the P switch or sports mode)
1. hover 
2. takes of (like a rocket .. lol) races vertically to position
3. at the default height pic the photo process begins, it will rotate around the  camera axis and with clouds above it will appear to be going of course .. just ride the cut switch but dnt do it  lol 
4. the screen will show the no of pics to be taken and the progress
5. on complete the app shows the options to continue or return to home
6. during RTH you can hit the switch and over ride and switch back to normal speed/mode 
you can over ride the default height 
all photos are on the SD card, if the pic does not process in their server you can use the pcis in SD card to do a manual 360 using various stitch mobile apps or desktop apps
the deskop apps (good them) will produce a larger file size than the mobile app  
ideally it would be great use DJI go to fly and in flight, at position switch to the hanger app and then switch back
others may suggest you use app Litchi which includes 360 / pano mode
Get App
Mavic Pro Cradle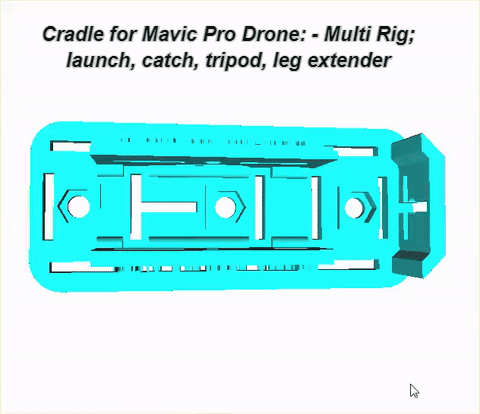 Mavic Pro stuff
Abstract stuff
once you have the stitched photo you can create some interesting abstract images 
Example
some 360 / spherical editor apps include option to create little planet or mirror ball effect 
we will add a list and if you know more pls let us know 
1st you need to get control of the image
Hangar does not (at the time of typing this) let you download from their cloud, however you can download it from facebook (explained in our photo log page)
once you have the image you can use apps smartphone or desktop to create / modify
we found the easiest for maximum file size was to upload into the ricoh theta cloud where you can view the image in various mode and during the view take  a copy from the screen and paste / download 
Related topics
in page
360 apps
at -> t
op of page:
contents of topics
Bottom of page sort DIRECTORY by name and topic
all known groups
Lab tests
nb: these are actual tests -> b4 creating this page many are shown in basic in page 
360 apps
last 5 by latest edits - open table to see all and sort by any column  
Disclaimer
WARNING: lab test often includes multiple widgets embedded objects which means the page needs a little more time to download 
so be a little more patient than norm
the test done by me as a end user and share to community free when I have time, the limited time is applied to the practical use of the product not spelling / grammar and window dressing as its not a commercial activity  
Buy us a coffee
when I roam around town with a few bags of camera gear, phones and compass I get tired 
ultimately I prefer support for visit my local charity project 
THE FOLLOWING RELATES TO TOURISM BANGKOK
Join our Community
Other stuff
Recommended Events
Places visited  
Where we have been link
why try .. . see places of interest, sort table by any column
Bangkok Hospitality & Tourism
Donate Photos, videos to to our Community Groups
Become a Roaming reporter
how it works
News
360 spherical 
1. volunteered page contact: moderators speller checkers welcome
2. page topic:  contact Phill Smith - details in page 360 apps "
submit your app
" 
3. 
this website refer below