Top
Logo
2017.10 requested option to Hangar to allow user to purchase rights 
        2018.06 work around (
I try to do most all on mobile so I can be away from the desk)
IOS
1. download thru facebook (owner only)
2. remove logo 
Photo editors mobile (IOS) 
many choices 
best: app: 
touch retouch
 can access via photo library which means it saves to original image or open as normal app and make copy 
these apps retain image size to about 6000x3000  but creates a new image
Desktops
note: I dnt use the online anymore as I bought the software
note: I dnt use the stitcher much as I always use Hangar
I can download the image via fbk to my desktop while on the mobile using remote software such as teamviewer or google chrome remote
once saved to desktop i can retrieve via google drive or dropbox etc., 
3. add logo
mobile (IOS)
Veer TV Editor
 lets you add logos, emoj, text and adjust starting point
they have standard watermark, to remove and add your logo simple open a free a/c and upload 1 image to their free host site
Sample Logos
the process to add logos using Veer Editor is a snap (once you know how) lol
they have tutorial info text and videos in their site
2018.07 
to understand the system helps define your options 
1. as the creator of the images 
2. as an end user 
1. as creator of the images 
when you use Hangar app to create your sphere 
the individual original pictures (23) are saved on your drone SD card (high quality) and your smartphone (low quality)
the images are uploaded with your consent to hangar cloud server to stitch them into a sphere and return you a link to the sphere hosted in hangar site
on uploading your confirm all rights and ownership to hangar
this does not apply to your photos that you have 
the sphere in hangar site is extremely high quality and can be embedded into and the url shared 
the creator can download a lower quality into their facebook which can be shared and downloaded to your computer
you can manually create a sphere on your computer using the original photos (23) with free online software or purchase software
Hangar: for and against
for
its automated 
it's free 
against
you have no manual control over photo elements / edits
hangar logo applied
you could use the auto mode in DJI but the quality is very poor
notwithstanding you may need permission from the creator
you can share and embed the high quality version in hangar site provided you know the url
you can share and embed the lower quality in facebook provided you know the url
Embedding
display the image in a spherical fashion within your website 
Facebook  (low quality)
if it's in facebook (low quality) its quite easy to share the post into your facebook page as well as embed into your website
to share into your website look for the option to embed, often it 1st needs to be shared into a fan page to offer embed options
Hangar (high quality)
in this page under (widgets) we show 
other sites:
in short there are many host sites that include share embed code but 1st the image has to be uploaded into their site
options 
Low quality: Facebook version can be downloaded (by creator only) and then uploaded into any host site such as VeeR, Dermandar and many more, see the list in this page under 360 cloud sites
high quality:  you can't download the hangar site image (at this stage) so if you want high quality then you will need to do a manual stitch using the original photos using manual stitch software which is listed in this page  
The benefit of manual stitch is you will have high quality and photo edit light / shadow aspects etc., but it's attendance time
Display styles
2018.07 meaning various ways the image can be presented 
Widgets
in short 
the share link within app to Facebook is the fastest loading widget but not the most detailed
some other widgets are loaded below for speed test against facebook
Facebook: click image to open the 360 view in facebook
widget loads quicker, 
1st upload into loads fast, lacks 
other apps
website:  using iFrame coding
wide view
same standard size used for other 360 Host / cloud sites  
https://viewer.hangar.com/o046mJj2
view square
can increase to any size 
Other host sites include 
Theta / Dermandar and others see list in section below called 360 host sites
FAQ app Veer 360 Editor 
switch between apps
Hanger and DJI go = Yes, some rules apply faq list
must do a force close of apps when switching  ie, can not jump / switch must close 
Photo stitch
The app auto stitches the photos in their cloud
all photos are on your device 
to manually stitch we use 
Desktop
Panorama Studio    approx US 80 - buy it
Stitches 360 spherical photos,

Add logos (spherical 2D 3D cylinder)

Create interactive 360 spherical images with embedded links
Other 360 spherical apps
Mavic Pro Cradle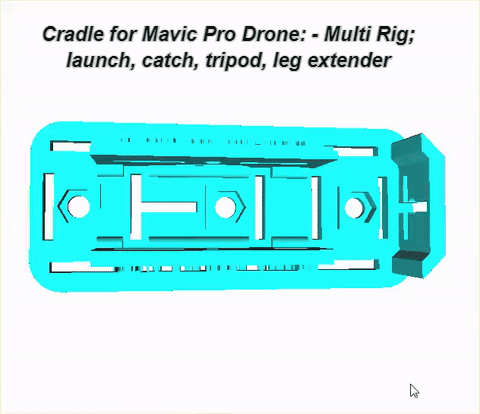 Mavic Pro stuff
Max Images 
as at 2018.06 confirmed Max thumbnails in smartphone is 99, thereafter as more are added the old drop off
this means you have no access to previous images
so start a log (google cloud excel) to record your images by ??   date/location/topic
Abstract stuff
once you have the stitched photo you can create some interesting abstract images 
Example
some 360 / spherical editor apps include option to create little planet or mirror ball effect 
we will add a list and if you know more pls let us know 
1st you need to get control of the image
Hangar does not (at the time of typing this) let you download from their cloud, however you can download it from facebook (explained in our photo log page)
once you have the image you can use apps smartphone or desktop to create / modify
we found the easiest for maximum file size was to upload into the ricoh theta cloud where you can view the image in various mode and during the view take  a copy from the screen and paste / download 
2018.10 the option to download to facebook has been out of order for some time
typically after a mission and viewing the sphere we want to share and may not have the time for return to base / as desktop and manually stitch
a quick solution is
make Photo
Panoramic
while viewing the sphere in smartphone (IOS) 
take a screen shot, move on another view (with 20%) overlap and screen capture
with the 2 or more photos load into an IOS stitcher app and generate a Pano
Make video
created basic video demo on how to video record the screen in desktop or mobile (ios) of sphericals in free host site Theta after testing the idea in Hangar site
why 
it's quick and created on the mobile which is my objective 
here's is the basic vid using ios to screen record a hangar sphere and below the widget is links to demo video
Video record Sphere
demo video: how to video the sphere in host site Theta with either IOS (smartphone) or desktop
and tested same in hangar site with great success
the example using hangar site is listed in this page hangar faq - screen capture - video 
Related topics
in page
360 apps
at -> t
op of page:
contents of topics
Bottom of page sort DIRECTORY by name and topic
all known groups
Lab tests
nb: these are actual tests -> b4 creating this page many are shown in basic in page 
360 apps
last 5 by latest edits - open table to see all and sort by any column  
Disclaimer
WARNING: lab test often includes multiple widgets embedded objects which means the page needs a little more time to download 
so be a little more patient than norm
the test done by me as a end user and share to community free when I have time, the limited time is applied to the practical use of the product not spelling / grammar and window dressing as its not a commercial activity  
Buy us a coffee
when I roam around town with a few bags of camera gear, phones and compass I get tired 
ultimately I prefer support for visit my local charity project 
THE FOLLOWING RELATES TO TOURISM BANGKOK
Join our Community
Other stuff
Recommended Events
Places visited  
Where we have been link
why try .. . see places of interest, sort table by any column
Bangkok Hospitality & Tourism
Donate Photos, videos to to our Community Groups
Become a Roaming reporter
how it works
News
360 spherical 
1. volunteered page contact: moderators speller checkers welcome
2. page topic:  contact Phill Smith - details in page 360 apps "
submit your app
" 
3. 
this website refer below