Top
The Tourism Authority of Thailand (TAT) Launched a New "Hello Taste Thailand" Guidebook which Aims to Inspire Foodies to Experience Gastronomic Tourism in Thailand  
100 + pages free ebook online - see below
About
The Tourism Authority of Thailand (TAT) has recently launched a new "Hello Taste Thailand" guidebook which aims to inspire foodies from around the world to experience gastronomic tourism in Thailand. The project features 10 different routes spread across six provinces, including Bangkok, Chiang Mai, Phuket, Chanthaburi, Surat Thani, and Ayutthaya.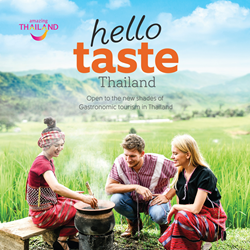 TAT has invited experienced gastronomic tour companies to join in with the co-creation of gastronomic tour programs, placing an emphasis on creating culinary experiences for tourists so that they can learn about cultures, arts, and food-related stories.
BANGKOK (PRWEB) October 26, 2018
The Hello Taste Thailand guidebook is available in English, presenting a new dimension of gastronomic tourism which can be defined as 'the pursuit of a unique eating and drinking experience, including visiting food producers and noteworthy food-related places - together with tasting special dishes, observing production and preparation processes, or seeing how certain dishes are prepared'.
Thapanee Kiatphaibool, Executive Director of Product Promotion Department, TAT, said: "TAT has invited experienced gastronomic tour companies such as Local Alike, Siam Rise Travel, Black Rice and Friday Trip to join in with the co-creation of gastronomic tour programs, placing an emphasis on creating culinary experiences for tourists so that they can learn about cultures, arts, and food-related stories."
The 10 new gastronomic tourism routes include:
1.    BANGKOK'S THAI WISDOM 
This trip invites you to follow in the footsteps of our ancestors and discover the wisdom of Thai food that has been cherished by both locals and foreign visitors for so long. You'll get to go behind-the-scenes to discover what's happening in the kitchen, as well as learn about the complex recipes and how Thai people traditionally cook throughout the seasons.
2.    BANGKOK'S 'PATH OF FLOWERS' 
Welcome to this 'Path of Flowers' one-day tasting tour of the Thai capital, where you will witness the beauty of the country through a variety of local flowers. Having been part of Thai culture for a long time, flowers are used for making a number of savory dishes, desserts, and drinks by bringing out the best properties of each flower. As part of the trip, you'll get to both taste and try to cook some delicious dishes with the help of an expert chef.
3.    EXOTIC BANGKOK 
Experience the creativity of some not-so-typical Thai dishes on this 'Exotic Bangkok' route through the capital, with plenty of new and exciting tastes to discover along the way. The combination of talented chefs who hand-pick their ultra-fresh, locally sourced ingredients (some of which you've probably never heard of) with modern cooking techniques using new technology results in some of the most delicious and eye-catching dishes found anywhere in Bangkok.
4.    LAND OF THE LIVING - AYUTTHAYA 
On this trip, you'll learn all more about modern-day Ayutthaya by sourcing local ingredients, cooking and doing plenty of eating! There's also the opportunity to explore the old kingdom's fascinating past, with a visit to the city's popular UNESCO World Heritage Site, as well as a lunchtime sightseeing cruise.
5.    THE TROPICAL WONDERS OF CHANTHABURI 
During this trip, indulge in the richness the province has to offer through its authentic cuisine using local ingredients and cooked by local chefs. Many dishes here are one of a kind, and cannot be found anywhere else in the country. There's also the chance to learn more about ways of the laidback Chanthaburi lifestyle by walking through a fruit garden, sailing across an oyster farm, and cooking with fresh produce right where it's grown!
6.    TASTE THE MORE NATURAL SIDE OF CHIANG MAI 
This one-day taste tour offers the chance to escape the hustle and bustle of city life and experience a more authentic side of Chiang Mai at a remote community situated on the highest mountain of Thailand, Doi Inthanon. You'll have the chance to listen to the many stories about how local 'Lanna' food is made, as well as cook up some delicious northern dishes of your own.
7.    CHIANG MAI ARTISANS' ART ON THE TABLE 
These artisans also include chefs and cooks who are setting up restaurants, who use only the freshest local ingredients combined with old-age recipes and cooking techniques. If you're an artisan in Chiang Mai, even the most elaborate of elements are essential to creating authenticity. This journey will take you to explore local ingredients of the north, learn how to cook native dishes, as well as absorb the art of making refined Northern Thai cuisine all over Chiang Mai.
8.    PHUKET'S PERFECT COMBINATION 
One aspect that many visitors fail to appreciate about Phuket is its rich culture and fascinating history. This two-day, one-night taste tour of Phuket has been created so you can experience it all through cooking, learning about new dishes and drinks - and of course, plenty of eating! When it's time to say goodbye, you'll leave Phuket knowing this island like never before – and wanting to come back for more!
9.    PHUKET'S CASTAWAY PARADISE IN THAILAND'S ANDAMAN 
In true 'castaway' style, you'll be whisked across the water to a remote island that'll give you a taste of islander life; here, there's the chance to go foraging for wild ingredients and learn from the wisdom of the villagers known as 'Chao Lay'. After picking your produce under the guidance of a local expert, it's time to try your skills cooking up some local flavors and then dine by the sea with the sound of the waves forming an idyllic backdrop.
10.    THE WISDOM OF SURAT THANI'S TAPI RIVER 
On this two-day program, you'll cruise along the Tapi River to see the true Surat Thani lifestyle, while learning from the wisdom and culture of the locals. With the close relationship between the people and the river, a wide range of tropical ingredients can be found from the sea, river, and the mountains - you name it. It's no surprise why there are so many famous Southern Thai dishes waiting for you to try around the Tapi River and its network of canals.
Executive Director of Product Promotion Department, TAT concluded that 'the latest English edition of the Hello Taste Thailand guidebook would offer a unique opportunity for millennial foodies from around the world to experience new and enhanced gastronomic-themed adventures in Thailand'.
Bangkok River Icons
last 5 edits: open table to see all and sort by any column
New to town?
Be Served
Serve yourself > D.I.Y. 
New 
to town?
Bangkok 
Novice to Advanced
, multiple search engines
Buy us a coffee
when I roam around town with a few bags of camera gear, phones and compass I get tired 
ultimately I prefer support for visit my local charity project 
Join our Community
Tourism Bangkok
Hotels nearby
Other stuff
Recommended Events
Places visited  
Where we have been link
why try .. . see places of interest, sort table by any column
Bangkok Hospitality & Tourism
Donate Photos, videos to to our Community Groups
Become a Roaming reporter
how it works
News