The British Community's annual fund-raising blockbuster event for Thai charities
Check in S.M.
 show some Social Media love ......
all SM channels and best hashtags
small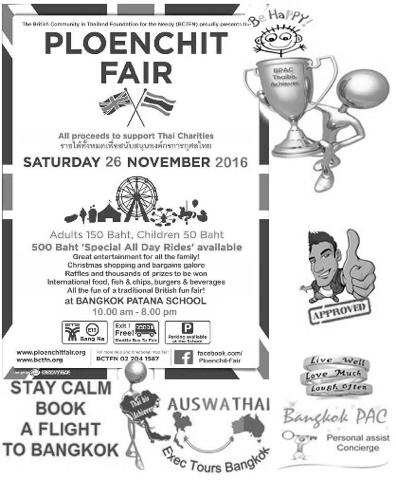 About
The British Community's annual fund-raising blockbuster event for Thai charities will be held this year on Saturday 26th November.

Ploenchit Fair is arguably the largest Fair in Asia and is a traditional day for all the family and has been one of the biggest events of the social calendar in Bangkok since it was first held in the British Embassy in 1956. Everybody comes to Ploenchit Fair – you will be guaranteed to meet all your old friends and make new, buy everything and anything you need, enjoy fine international cuisine, totally exhaust your children with the variety of attractions on offer, enjoy our varied entertainment programme on the big stage throughout the day and taking us into the evening. Win many of the thousands of prizes at the stalls and go home rich in the knowledge that every baht you spend will go towards those less fortunate than yourselves.

For Kids – Once again we will have the all time favourites the Carousel, Transpo's Giant Wave Slide, Shooting Gallery, King of the Mountain, Water Roller Ball, Go-Karts and the Bungy. Many games stalls, the Colouring Competition, Clown Eckie the Ploenchit Clown and Bumrungrad's Father Christmas will be paying an early visit to the Fair for our younger members.

For Dads – All the usual old favourites are confirmed – Coconut Shy, Darts, Standard Chartered Bank's Water Splash, Football Shoot, and Tin Can Alley to name but a few and not to mention whiskey galore to be won on the Bottle Boys stall. Nestle Pirate's Treasure Island will be full of great prizes and Castrol games for all the family. The British Chamber will be manning their stall, the Grand Raffle, which this year will have 80 top prizes to be won including tickets to London!!!

For Mums – The Petticoat Lane bazaar, some 50 shopping outlets along with our usual Charity Stalls selling their wares offering a vast array of different products for all your Christmas gifts and needs, handicrafts and 'bits of nonsense'. Boots, our favourite High Street chemists will have their range of tempting toiletries and cosmetics. When exhaustion overtakes, you can relax in the breezy green spaces of this scenic riverside location – have a cream tea, a foot massage and even have your fortune told.

Our Cuisine - This year we have a variety of tempting foods - Witch's British Fish & Chips, the Pie Factory, Coyote's Mexican, Flavours of India, Masala Art and exotic Thai food, will be joined by Fried Chicken and Hickory Ribs and Bistro 33 who will ensure a range of foods to sate you're appetite – all sorts of pasta, hot dogs, hamburgers, pizzas and steak sandwiches grilled to your taste. The Chatrium Garden of Sheer Delights will have dim sum delicacies and afternoon speciality cream teas in a haven of peace amid the Fair. Joining us for the first time this year, La Vanille – French homemade ice cream and fresh fruit sorbets.

Our "Refreshments" – Tenderloins will provide you with premium beers and connoisseur wines, Paulaner has ice cold larger, Chang Beer, Thailand's own will be pulling the pints, there will be a Guinness and Kilkenny Bar and Frosty Margaritas from Coyote

There is no need to carry heavy shopping bags or all your prizes at the Fair, Securitas will be manning a Left Luggage Section and if you run out of money, Various ATM machines are in the grounds

Google map link in SM menu for GPS navigation
Google street view
Starting point: 
 entrance
Street view map tips summary
Desktop:  F

ullscreen: Icon top right | Arrows: direction; click to move | 

White frame on cursor: click to jump or zoom  

| Reposition: drag street Icon (orange person)

Smartphone: get Google street view app
Social Media

SM channels & hashtags below
Like, review & share
your network will see your post when they visit the channel
more channels below.....  
SM channels
show the love... like, share and stuff 
do more .. 
Copy the media hub link / hashtags (above) and paste to your
post (Hashtags 
group posts into a stream
 ... cool!)
Pls share me
Hashtags this gig
Tip: Copy & paste these hashtags & web page url into your post for search match



Ploenchit Fair in Bangkok, is the British Community's annual fund-raising blockbuster event for Thai charities, a fun day for the family, SM hub https://goo.gl/ND56er




BEST HASHTAGS
#PloenchitFair    #BkkKidsStuff   #BkkFamilyFun   #BkkAchiever #BpacApproved 



How to use Hashtags for Social Media


SM menu QR Codes
QR Code: 
SM hub 
This page
No typing, point & scan 
for instant web access to pages
Social Media QR Menu: Pending
Other stuff
News
Bangkok Hospitality & Tourism
Donate Photos, videos and adventure stories or join our 
Community Groups
Become a Roaming reporter 
how it works