fastrack index 
The jewel of Siam town 
RedSky rooftop Bar and Bistro est., 2008 at 
the iconic 
Centara Grand
 hotel tower at the CentralWorld complex in Bangkok. 
56th floors high with a 360 degree open air view with pods and more 
Dynamic architectural design of layered concentric circles creating pods that extend out over the building as well as wrapping around corners creating cozy pockets. 
After dinner journey up the vertigo stairwell to the 56th flr balcony for a nightcap. The balcony wraps around the building, select a table or slumber lounges and enjoy the 360 degree view across the entire Bangkok skyline. Indoor and outdoor seating. 
Logistics
Atmosphere:  casual and elegant - minimum dress standards required
Stars: 5  >  Price: High
Open daily 5.00 pm to 1.00 am 
Rooftop: 360 degree Bar and Restaurant 
Language: English and Thai
Tourist attraction:  Yes > photo ops of Decor themes, Cinema, junction of skytrain and Subway 
Check in S.M.
show some love ......
Give a like, review, share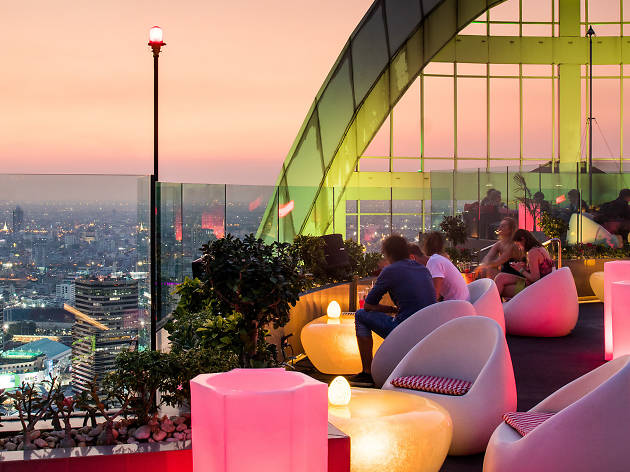 Location
Centara Grand at CentralWorld 56F, Pathum Wan, Bangkok 10330
Google map link in Social media menu for GPS navigation
note: map image 
IS NOT true North
, rotated for best view
Getting there
900m from BTS (skytrain) Chit Lom  with skybridge walk connection and a little less from BTS Siam 

Youtube below  


2 videos   1. standard 2. Spherical 360
Site: Veer  VR  TV
best viewed in smartphone for VR Virtual Reality
note: youtube link below widget
if stream too slow or low quality  - > use youtube link below 
6 min version in virtual tour page
note: if youtube screen does not show spherical, copy n paste (right click) link to mobile browser
Google+ Post  I  open album
I by location  I slideshow
Facebook album at B.Pac: 
360 Spherical photos
Best view with smartphone.
why:
VR: Virtual Reality effect, 
turn device at any angle or better turn around while holding the device for 360 / Spherical view, 
Note: Images are hosted in different sites for different effects
Site: Theta:  
Powerful zoom in / out
click a thumbnail to watch in 360 
  - 
have fun morphing the images
Theta site lets you change the display styles - see options below images in Theta site or  

Multiple shots
Hangar 360 Bkk Redsky
images are 360 Spherical
Tour covers: 
street view, entrance, all around and more 
Street view
Starting point:  Entrance 
Street view map tips summary
Desktop:  F

ullscreen: Icon top right | Arrows: direction; click to move | 

White frame on cursor: click to jump or zoom  

| Reposition: drag street Icon (orange person)

Smartphone: get Google street view app
To access "Street view" in google map drag street view Icon to Position and drop 
help video
Tour zone Icons
at Bts Chidlom: 9 by latest edits:  open table to sort by any column
More info
| | |
| --- | --- |
| embedded below larger window   | "Get the most use a Host" > Bangkok BPAC Small cost Big Smiles! |
Hashtags this gig
Tip: Copy & paste these hashtags & web page url into your post for search match



RedSky RoofTop Gastro lounge cocktail bar 56flrs atop Centara Hotel in the centre of Siam Bangkok, 360 aspects with pods that you can't forget and then you have some many options below include CentralWorld Shopping all at BTS (Skytrain) Chidlom and SM

hub

https://goo.gl/1ifUba

BEST HASHTAGS


#RedSkyBkk    Industry #

BkkRooftop

 #BkkDining

 

#BkkTourIcon  

#BtsChitLom

 #BpacApproved

  

 #1NightBkk   #EtBkkYes  

#BkkZoneSiam




How to use Hashtags for Social Media

SM channels
show the love... like, share and stuff 
do more .. 
Copy the media hub link / hashtags (above) and paste to your
post (Hashtags 
group posts into a stream
 ... cool!)
Pls share me



Buy us a coffee



when I roam around town with a few bags of camera gear, phones and compass I get tired 
ultimately I prefer support for visit my local charity project 
Join our Community






Tourism Bangkok




Prices from online booking services 






















Other stuff



Recommended Events
Places visited  
Where we have been link
why try .. . see places of interest, sort table by any column
Bangkok Hospitality & Tourism
Donate Photos, videos to to our Community Groups
Become a Roaming reporter
how it works
News