PLACESHIFTING with S
lingbox / Slingmedia 
Live streaming of your TV / Fox / DVD / Audio
Timeshifting means that you do things at different times as you would normally be allowed to do them, where as placeshifting means that you can do things at other places you normally would be allowed to do so. So things that normally were confined to a specific location and time now can be done at more convenient moments.
Some examples:
Reading and sending mail in the elevator or during a meeting
Watching a movie or TV-program while commuting by train or in an airplane
Using Instant messaging while waiting in line for the cash register at the supermarket






What Sling achieves
Stream my TV / Cable TV / Audio / DVD player .. anything that's connected to the internet
What's in it for me
Significant benefits, nominal costs - huge Winner
www access to live feed of my Fox TV, no ongoing fees!
I also saved big $$$ on the LAN 4 port network board which everyone needs
I pay subscription for online access to TV shows (mainly sports), they are zoned access either in Australia or Abroad so I have to pay another subscription when I'm abroad or go to the local pub or hotel that has a feed.
With Slingbox I get ALL these TV shows and much more, the savings pay for the Slingbox in the 1st year.
Dynamic benefits
At Home:
A
ccess via LAN (local area network) or wifi - no cost (within your network = no download usage / no cost)
If you have a work/study room you'll be connected to your home media (TV/Audio) and tune in for free

Retire to the swimming pool or relax in bed and watch the TV on your iPad
Outside on the 
WWW is subject to bandwidth and 3rd party charges based on download use.
                        .
Pic right: Slingplayer view on desktop
.
Viewing apps
FREE APPS
Desktop, it's no longer supported as they created a webpage portal however it works fine for use within your home network (lan/wifi)

WWW portal to access the stream from any internet connection

Facebook player app
NOT FREE
Smartphone iphone - about $10

NOT FREE iPad app about $15
We roadtested all, each has minor variations of controls otherwise they have the key features of on screen remote control,  options for screen size and quality.
My preference is the Pop out window in the www portal because you can resize to almost any size.
Roadtest slingbox
Oct 2013: We bought 2 older models: "Solo" (slings 1 device) and "Pro" (slings up to 4 devices ie., dvd, audio and the like)
We also bought the high speed 4 port network board with AWESOME results!  $99 (normally $180) 
Simply plug into an existing power utlet and instant LAN cabling throughout the building .. saves thousands on LAN network cabling. 
Road test 28/10/13 BTS skytrain station Siam
Using an iPad and the Slingbox iphone app I connected to my slingbox and watched live feed of OZ TV, I then jumped on the skytrain and watched more TV while we skooted along the skyline through Bangkok and enjoyed a smooth transmission.
The Slingbox iPad app does not support Slingbox PRO so we connected to the SOLO
If you don't have intention to sling multiple devices then "Solo" will be fine which connects to all Slingbox viewing apps including facebook whereas Slingbox Pro does not connected to apps for iPad or facebook.  Pro does have an adapter for HD but unless you have sufficient bandwidth 
For and against 
Solo model (1 device) 
Test with connection to Foxtel standard box:  
Result: Perfect: 
control of all channels 
remote viewing devices: 
Desktop app = Ok - very clear, easy to change screen size, 

Facebook app = OK, not so many options  

iPhone app and iPad app, very good quality and easy to change size and stream quality 

Web portal = Ok, easy to change options
Pro model (4 devices)   
Test with connection to FOXTEL IQ: 
Result Perfect: control of all channels
I'm not a tech head so I have not yet tested on other devices such as DVD and Audio system, I'm only interested in accessing the TV/Fox
Remote viewing devices: 
Desktop app = OK - very clear and easy to change scren size

Facebook app = no: not designed for pro 

iPhone app = OK, easy to change quality  iPad app = No: not designed for this app 

Web portal = Ok, easy to change options
Quality: excellent depends on bandwidth, easy to switch between devices
Both the Solo and Pro are OLD models and now heavily discounted ($140 to $190) though the Australian distributor.
If your chasing the basics the Solo or Pro are fine, if your into perfection you might want to buy the latest tech products which are $500
2014 January - now purchased the new Slingbox 350 - roadtest pending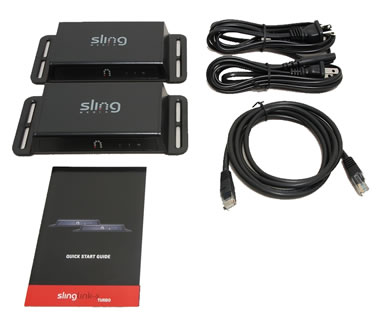 Slinglink Turbo network board
An absolute must buy are the high LAN speed 4 port board
The 4 port board is a stunning winner.
No wiring, plug in to any power point for a LAN connection (some instances it may not work based on the electrical system of your building)
normally around $190 but on sale with a Solo or pro for $99
We bought 2 and plugged them into different rooms with instant success. 
LAN connection with no wiring, No install costs, just plug it in and go.   You could use wifi but LAN is 3 to 4 times faster so why not
Even if you do not want the Slingbox you should buy their turbo network board, it's not only a way low price it's exceptional speed compared to others.
Slingplayer FACEBOOK................
WIFM  - for me!
Whats in it for me
Home (within my network), I can access view via lan/wifi - no costs
At work I can check the TV anytime, in which case I view via the webpage portal or facebook.
On the road! I can view on my iphone / laptop.  
Next time your stuck in traffic, on the train or waiting for a meeting click the app and watch TV
WHEN ABROAD: 

I can access via the web on the computer or the internet caf'e or use the free service at he Hotel, or I can use my smartphone. 
I'm heading to Bangkok next week and look forward to a roadtest. 
I've already checked the install in to Bangkok using teamviewer.
Teamviewer is collaboration software to control another computer thru the net.  I installed the desktop software (optional) and tested the remote computer on 3 browser types (Explorer, Chrome, Fire Fox) and all work.  

The critical issue now is the bandwidth and download allowance.

Slingplayer runs at approx 500kp on the iPhone, on the net it can get to around 900kps whereas on LAN (lodal area network) it will range from 1500kp to 3500kb which means high quality.

You can check expected usage at this link about internet usage calculator.
Installation
The box comes with excellent instructions
The process takes about 20 minutes, if you follow the instructions
Browsers: 
Tested on 
Explorer, Google Chrome, Fire Fox, each requires a different plugin which is free 
You need to visit
Slingmedia
website and register (FREE) to manage your Slingboxes.
There are options to share but I think that is limited to the newer devices.
Costs
There are no ongoing fees.  
Buy the device and that's it.
You can access the FREE www portal to watch your feed.
The cost for the iphone / iPad app are a little higher than the norm but its well worth the price.
Roadtest Display devices
iPad view is exceptional quality and obvious convenience in screen size and light weight personal viewing
The volume range is louder than normal which is handy bonus 
on screen remote control makes it a snap to control the channels
The iPhone view was always going to be impressive and no doubt it's awesome on the iPhone 5 with HD resolution.
The web portal page view has a cool "pop out' window which means you can resize to suit your audience, the resize effects the quality and when its just you on a laptop you don't need a big screen. It's also nice to stream the Tv in a small window while you use other windows for social or work.
Other
some screen views include buffering to of 30mins so you instant reply, otherwise use the features on the Foxtel IQ.
Foxtel does have an smartphone app to watch TV but it's no all channels and will not work abroad.
Share the screen
Only 1 user can view the slingbox at a time, you can share the screen / access to other people but I could not find the option for the Solo or Pro, I think it is only available in the new models
This restriction to 1 user addressed the copyright infringement that would exit if your were broadcasting. 
Youtube
or watch this video of the Roadtest from Bangkok (recorded on iphone 22/10/13)
Copyright
Access is restricted to 1 user which prevents broadcasting which would infringe on copyright. You can view more in
Wikipedia
HOW TO BUY
If you an Aussie based in Bangkok you can have the item sent to me Phillip@austhai.biz  in Perth WA (free postage within Australia) and I will bring to Bangkok during my monthly visits
Slingbox 350 – the latest model
Standard HD .. but be warned .. if u do not have the upload speed it will not sling hd quality - webpage order link model 350
Slingboz Solo - solid and reliable
It does have HD... it's old model but compatible with all remote apps Iphone/Ipad/facebook webpage order link model Solo
Slingbox Pro
With a HD adapter, lets you connect to 4 devices at home? .. dvd and audio system?
Remote is ok to iphone but will not work with apps for ipad or facebook?  webpage order link model Pro
Sling turbo connector  - a must have
Lets you use the electrical wiring in the house as a LAN cable system (no wiring) - webpage order link slingbox turbo connector
More info
View the Slingbox or Slingmedia Australia website for more info including youtube videos and community forums.
AusWaThai forum
Feb 2014 we posted a brief article in our forum so you can exchange queries with readers -
click here