Top
Thailand Fruits Delicious and Sweet
QR Code: 
SM hub this page
No typing, point & scan 
for instant access
Social Media QR Menu: Pending 
 Photos
Banana 
( Around Thailand at Fruit Market Called Kluey Khai )  Eaten Fresh as well as made into Thai dessert with syrup, Kluey Khai is a type of banana that is delicate and easily bruised.
Dragon Fruit.
Hot pink skin and green "scales" peeling back, this is one of the most striking fruits around. The white juicy flesh is riddled with small edible black seeds about the size of sesame seed. High in fibre it has a mild sweet and slightly sour taste similar to kiwifruit.
"King of Fruits", it polarises opinions on its taste more than any other fruit. Chances are you either won't be able to get enough of it, or you'll cross the street to avoid the wafts drifting from the stall of a vendor. It has been described as "tasting like heaven and smelling like hell". Do not having this fruit mixed with any of Beer or whiskey you will get big trouble? The pale yellow flesh is rich and creamy with a taste redolent
of cream cheese and onions. High in minerals, proteins and fats. Pungent aroma.
Grapes
Grapes
 have been growing in Thailand for only 60 years and are seldom used in cooking but are popularly eaten in raw. Most grapes in the kingdom are from the White Malaga type, which are oval shaped, sweetly pungent and yellowish green in colour.

 
Guava (Farang)
Thais only eat guava when it's green and crisp. Pleasant, mildly acidic flavour. Generally served in slices with a mixture of salt, sugar and chilli or a sweet chilli and lime dipping sauce (the mixture is known as "Naam Jim" or "Prik Gooar"). Beware it has a core of hard white small minute seeds to be avoided.  
Green plum (Pood Sa)
The Indiana jujube or Chinese date, the " Pus Sa " is a crunchy yellowish-green fruit, the size of a small plum.
Jackfruit (Khanun)
Can still pack quite a pong. The aroma is quite musky with a hint of over-ripe bananas, can be quite overpowering in confined places. The flesh is removed in small, bright yellow sections about 3 inches long and is very sweet and juicy, tasting of banana bubblegum. 
An enormous fruit which yield small succulent segments. Sweet and tasty, the jack fruit is often eaten chilled. 
Jujube
Small round and oval shaped, the Jujube is only three to four cm in size and is grown on a thorny tree. There are 15 varieties of this fruit. The main variety of this sweet fruit has a tasty white flesh. Jujube is very popular as a juice. When eaten fresh it is often spiced with sugar and chilli dip.
Langsart
The same size as a lychee the langsart has a pale yellowish-brown skin and grows in bunches like grapes.
Tough skin that must be peeled off. It has rather large stones but its flesh is usually sweet. Avoid biting into the stone as it is extremely bitter.  
 The white translucent flesh is divided into sections and is extremely sticky. Very sweet and juicy with a flavour a bit like passionfruit. Try to avoid chewing the seed in the middle as it is very bitter.
Longan (Lum-Yai)

The longan fruit is original fruit of northern Thailand. Tear the peel then take segment in side. Slightly smaller than a lychee with a smooth, dull brown skin. The translucent pulp tastes similar to that of a lychee but a little sweeter and not as juicy. There is a small hard inedible seed in the middle.
Lychee
Beneath the brittle shell of these pinkish-red orbs, the size of golf balls is a translucent white pulp with a strong sweet musky flavour. While most have a large shiny brown seed the most desirable variety, known as "chicken tongue", contain a smaller atrophied seed thus providing more pulp.
Mango (Ma Muang)
Thai mangoes are among the worlds sweetest. Oblong in shape the Nang Klang Wan is golden yellow with a light yellow flesh that is sweet and scented. Khieosawoei is also oblong and green in colour with a sweet whitish flesh. Thong Dam is oval but has a rounded tip and greenish orange skin. Mangoes are often eaten raw and mixed with a tangy texture mixed in a Som Tam sauce with chilli, peanuts and tomato. When ripe the mango is regarded as a taste delight with sticky rice and young coconut milk.
Mangosteen (Mangkhut)
"Queen of Fruits", technically a berry, about the size of a mandarin with a tough, leathery, reddish-purple rind and a stark white, fleshy mesocarp. O
nce opened, be careful of the mangosteen 's purple rind, which is liable to stain, but enjoy its scrumptious white segment . Test of this fruit is sweet and very nice. 
Appeals to almost everyone immediately. Extremely sweet and mildly acidic. To open cut through the skin around the middle and lightly pull and twist apart. The bigger segments contain a seed.
Orange
Oranges have grown in Thailand for centuries and the varieties range from the sweet orange with yellow greenish skin to the bright yellow flesh that is sweet and juicy. Somkieo-wan, the tangerine, is smaller and yellowish green often sweet tasting, but can have a slightly sour but refreshing tang
Papaya
Papayas vary a great deal in shape and size. The popular varieties are cylindrical and grow up to 35cms long. The skin is reddish-orange and when ripe, the flesh is red, firm and sweet. Khak Nuan is similarly shaped with a yellow skin and yellowish-orange flesh that is sweet. Papayas ripen quickly and the skin changes from green to golden orange. It is usually picked and sold in the market when green. Once it reaches the yellow-orange stage it should be eaten.
Pineapple
(Around Thailand at Fruit Market Call Sup Pa Rod )
Peeied, the succulence of the Thai pine apple is irresistible. Refreshing and rich in Vitamin C. The Thai pine apple does not add very much calories to your meal. Thailand
has two types of popular pineapple, which are used in curries or eaten plain. Pattawai is the larger pineapple, dark green on the outside and with light yellow flesh that can taste both sweet and sour. The Phuket pineapple is smaller and cylindrical shaped with brownish-yellow skin and bright yellow flesh that is very sweet and fragrant.
Pomelo (Som-Oh)
An outsized grapefruit, often with delicate pink segments, Can be eaten straight, but Thai peoples like to add a pinch of salt. Large juicy citrus fruit about 6-8inches in diameter. Very similar in flavour to a grapefruit buy much sweeter and without the bitterness. Comes in pink and yellow varieties.
Rambutan (Ngaw)
Rambutan is red color of fruit and hairy rubbery shell is easily opened with a slight cut of the knife. Omit the pit but enjoy the translucent flesh. A particular favourite of the Thai people. Egg-shaped about 2 inches long, and covered in soft greenish-yellow spines. The flesh is sweet with a touch of acidity and very refreshing. To open, partially cut through the skin or break open with a thumbnail and pull apart.
Rollinia (Noi-Naa)
A Relative of the custard apple, the peppermint-green fruit has a bumpy surface covered in soft scales.
Custard Apple with a tiny squeeze and a spoon at hand, the custard apple flesh is yours for the taking. There is a slight problem in separating seeds from flesh while eating, but it's worth it. The flavour is of a creamy lemon sherbert or lemon meringue pie.
Rose Apple (Chom-Poo)

Shape look like a miniature pear, the Rose Apple has a pink and green waxy surface and a porous white interior. Both are edible although this fruit has subtle sweetness of its own. It is usually preferred with with sugar and salt .  Extremely refreshing, a taste mildly of rosewater, bell-shaped, in either red or green, is about 3-4 inches long has a thin, edible waxy skin.
Salak
Grows in a cluster of reddish-brown pods covered in short, sharp spines, the pulp is a creamy yellow with a sweet acid taste not unlike pineapple.
Santol (Gra-Torn)
Dull yellowish-brown, about the size of a softball. Sweet, with a touch of citrus tang, quiet refreshing. Also known as the "lolly-fruit" as the fruit sticks to the large seeds, requiring you to suck the flavour out.
Sapodilla
( Around Thailand at Fruit Market Call Lar Mud). Sapodilla is eaten in the same manner as the mango. Embedded in its luscious pulp are large black seeds.
Resembling a kiwifruit in size and external appearance, the sapodilla grows in two varieties. The Krasauai is elongated and oval shape with brown skin and sweet honey flavoured reddish brown flesh, which is slightly gritty. The Mahok is more oval shaped with brown skin and slightly succulent reddish born flesh.
Starfruit/Carambola (Ma-Feung)
Sweet, watery, slightly acidic tasting pulp that's extremely refreshing 3-6 inches long, five distinct lengthwise ridges give the cross section a five pointed star shape. Then thin, waxy, greenish-yellow skin is edible.
Tamarind (makhaam)
Sweet and sour flavoured tamarind is a common ingredient in Thai cooking but is also popular as a snack. The cinnamon-brown pods are 3-6 inches long. Cracking open the thin shell reveals a rich jam-like pulp containing shiny brown inedible seeds.
Tangerine  (SOM )     (also see Oranges above)
Thai orange with thin, green peel the som is packed with Vitamin C.
The juicy Honey Queen Orange (Som Sai Nam Pueng in Thai) has a yellowish-green peel with bright orange segments are generally loved by the Thais and fresh squeezed orange  juice are sold by the bottles (S, M and L) in the markets
Watermelon
There are two main types of watermelon grown in Thailand – the sugar baby or red variety and the yellow variety. The red watermelon is large, globular with a dark green skin that covers a sweet juicy flesh that is slightly crisp. Because of the size and the thickness of the skin it's an ideal fruit for carving.

Social Media
Thailand common fruit, this page https://goo.gl/Df8c6U
Best Hashtags
#ThaiFruit   #ThaiCulture   #1NightBkk  #BpacApproved  
Related Topics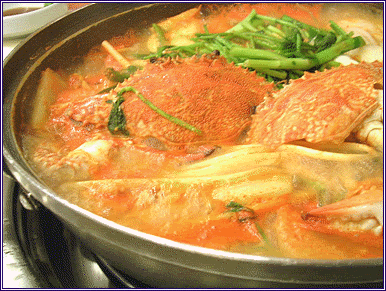 Updates
Hotels nearby
Other stuff
Places visited  
Where we have been link
why try .. . see places of interest, sort table by any column
Bangkok Hospitality & Tourism
Donate Photos, videos to to our Community Groups
Become a Roaming reporter
how it works
News