About
The Ladyboys are an element of "Amazing Thailand". 
Thailand is Muang Tai "Land of the Free" or Pratet Tai "Free Kingdom"
| | | | |
| --- | --- | --- | --- |
| ไทย  | thai(M) | adjective | free; liberated |
Meaning
The term "kathoey" or "katoey"
(Thai: กะเทย, generally refers to a
male-to-female
transgender person or an
effeminate
gay
male in Thailand. Related phrases include sao (or phuying) praphet song ("a second kind of woman"), or phet thi sam ("
third sex
").
The word kathoey is thought to be of
Khmer
origin. It is most often rendered as ladyboy in English conversation with Thais and this latter expression has become used.
Name Correction
The term used for Ladyboy (as shown above) is Kathoey or Katoey .. but in fact the correct term is กะเทย ga theeuy
example
บาร์
สำหรับ
กะเทย


bar (bar) sam rap (for) ga theeuy (gay) gay or transvestite/transsexual bar
Vid 2019
Vid 2007
Beauty contest 2007
The well-known slang word for a gay, ladyboy-like guy 'toot' is English in origin. The word in fact, entered the Thai language after the success of the 1982 movie 'Tootsie' starring Dustin Hoffman. 
Vid dance
how things have changed
PC Air flight attendants: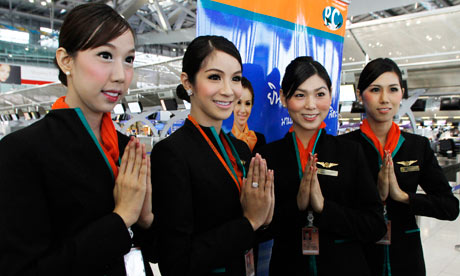 Chayathisa Nakmai, Dissanai Chitpraphachin, Nathatai Sukkaset and Punthakarn Sringern
Her eyelashes, and her stockinged legs, are long enough to warrant a double-take from passengers on board.
It may seem a form of harassment to others, but Thai flight attendant Punthakarn Sringern, 25, relishes the attention.
Sringern – or Mew, as she likes to be called – is one of four "ladyboys" working for PC Air, the first Thai airline to employ
transgender
people.
Finding work beyond the entertainment and cosmetic sectors is difficult for
Thailand
's "third sex", who are said to be more numerous here than anywhere else in the world – so this job, says Mew, is "a dream come true".
Where are they 
Miss Tiffany
Bangkok
Ladyboys shows are rated in most 
popular tours
, the better known cabaret venues Bangkok are 
Calypso
, there are many promoted in traditional tourism channels which are local culture (no or little western signage and language), they are nonetheless very entertaining but recommend you have a local host.
Tourism Bars: typically you will find ladyboy bars in nightlife zones Nana, Soi Cowboy and Patpong, refer 
Bangkok Nightlife zones
Ruamchitt Plaza Hotel near corner of Suk Soi 15 
Prices from online booking services 
Subpages
Social Media
BEST HASHTAGS
#ThaiCulture  #Ladyboys
Related topics
Bkk Entertainment 
last (5)  by latest edits open table to see all
Bookings
P
rices from online booking services 
Tour zones
Join our Community
Tourism Bangkok
Prices from online booking services 
Other stuff
Recommended Events
Places visited  
Where we have been link
why try .. . see places of interest, sort table by any column
Bangkok Hospitality & Tourism
Donate Photos, videos to to our Community Groups
Become a Roaming reporter
how it works
News