Top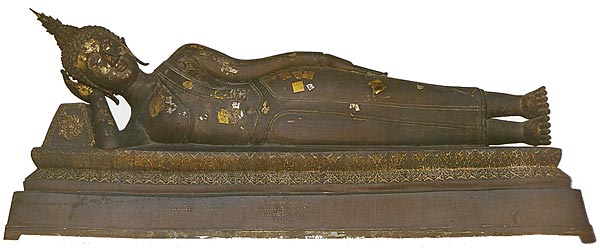 It is important especially to note the difference in position of the right hand. If supporting the head of the Buddha, the image denotes that the Buddha is resting (see story below). If the right arm is lying done next to the body, the image denotes that the Buddha has entered into Nirvana (has passed away). Note on the images, that the left foot is positioned right on top of the right foot, and that the robe of the Buddha is such as it would be if he was standing up.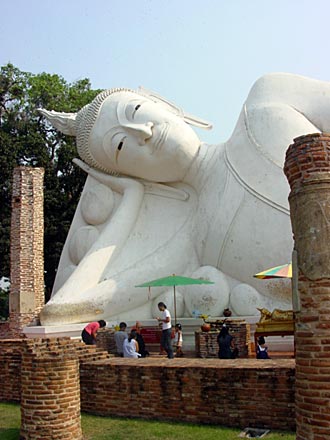 Reclining Buddha
at Wat Imprumoon, Ang Thong province. Why are reclining Buddha images so large? Well it likely relates to a 'story' of the life of the Buddha.

The giant Asurindarahu wanted to see the Buddha, but was reluctant to bow before him. The Buddha, while lying down, presented himself as much larger than the giant. He then showed him the realm of heaven with heavenly figures all larger than the giant. After all this, Asurindarahu, the giant, was humbled, and made his obeisance to the Buddha before leaving.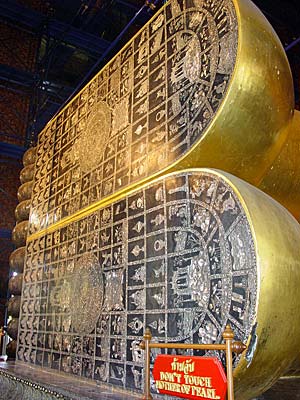 Wat Pho :
As often is the case, the soles of both feet of the Buddha display the 108 auspicious characteristics of the Buddha.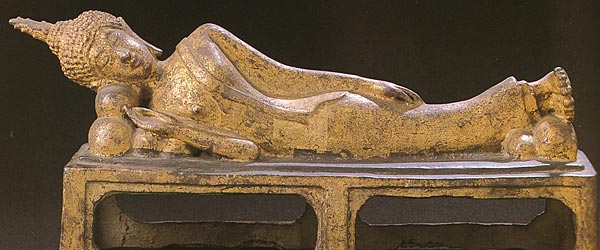 The Buddha has passed away, aged 80 years old, and enters Nirvana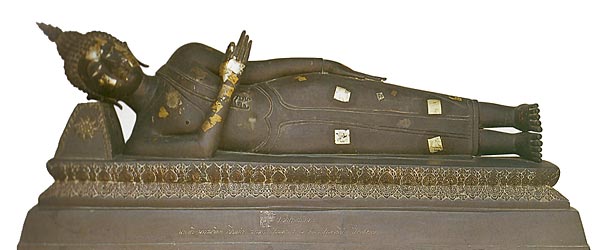 The Buddha preaching his last sermon
On the Buddha's order, on his last day of live, Ananda went into town to spread the word that the Buddha was going to pass away the same day. Subhadda (Supata), a wanderer adhering to another religion, came to visit the Buddha, and asked him some questions. The Buddha taught him that there was no way of attaining enlightenment outside of Buddhism. Subhadda became filled with faith, and though normally there was a 'probation' period before followers of other religions could become a monk, an exception was made, and Subhadda became the last direct disciple of the Buddha on that day. Afterwards the Buddha preached his last sermon to the disciples present. Image at Phra Pathom Chedi, Nakhon Pathom province.