content is made on the fly (draft what is tried and tested) without attention to spelling and grammar  
if  / when I get time to review it will be dressed up
in the meantime if you can get benefit from the info - terrific 
it's workshop stuff, the focus is tips, tricks .. its not a shopfront to sell something  
authors welcome 
this info does not, in anyway represent the company VEER or any other company other than the site
add logo
Sample logos
the process to add logos using Veer Editor is a snap (once you know how) lol
they have tutorial info text and videos in their site
360 Video trailer
add to the start or finish of a 360 video
sample here is a screen shot - the real deal is a 360 image which can be converted to video with music added
2. load into veer 
editor as image and add logo / images to suit 
5. load video into Veer and either add music or use within existing video
Convert photo to video
Veer editor - has restriction of image size (resolution) so if u dnt want to reduce the file size try these alternatives
current output video resolution is 120 x 960
app IOS  
clippycam
 (pay the money to remove watermark)
current resolution output 1280 x 640 
2018.06.21  added more content in 
360 apps
 - under photo
Emoj
1. Veer
2. Other apps
1. 
VeeR provide many in their app
1.a 
you can add your own image, 
logos or emoj
to make your own it must be on a square canvas and might need transparency which means save as PNG - see tips below 
2. Other apps
we came across a cool FREE app by group Snow call ZEPETO
WHATS HOT
its makes a emoj of you on square canvas with transparency 
what's hot
1.make a cartoon character of ?? who ever is in the pic in seconds
2. go to the emoj page and see a hundred of emoj expressions of you
once an emoj face is made you can make the character do actions and interact with other users 
IGNORE ALL THAT .. just go to emoj page Icon bottom right hand corner
the page will be full of your character with diff emoj
3. they are square canvas and transparent background
THIS MEANS THEY ARE READY  TO GO, download as needed and load into VeeR
the emoj page also has a section to make your own - awesome 
If want a full body (not just face) then use the main page, select change background and select and action then press the photo
you will then have to do the manual task of square canvas and transparency . see tips below 
ZEPETO 
FREE  
IOS
The Snow group are also listed in this page under section sections such as Photo effects and filters as their apps handle 2x1 and high res
2018.07.07 tips
make square canvas and Transparency
and Png file 
in page 
360 apps
 section - Photo - other Logo
File format
should be default of the original file 
2018.12 detected a problem with veer force changing the output to Png which blocks / prohibits the file to be recognised by various host sites
with the following comments / tests in response to queries
Veer think tank member gary verified all ok in samsung so it appears to be IOS
ID Card
BUTTONS: made some buttons to pin to my hat or shirt to catch the name in the pics
ID cards: 
Human behaviour:   If I take a pic sometimes i get a glean from 3 parties but if my female PA's (tourism Bangkok) take the shot it's most welcome .. hug
so I decided to try the idea of these ID cards which I carry on clear holder around my neck ..  
SUCCESS: now people come up and ask if they can be in the photo ..  lol 
The buttons were cheap to have made in Bangkok 40 baht each for 3 x 
2019.07
we now wear Google T-Shirts and caps are next 
will add some pics of t-shirts soon 
we also display google on the selfie stick for courtesy to public and people come forward requesting to be in the pics for google maps - its cool 
Narration 
as at June 2018 there is no option in Veer Editor 
work around 
2018.06 
using app IOS 
clippycam
 (pay the money to remove watermark)
current resolution output 1280 x 640 
offers a window to show your face while narrating over a photo or vid - you can size the box/shape and position anywhere on screen including off the screen
as the video quality is restricted 1st consider which image or vid to use ie, up close or or great detail as it will wash down
2018.06.10 IOS vid app Videocraft are currently doing a mod on their app to support 2 x 1 video format
their app has narration and fade between clips and music which will compliment veer editor 
some of the apps have narration 
Tripods
Three is me
nb: it's 270 cm not 2700 (will replace image soon)
I have several tripods which are called on depending on the situation 
Obviously monopod (1 pole) is the preferred by you risk the threat of it rolling over in wind and ouch to the camera
having lost 2 cameras to rig roll in the wind and I do not want to buy / carry weights I've practice the art of using the selfie stick for both horizontal and vertical, refer section below under "Best tripod on the go"
1. small: carry in pants pocket - mounted ready to go
you can search and there are many, my experience is Benro is by far the strongest, most reliable and good fittings
collapsed its only 19.50cm - extends to 
90cm 
ebay Bluetooth Selfie Stick Tripod Monopod Remote Control for iOS Android Smartphones
this is ideal for hold in your hand but a little to small to place on the ground for a standard shot 
I will either hold it above me head bracing the pole against my body or switch the the medium 
often I can find a table or chair to use which will be washed out at nadir when I place a logo over the nadir 
2. Medium:   very light weight and quick to snap into position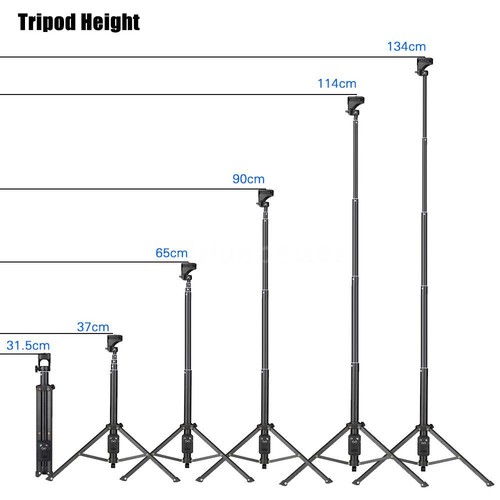 3. Longest:  
2.7 mtr carbon fibre selfie pole
has standard 1/4 thread and go pro connector also thread on the bottom to mount to ???? lol
gotta try this on my drone ..  lol
Risk Management:  slightly worried if the pole will break so I'm going to try to connect a length of fishing line to the camera to my hand .. just a thought 
I'm also worried that hanging this over a bridge or rooftop I should have a safety line on the camera .. its comfort for me and the public 
if anyone tries before me pls let me know  
Facebook  
Phill R Smith
social media post - add comments 
udpate 2020
SNAKE POD
hang off your arm or body parts or a tree or over head limb of sorts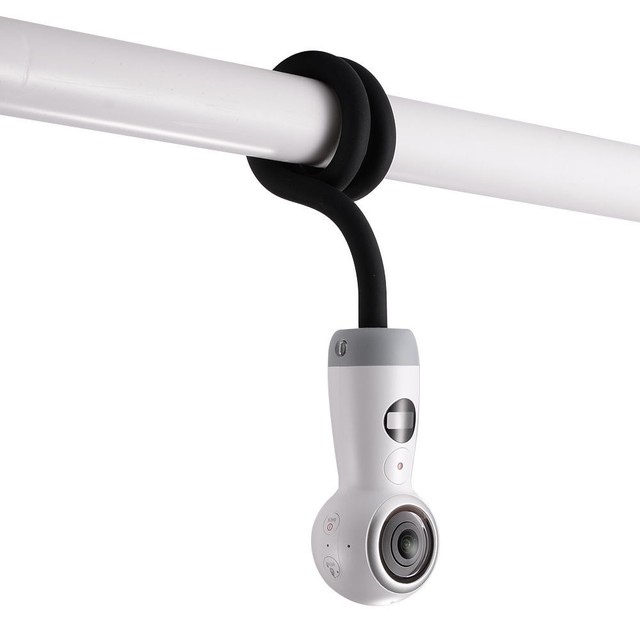 Best on the go
best tripod on the go
the selfie tripod stick fits in your pants pocket / purse / man bag with camera ready to go
approx 90 cm long
the biggest worry is lightweight and rig blowing over in the wind or tackled by passing pedestrians
so brace it against your body (hold your breath)
you can also point the stick straight out and the pic will self level and the tripod will vanish in production / stitching 
nadir: if held above your head: 
I tried adding logo buttons to my cap but its not always clear so I use Veer logo (I share them
here
 or veer emoj in their free editor app
Nadir: if stick held out horizontal 
Pushbike config
2019.07.31 
Config mapping on push Bike 
Social Media
1. my post fbk pls comment
:
add to the fbk post
2. pls add hashtags to your post #360devices #360Tripods  #TripodForSphercial
Video specs / Resolution 
2018.06 only thing I found is to use free app
Veme.ly
step thru the stages to create / process the video to fund the option 
export options available 
DO NOT assume the best output is the existing resolution 
click on the title Export Options Available to see a new page showing the resolution of the existing video 
2018.06.21  found more apps to do same
360 apps
 -
under UTILITIES
Widgets
this info was originally created for DRONE APP HANGAR 
in short 
the share link within app to Facebook is the fastest loading widget but not the most detailed
some other widgets are loaded below for speed test against facebook
Facebook: click image to open the 360 view in facebook
widget loads quicker, 
1st upload into loads fast, lacks 
other apps
wide view
same standard size used for other 360 Host / cloud sites  
https://viewer.hangar.com/o046mJj2
view square
can increase to any size 
Other host sites include 
Theta, 
Dermandar, 
Veer,  
and others see list in section below called 360 host sites
Disclaimer 
this info does not in anyway represent the company VEER or any other company, the info is created on the fly (as I go) in research and development of my hobby of 360 spherical cameras.  The info is available for anyone to use on the condition they understand they need to test before relying on the data .. take ownership 
if the matter is critical to you then make enquires before deciding  
Lab tests
nb: these are actual tests -> b4 creating this page many are shown in basic in page 
360 apps
last 5 by latest edits - open table to see all and sort by any column  
360 Community
last 5 by latest edits, open table to see all and sort by any column
about 360 apps
last 5 items by latest edit: open table to see all
Disclaimer
WARNING: lab test often includes multiple widgets (embedded objects) which means the page needs a little more time to download 
so be a little more patient than norm
the test is completed as an end user 
and shared to community free, the limited time is applied to the practical use of the product not spelling / grammar and window dressing as it's not a commercial activity  
If you get benefit from this my page: 
about me in feedback link or at top of 360 apps page
Buy us a coffee
when I roam around town with a few bags of camera gear, phones and compass I get tired 
ultimately I prefer support for visit my local charity project 
360 spherical 
1. volunteered page contact: moderators speller checkers welcome
2. page topic:  contact Phill Smith - details in page 360 apps "
submit your app
" 
3. 
this website refer below