Top
posted 
2 Jul 2016, 15:02
 by Happi Mess 
ART IN PARADISE BANGKOK
INTERACTIVE ART MUSEUM FUN FOR THE WHOLE FAMILY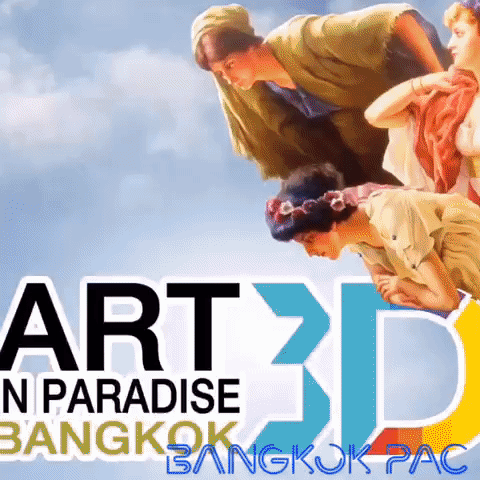 inside modern shopping centre with tourism Icons in the immediate area including the Funky
Ratchada Train markets
Located a few kms from Siam Centre easy access via subway, directions in SM hub link below
QR Code: 
SM hub this page
No typing, point & scan 
for instant access
Social Media QR Menu: Pending
About
อาร์ตอินพาราไดซ์ กรุงเทพ
3D Interactive Art Museum, a
 permanent exhibition where you can interact and create you unique 3D art and capture photos for your memories to share with friends and family. 
Photos vary according to the pose, the angle in perspective to the camera stand, don't worry they have recommended anchor points for photos as well as suggested poses to help you get started.
Art in Paradise offers a unique point of difference from other museums, here you can enjoy watch others go crazy with funny poses and wood be actors .. lol or join in and snap cool pics to share with your network. 
SM Posts this event
article/s posted into several Tourism Groups
Linked in: Travel and corporate groups
All media distribution channels can be found in the link below under "media Channels"
Check in S.M. Art in Paradise
 show some Social Media love ......
360 Spherical Photo / video
Best viewed in smartphone / tablet for unique effect
Incentives
check their
website
 to see latest promotions, currently 20% discount with coupon on the website
Share this page
QR Code: 
SM hub this page
No typing, point & scan 
for instant access
Social Media QR Menu: Pending

Bangkok Hospitality & Tourism

Donate Photos, videos and adventure stories or join our Community Groups


Become a Roaming reporter  how it works


Feedback / faults