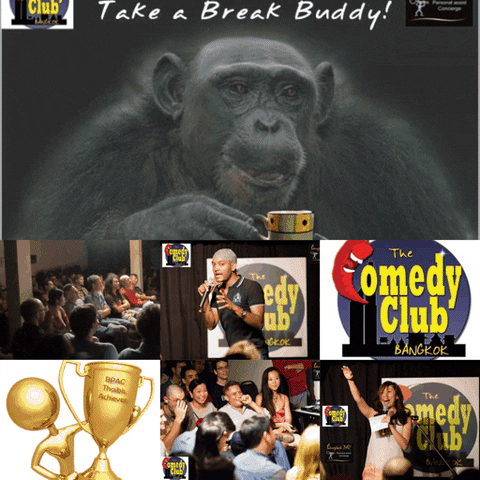 About
Welcome to Bangkok's first ever dedicated English language comedy club with weekly shows every Friday, located at Sukhumvit 33/1 above '
The Royal Oak Pub'
!
How funny life can be! What started as a casual first time stand-up comedy open mic over 4 years ago soon turned into Bangkok's longest running open mic. Now with the growth of the comedy stand-up scene, improv, plays and workshops it's time to have a new home! 
Co-founder and performer Chris Wegoda, who also runs stand-up comedy nights declares the newly furbished venue will be dedicated to comedy in all forms, as well as workshops and training.
Logistics:
Language: English 
Location: short walk from popular BTS skytrain station with a treasure of tourism Icons before or after the show
Located inside (4th flr) of Royal Oak Pub with great food drinks to suit before or after
Show themes: Check the events to know the culture
Bronze: Open Mic:  workshop for new comedians &/or new material (crowd empathy needed)

Silver: Improv / Whose line is it - group performance interacting with audience input

Gold:  Main events  - accredited / seasoned comedians 
Prices from 300bht to 1000bht depending on the theme
Capacity: approx 60  - cosy
Bar inside the comedy room
Food: dine at 2nd flr of the Royal Oak Pub
Post events: most performers are avail for photo or social chat (drinks) in Bar downstairs
360 Spherical photo:  
Audience juggling beers and drinks before show time
Zoom all the way out to make a crystal ball effect and then spin it.. 
Best view: smartphone tablet for Virtual Reality effect
to see control options go to the link 
Check in S.M.
show some love ......
Give a like, review, share
Sukhumvit Soi 33/1, 
Khlong Tan Nuea, Watthana, Bangkok, Thailand
. 
4th flr of Royal Oak Pub
note: map image may not be 
true North
, rotated for best view
Longdo map link
is Thai & English for taxi driver, Google link below in Social media menu for GPS navigation
200 mtrs to enter Soi 33/1
, then 150 mtrs to Royal Oak Pub 
1. afront entrance stairs on the right 
2. or inside pub at rear is 
internal stairs to each level of pub and comedy club
before the show enjoy high quality meal on 1st flr of Royal Oak Pub on, then go up stairs to Comedy Club 
Bar service in the comedy room access during the show
Youtube below
Created: 18/11/2022
Theme: Newbie info
Duration: 3mins
best practice: view using external link
Social media hub this page 
Gallery this page in SM links below
Virtual tour
in the meantime try 
Google Street View - STEP INSIDE
Starting point: 
 at entrance to Pub (Comedy club upstairs)
tip: use external link, match sample image to fly, jump, walk 
tip: fly, jump, walk tricks shown in link "FREE Drop"
An extension of Street view where 360 images are inside places (buildings and property) 
rotate mobile to landscape 
best option is use external link below image
more images and better control in in virtual tour this page 

Mobile link: see get free app 
- link below
SM channels & hashtags below. G
ive reviews & share
more channels below.....  
SM channels
show the love... like, share and stuff 
do more .. 
Copy the media hub link & hashtags (above) and paste into your
post, the hashtags 
will group the posts into a stream
 ... cool!
Pls share me
Hashtags this gig
Tip: Copy & paste these hashtags & web page url into your post for search match

The Comedy Club Bangkok English language, weekly shows, upstairs from Royal Oak Pub close to BTS skytrain station Phrom Pong, SM hub https://thaibis.family/ComedyClubBkk





BEST HASHTAGS 
#BkkComedyClub  Industry  #BkkComedy  #BkkEntertainment related #BtsPhromPong  #BkkTouricon  #BkkAchiever  #BpacApproved  #1NightBkk



live hashtag links: click on a live hashtag link below to see how it works


How to use Hashtags for Social Media


Buy us a coffee
when I roam around town with a few bags of camera gear, phones and compass I get tired 
ultimately I prefer support for visit my local charity project 
Join our Community
Tourism Bangkok
Prices from online booking services 
Other stuff
Places visited  
Where we have been link
why try .. . see places of interest, sort table by any column
Bangkok Hospitality & Tourism
Donate Photos, videos to to our Community Groups
Become a Roaming reporter
how it works
News