Gurdwara Siri Guru Singh Sabha | คุรุดวาราศรีคุรุสิงห์สภา (วัดซิกข์)
Gurudwara Details: A MASSIVE 6-7 storey Sikh Gurduara in the heart of the Business district built in 1911. 
This is considered to be the second-biggest Sikh temple outside India and its construction is said to have cost 100 million baht (around 1.9 million euros). Indeed, so simply elegant is this marble structure with its golden dome, that this price may 
very well be correct. When the Sikhs breakfast at the temple, non-Sikh visitors may also sit down and eat with them - as is the case in all Sikh temples
Run under the auspices of the THAI SIKH ORGANISATION. Functions held daily, also houses Medical facilities, School and various other Sikh organisations. 
This Gurduara is a MUST for Sikh visitors in Bangkok, there about 26 other Gurduaras in Thailand, although the Sikh Thai Org, only records about 17. 
During the 2nd WWar 2 bombs fell directly on the building, with several hundred Sikhs sheltering, but they failed to explode.
NOTE: when you arrive you will need to remove your shoes and cover you head, ask for help in the ground floor foyer.



Background

Among the first Indians to arrive in Thailand was Kirparam Madan in 1884. He was a Sehajdhari Sikh from Bhadewal village in the district of Sialkot (now in Pakistan). He was granted an audience with King Rama V of Thailand. He brought his relatives whose surnames were Madan, Narula and Chawla. They were among the first members of the Indian diaspora in Thailand, who started to arrive in the late 19th century.

By 1911, many Sikh families had settled in Thailand. At that time Bangkok was the centre of migrant Sikhs, but there was no Gurdwara, so religious prayers were held in the homes of the Sikhs in rotation on every Sunday and all the Gurpurab days. In 1912, the Sikhs decided to establish a Gurdwara. A wooden house was rented in the vicinity of Baan Moh, a well known business area. In 1913 (or the year 2456 according to the Buddhist calendar), with the continuing increase of the Sikh community, a new larger wooden house was leased for a long term at the corner of Phahurat and Chakraphet road. After considerable renovation and decoration, the Guru Granth Sahib was installed and religious prayers were conducted on a daily basis.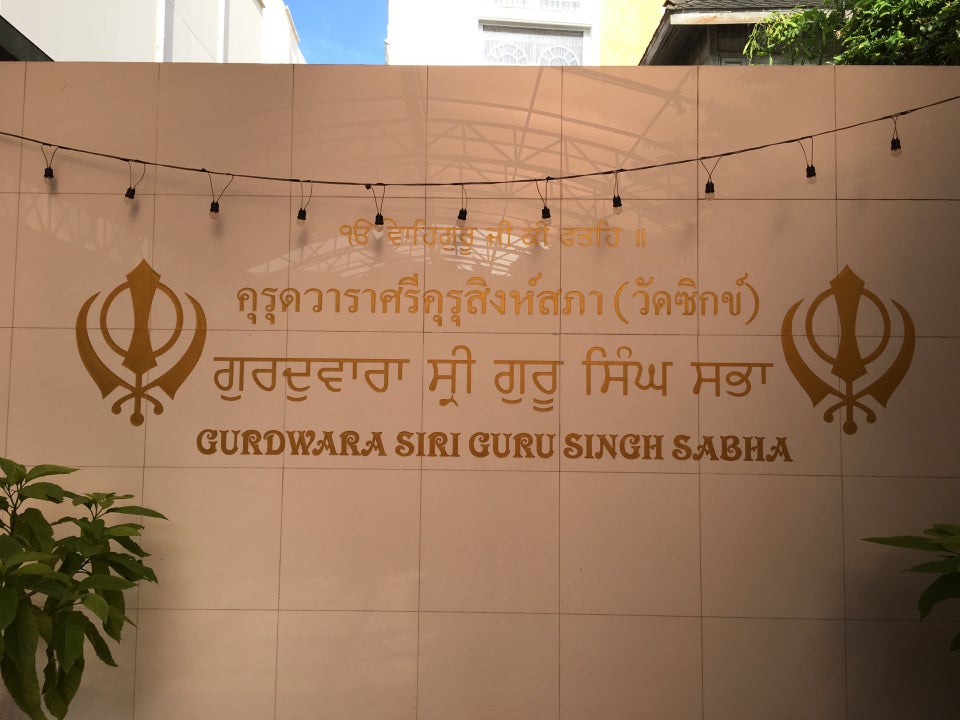 As time passed, in 1979, the decision was made to renovate the Gurdwara and make it bigger to accommodate the increasing number of Sikhs. Together the committee of Siri Guru Singh Sabha and the other Thai-Sikhs decided to construct a new Gurdwara at the same location. The foundation stone was laid down by the Panj Piare, the Five Beloved Ones. The new Gurdwara was completed after two years in 1981.
Check in S.M.
 show some Social Media love ......
  all channels, best hashtags
like, review, a tag, share
Location
565, Chakraphet Road,Pra Nakhorn, Bangkok, 10200, Thailand
Longdo map link
 is in 
Thai & English for taxi,
Google map link in SM menu for GPS navigation
Google+ below: open album  I  by location   I  slideshow
Best view with smartphone.
use external link option for best effects
why use smartphone
Virtual Reality effect, 
turn device at any angle or better turn around while holding the device for 360 / Spherical view, 
more at about 360 Spherical Photo apps

 
Note:: Images are loaded into TWO (2) sites for different effects
1 live example followed by thumbnails of others of the day 
Zoom all the way out to make a crystal ball effect and then spin it.. 
Best view: smartphone tablet for Virtual Reality effect
all other of the day BELOW, click a thumbnail to watch in 360  or page down to VR (Virtual reality mode)
Site 2 Dermanda: 
VR (Virtual reality) mode
Best view images in smartphone, turn around and the image will move as you move
album: GSGSSB 31/10/16  
Directory
 I 
album
 I 
slideshow
 I 
map location
you can 
change search: 1. deselect tag words from directory 2. select new tag words 
use the links to post the 360 pics into your social media
Please do share into your social media 
Google street view
Starting point:  Entrance 
Street view map tips summary
Desktop:  F

ullscreen: Icon top right | Arrows: direction; click to move | 

White frame on cursor: click to jump or zoom  

| Reposition: drag street Icon (orange person)

Smartphone: get Google street view app
Tour zone Icons
This area reserved for Icons Chinatown 
Hotels Nearby
Tip: Copy & paste these hashtags & web page url into your post for search match



GSGSSB Sikh Temple in Chinatown (little India) Bangkok

, 

A MASSIVE 6-7 storey Sikh Gurduara in the heart of the Little India Business district built in 1911, SM hub https://goo.gl/cI9LkF

BEST HASHTAGS


#SikhTempleBangkok   #GsgssbSikhBangkok  

 #

BkkAchiever   #BpacApproved

  

  

#BkkZoneChinatown





live hashtag links: click on a live hashtag link below to see how it works





How to use Hashtags for Social Media


Share this page
No typing, just point & scan 
for instant access
Social Media QR Menu: Pending
Other stuff
Places visited  
Where we have been link
why try .. . see places of interest, sort table by any column
Bangkok Hospitality & Tourism
Donate Photos, videos to to our Community Groups
Become a Roaming reporter
how it works
News