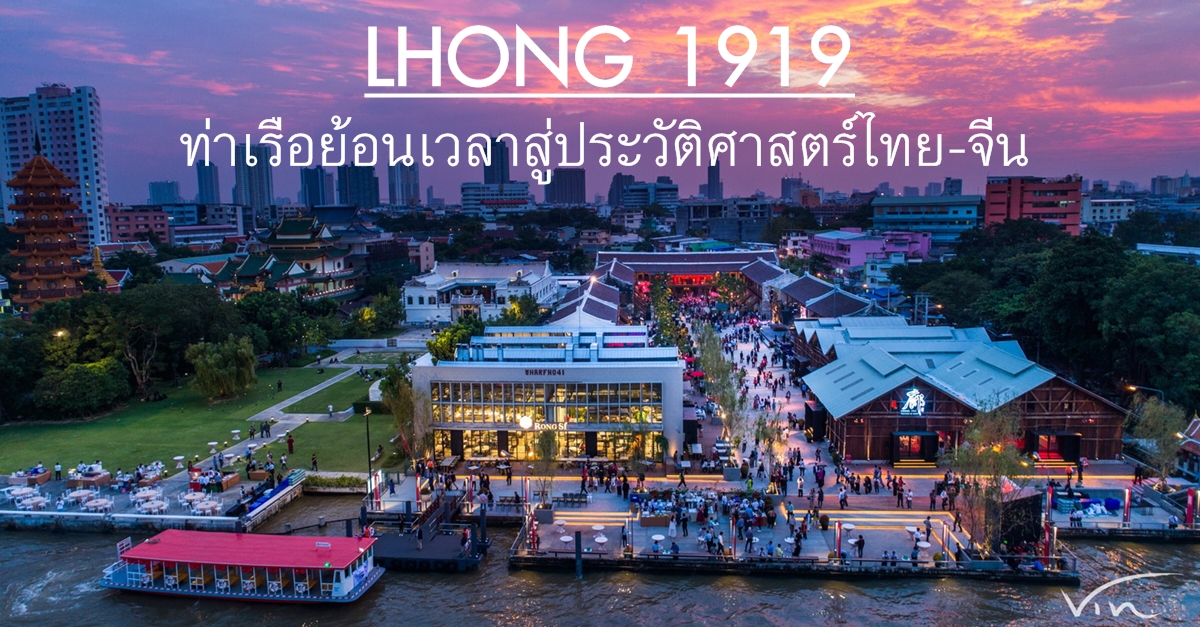 Lhong 1919 Bangkok is a 19th century Chinese mansion fully restored and opened as an attraction. 
An Infusion of local heritage with shopping, dining and lots of photo opportunities – a fun day out in Bangkok. 
The centre point of this old Chinese manor is the large shrine to Mazu, the Chinese goddess of seafarers. 
While we were ogling the makeover of Warehouse 30's old storage facilities on Charoenkrung, local design firm PIA Interior went and did the same over on the Khlong San side of the river.
Lhong 1919 has reclaimed a group of old warehouses and a Chinese shrine dating back to King Rama IV (1851-1868) for its 6,800 sq meters of co-working space, eateries and art and design shops spotlighting the work of young artists.
Not in the mood to shop? Iberry's new restaurant Rong Si serves up Thai standards, as does Thai cafe and restaurant Ploenwan Panich's new branch. Karmakamet's also has an eatery here.
FYI, the public pier on the riverside is not officially opened so visits require some trip planning. 
Try taking the river-crossing boat from Si Phraya pier to Klongsan pier and walking along Soi Wat Thong Thammachart.
The air is heavy with the scent of incense and smoke and many people will kneel to say a prayer. As you walk around the courtyard and rooms, you can see period fixtures and artefacts displayed for visitors to see. In parts, it feels a little like a theme park recreation of what a 19th century Chinese mansion should be, but it's still wildly popular with locals and visitors.
Heritage at Heart ท่าประวัติศาสตร์ศิลป์ไทย-จีน ริมแม่น้ำเจ้าพระยา เปิด 8.00-20.00 น.
Check in S.M.
 show some Social Media love ......
Location
248 ถนน เชียงใหม่ Khwaeng Khlong San, Khet Khlong San, Krung Thep Maha Nakhon 10600
Longdo map
 is in 
Thai & English for taxi, 
Google map link in SM menu for GPS navigation
ferry boats (blue flag) stop here otherwise shuttle boat across river from Pier Sawasdee
Bookings
no booking required unless restaurants on busy days
Accredited Viator (TripAdvisor) topic:  ??????    I  
Youtube

below -

external link


shorter version
IN PRODUCTION
Site: Veer  VR  TV
VEER TV or VR 360 spherical Photos video
desktop and sPh apps and host site
best viewed in smartphone for VR Virtual Realty Effect, pause anytime and rotate view
tips/tricks: search by tag words, create collections, include link, share and embed
Google+ below: open album  I  by location   I  slideshow
Facebook album at B.Pac: open album
IN PRODUCTION
Gallery this page in SM links below or google search
360 Spherical photos
Best view with smartphone.
why:
VR: Virtual Reality effect, 
turn device at any angle or better turn around while holding the device for 360 / Spherical view, 
about 360 Spherical Photo apps
Note: Images are hosted in different sites for different effects
Site: Theta:  
Powerful zoom in / out
why Theta site: many display controls,  
Zoom out to make a crystal ball, all display styles can be downloaded. 
click a thumbnail to watch in 360 
  -
have fun morphing the images
Theta site lets you change the display styles - see options below images in Theta site or 

Street view
Starting point:  Entrance 
Street view map tips summary
Desktop:  F

ullscreen: Icon top right | Arrows: direction; click to move | 

White frame on cursor: click to jump or zoom  

| Reposition: drag street Icon (orange person)

Smartphone: get Google street view app
Tour zone Icons
sorted by latest changes
reserved for Icons this Zone
More info
Hashtags this gig
Tip: Copy & paste these hashtags & web page url into your post for search match



LHONG 1919 a former Mansion of Heritage Chinese trader, morphed into riverside Tourism centre of Chinese temple and modern hip arty shopping and restaurants, awesome photo ops, SM hub https://goo.gl/JMn7pB

BEST HASHTAGS


#Lhong1919Bkk    

#BkkMarkets  #BkkDining  

Industry #bkktourcomplex  #chaophrayariverspot related  #bkkachiever  #bpacapproved 

 

#BkkFamilyFun

 

 #1NightBkk   #EtBkkYes  

#BkkZoneThonburi





live hashtag links: click on a live hashtag link below to see how it works


How to use Hashtags for Social Media

Share this page
Tourism Bangkok
Other stuff
New to town?
Be Served
Serve yourself > D.I.Y. 
New 
to town?
Bangkok 
Novice to Advanced
, multiple search engines
Tour zones
Buy us a coffee
when I roam around town with a few bags of camera gear, phones and compass I get tired 
ultimately I prefer support for visit my local charity project 
Join our Community
Recommended Events
Places visited
Where we have been link
why try .. . see places of interest, sort table by any column
Bangkok Hospitality & Tourism
Donate Photos, videos to to our Community Groups
Become a Roaming reporter
how it works
News