fastrack index 
Opened Nov 2018 
Mahanakhon Skywalk จุดชมวิวที่สูงที่สุดในประเทศไทยบนตึก King Power Mahanakhon
The MahaNakhon Skywalk, sitting 314 meters up the King Power ManaNakhon skyscraper, opens to the public today.
The skywalks are located on the 74th, 75th and 78th floors. The 74th floor is an indoor observation deck that offers augmented reality looks at tourist attractions in Bangkok. The 75th floor has a glass elevator which leads to the rooftop and an outdoor observation deck on the 78th floor.
Visit the the topmost floor and step onto the Glass Tray, a transparent floor for heartstopping views straight down. Up another flight of steps sits The Peak, a platform offering a 360-degree view. Have a drink to calm your nerves at what's billed as the highest rooftop bar in Thailand.
MahaNakhon Skywalk is open to the public 10am to midnight daily. The MahaNakhon building is located on Narathiwas Road at BTS Chong Nonsi. Tickets to the skywalk? They come at two levels: 850 baht tickets offer access to the 74th floor, while 1,050 baht tickets offer access to all the three floors (74th, 75th and 78th)
Check in S.M.
show some love ......
Location
114 Narathiwas Road (next to BTS Chongnonsi) (4.93 km, Khwaeng Silom, Khet Bang Rak, Krung Thep Maha Nakhon 10500
Google map link in Social media menu for GPS navigation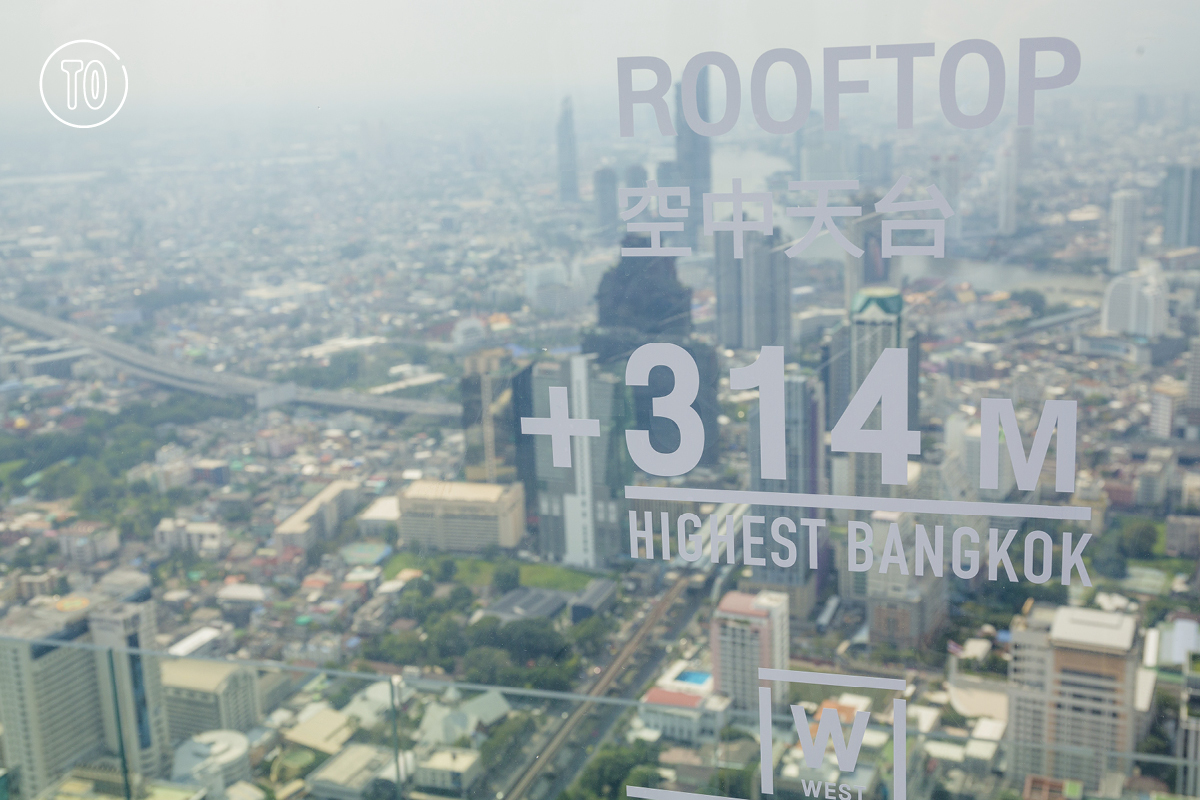 Virtual tour
Restaurant, 
street view, entrance,  
rotate mobile to landscape mode or use 
tip: use external link, match sample image to fly, jump, walk 
tip: fly, jump, walk tricks shown in link "FREE Drop"
Mobile link: see get free app 
- link below
Tour zone Icons
this area reserved for tour Icons this zone
Hotels
Zone Silom Sathorn  Agoda
Social Media
SM channels & hashtags below
Like, review & share
more channels below.....  
Hashtags this gig
Tip: Copy & paste these hashtags & web page url into your post for search match





The MahaNakon Skywalk open Nov 2018 78 flrs up 314mtrs several levels including transparent floor ... can you try, at BTS station Chong Nongsi SM hub

https://goo.gl/yKzraQ

  



BEST HASHTAGS


 

#MahNakonSkywalk  Industry #BkkRooftop #BkkTourIcon  #BtsChongNongsi #BkkAchiever  #BpacApproved

  #1NightBkk  #BkkZoneSilom 



live hashtag links: click on a live hashtag link below to see how it works
How to use Hashtags for Social Media


SM channels
show the love... like, share and stuff 
do more .. 
Copy the media hub link / hashtags (above) and paste to your
post (Hashtags 
group posts into a stream
 ... cool!)
Tour zones
Buy us a coffee
when I roam around town with a few bags of camera gear, phones and compass I get tired 
ultimately I prefer support for visit my local charity project 
Join our Community
Other stuff
Recommended Events
Places visited  
Where we have been link
why try .. . see places of interest, sort table by any column
Bangkok Hospitality & Tourism
Donate Photos, videos to to our Community Groups
Become a Roaming reporter
how it works
News