Top
The Jam Factory  
(เดอะแจมแฟคทอรี่)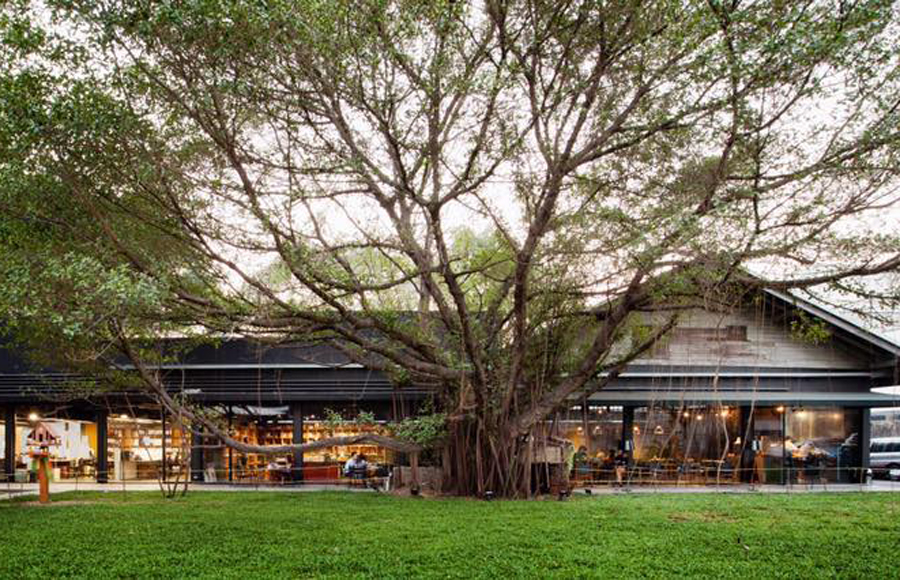 The Jam Factory Bangkok is for those with the flare for creative vision from what was an old factory it's now a place for space and create
here you'll find space, restaurant, cafe and bookshop
. 
Lrge glass walls and iron framing, giving it an industrial feel and outside there's large grassy area and big Bodhi tree. 
There are very few places in Bangkok where you can go and truly let out a sigh of relief. Picture this: a series of old factory buildings wrapped around a grassy courtyard, massive Bodhi trees and a deck leading to the river's edge. 

This place can be get very busy on weekends, the bookshop doubles as a cafe and there are books in English, Thai and a few in Chinese. The restaurant sells home décor and there is a smaller room with furniture for sale.
The Jam Factory is a café, a homeware store, a gallery, a restaurant, a bookshop, and an office, all in one on the river.
Open daily 10am to 10pm
What else 
at the Riverside (East) is another newer restaurant called
The summer House Project
 which caters for indoor and outdoor with a spacious outdoor courtyard on the river separated from the river by a narrow walk way which can be used to access the the Jam Factory Pier left (North) or right (South) to
Klong San Pier
to cross the river 
Check in S.M.
 show some Social Media love ......
Location
Khlong San, Bangkok 10600
Google map link in SM menu for GPS navigation
Google map:  for live link, scroll down page to Google street view  
Bookings
check the prices from the various online booking services 
Accredited Viator (TripAdvisor) topic:  ??????    I  
Youtube

below -

external link


shorter version
this video was shot on the fly not enough time or light but u get the idea 
Google+ below: open album  I  by location   I  slideshow
Facebook album at B.Pac: open album
IN PRODUCTION
Gallery this page in SM links below or google search
360 Spherical photos

Best view with smartphone.
why: 
VR: Virtual Reality effect, turn device at any angle or better turn around while holding the device for 360 / Spherical view,
Note: Images are hosted in different sites for different effects
Site: Theta:  
Powerful zoom in / out
why Theta site: many display controls,  
Zoom out to make a crystal ball, all display styles can be downloaded. 
click a thumbnail to watch in 360 
  - 
have fun morphing the images
Theta site lets you change the display styles - see options below images in Theta site or 

 
Google street view
Starting point:  Main road enter plaza and follow signs
Street view map tips summary
Desktop:  F

ullscreen: Icon top right | Arrows: direction; click to move | 

White frame on cursor: click to jump or zoom  

| Reposition: drag street Icon (orange person)

Smartphone: get Google street view app
Tour zone Icons
at Pier Klong San Markets
Hotels nearby
Hashtags this gig
Tip: Copy & paste these hashtags & web page url into your post for search match



The Jam Factory, on the West side of Chao Phraya river Bangkok is home to heritage warehouse cafe' markets, bookstore, biggest Buddhist Bodhi trees and exquisite riverside restaurants, SM hub https://goo.gl/KKeMNL

BEST HASHTAGS


#TheJamFactoryBkk   Industry #

BkkDining  

#ChaoPhrayaRiverSpot   #CPRPierKlongSan  #BkkZoneKlongSan   

related   

#BkkFamilyFun   #

BkkAchiever   #BpacApproved

 

  

#BkkZoneThonburi





live hashtag links: click on a live hashtag link below to see how it works


How to use Hashtags for Social Media


Share this page
or select your platform 
Tourism Bangkok
Hotels nearby
New to town?
Be Served
Serve yourself > D.I.Y. 
New 
to town?
Bangkok 
Novice to Advanced
, multiple search engines
Tour zones
Buy us a coffee
when I roam around town with a few bags of camera gear, phones and compass I get tired 
ultimately I prefer support for visit my local charity project 
Join our Community
Recommended Events
Places visited
Where we have been link
why try .. . see places of interest, sort table by any column
Bangkok Hospitality & Tourism
Donate Photos, videos to to our Community Groups
Become a Roaming reporter
how it works
News