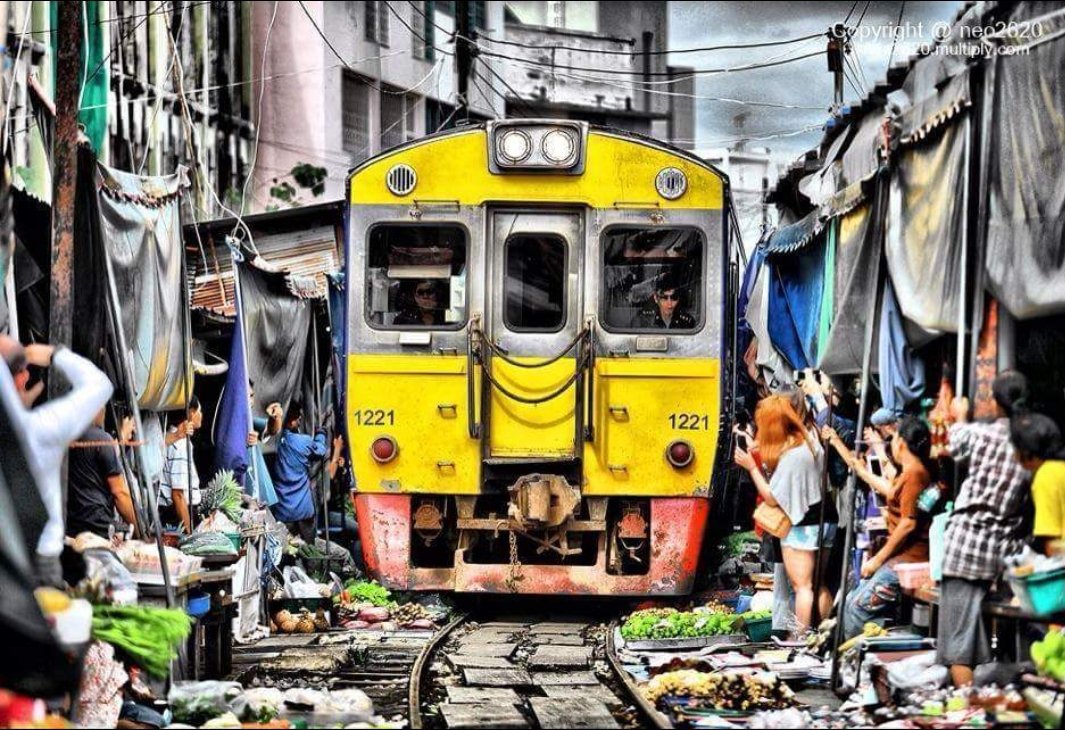 About

Mae Klong Railway Market (Hoop Rom Market) is a local market in Samut Songkhram Province, commonly called Siang Tai (life-risking) Market. It is considered one of amazing-Thailand attractions in the province. Spreading over a 100-metre length, the market is located by the railway near Mae Klong Railway Station, Mueng District, Samut Songkhram Province. 
It is a common fresh market selling seafood, vegetable, fruits, fresh and dried food, meats and other miscellaneous goods. Mae Klong Railway Market is open from 6.00 a.m. -6.00 p.m.
Nick Names 
Siang Tai  (Life Risk)   or Talat Rom Hub (umbrella pulldown markets)
The railway became famous for its route through the Maeklong Railway Market, nicknamed (
Thai
: ตลาดร่มหุบ;
RTGS
: Talat Rom Hup), meaning the "umbrella pulldown market".  It is one of the largest fresh seafood markets in Thailand, and is centred on the Maeklong Railway's track. Whenever a train approaches, the awnings and shop fronts are moved back from the rails, to be replaced once the train has passed.
The market is called 'life-risking' market because its stalls are attached to the Mae Klong-Ban Laem railway, which is a short railway line running from and to Mahachai and Mae Klong. Vendors at the market put out parasols or canvas to protect themselves against the sun. The shelters stick into the railway where visitors walk and do their shopping. When each signal of the arriving train rings, chaos happens: vendors will rush to close their parasols and canvas, along with clearing all goods that will obstruct the coming train at a great speed. Once the train passes, parasols and canvas will be reopened as goods are again put into their usual place next to the railroad. The market, accordingly, is so called 'Hoop Rom (umbrella/parasol-closing) Market'. The practice is usual for vendors and local people, but not for tourists who will definitely find the scene exciting and enjoyable at each visit. The parasol-closing event happens eight times per day according to the time that trains leave Mahachai for Mae Klong and depart Mae Klong for Mahachai. Trains will arrive at Mae Klong Station at 8.30 a.m., 11.10 a.m., 2.30 p.m. and 5.40 p.m., and depart the station at 6.20 a.m., 9.00 a.m., 11.30 a.m. and 3.30 p.m..
To arrive by car, take Thonburi-Pak Tho route until the 63rd kilometer. Keep left and enter the paralleled elevated highway to read the centre of Samut Songkhram. Drive past the first light and the market. At the second light, turn right and cross over the railway to arrive at Mae Klong Railway Market.
By train, from Wonwian Yai Railway Station, get off at Mahachai Station. Take a ferry to Tha Chalom side and catch the train from Ban Laem Station to Mae Klong, which is the last station.
Check in S.M.
 show some Social Media love ......
  all channels, best hashtags
like, review, a tag, share 
just do it !
Location
Mae Klong, Mueang Samut Songkhram District, Samut Songkhram 75000
Longdo map
 is in 
Thai & English for taxi, 
Google map link in SM menu for GPS navigation
Google map:  for live link, scroll down page to Google street view  
Youtube

below -

external link


shorter version
note: if the youtube screen does not show spherical then copy and paste (right click copy) the link into your mobile app browser
Google+ below: open album  I  by location   I  slideshow
Facebook album at B.Pac: open album
IN PRODUCTION
Gallery this page in SM links below or google search
SM channels
show the love... like, share and stuff 
do more ..
Copy the media hub link / hashtags (above) and paste to your
post (Hashtags 
group posts into a stream
 ... cool!)
Pls share mee
Hashtags this gig
Tip: Copy & paste these hashtags & web page url into your post for search match



Maeklong Train Markets in Samut Songkram is Siang Tai (life risking) as it stretches along the railway track and must be ready to evacuate to avoid the train, SM hub https://goo.gl/VEWMGf

BEST HASHTAGS
#MaeklongRailwayMarkets  Industry #FleaMarkets 

 #Zone

SamutSongkhram   

#BkkFamilyFun  #

BkkAchiever   #BpacApproved

  





live hashtag links: click on a live hashtag link below to see how it works


How to use Hashtags for Social Media


Tourism Bangkok
Hotels nearby
Buy us a coffee
when I roam around town with a few bags of camera gear, phones and compass I get tired 
ultimately I prefer support for visit my local charity project 
Join our Community
Recommended Events
Places visited
Where we have been link
why try .. . see places of interest, sort table by any column
Bangkok Hospitality & Tourism
Donate Photos, videos to to our Community Groups
Become a Roaming reporter
how it works
News