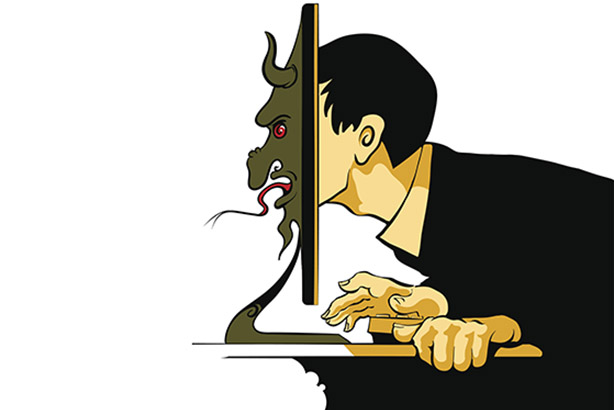 fastrack index 
trolls and social justice warriors 
Individuals that demand everyone else fits their views and use aggressive tactics  (words or actions)
drama queens and sensationalise 
(sounds like MSM Main Stream Media lol)
People on the net
they need to download app 
Convoz   - detailed at bottom of page 
Trolls
noun
a mythical, cave-dwelling being depicted in folklore as either a giant or a dwarf, typically having a very ugly appearance.

synonyms:

goblin

, 

hobgoblin

, 

gnome

, 

halfling

, 

demon

, 

monster

, 

bugaboo

, 

ogre

"the storybook trolls who live under the bridge"
What is Internet trolling?
We define trolling
 as 
deceptive and disruptive online behaviour
, which typically involves posting inflammatory and malicious comments to deliberately provoke and upset people.
An example might be posting a deceitful and inflammatory post on a Facebook memorial page, deliberately designed to upset the person's family and friends.
Video
Trolls at work and play
How to handle them
same as social justice warriors - see below 
Social Justice Warriors 
Being a social justice warrior is hard work. But you're welcome that I'm out to protect the world from everybody but me...
Social justice warrior (SJW) is a pejorative term for an individual who promotes socially progressive views, including feminism, civil rights, and multiculturalism, as well as identity politics. ... The phrase originated in the late 20th century as a neutral or positive term for people engaged in social justice activism.
Video
social justice warrior
How to handle them
Ignoring them is usually the best way - the usually have too much time on their hands 
when challenged they have hissy fits and accuse you of racism or some phobia or create terror in your environment 
Symptoms: 
No job
Dependent source of money (parents or welfare), 
Opinions on everything but achieved little 
No action orientated - lots of words and drama 
Convoz
people stuck in text conversation or Trolls or  Social Just Warriors 
What is Convoz?
Convoz is an app for creating public collaborative conversation through video, which is what we call a convo. Users can create a convo to share their opinions and receive video responses from others. A convo allows individuals to communicate face-2-face sharing their thoughts and feelings as if they were speaking in the same room.
How to download Convoz?
Convoz is currently available for iOS devices only in the App Store. Users can download Convoz via this link https://appsto.re/us/tkwxkb.i
Pls share me 
BEST HASHTAGS
#Trolls   #SocialJusticeWarriors    #LuckySaidSo  #LiveLoveLaugh 
Related topics
Personal Relationships
Latest edits:   last 5 .. open directory to access all and sort by any column
Cool stuff / Motivational  
Latest edits:   last 5 .. open directory to access all and sort by any column
Funny Stuff:  
Latest edits:   last 5 .. open directory to access all and sort by any column
Comedy Places Bangkok:
latest edits: see all at 
Bkk Comedy Scene
 (sort by any column)
Buy us a coffee
when I roam around town with a few bags of camera gear, phones and compass I get tired 
ultimately I prefer support for visit my local charity project 
Join our Community
Other stuff
Recommended Events
Places visited  
Where we have been link
why try .. . see places of interest, sort table by any column
Bangkok Hospitality & Tourism
Donate Photos, videos to to our Community Groups
Become a Roaming reporter
how it works
News