About
Grottino Swiss
Entrance a façade made to look like you're entering a Swiss mountain (grayish papier-mâché). Inside, the décor is simplistic, big round tables and wood. The menu takes you to Italy and Thai; 
not the lightest food. 
The specialties are unique true to their word Beef goulash, veal sausage with roesti, vats of cheese and deep-fried beef, the restaurant is one of the top places in town. 
Very decent bread (Grottino has its own bakery) and rooms, too, in case you've had too much Swiss wine. 
The fondue Bourguignone (another Swiss classic despite the name is satisfying. You get a plate piled with chunks of excellent Aussie beef that look like plump sushi, dip them into hot oil, and if the cooking isn't perfect, you only have yourself to blame, 
quite possibly the best in town.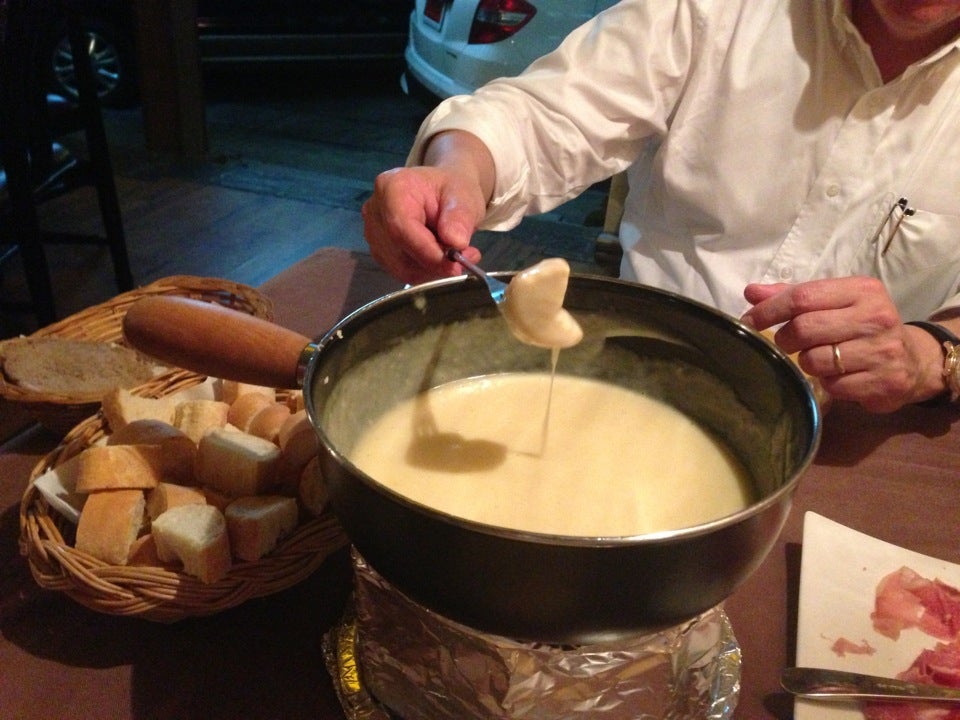 try the Fondue specialities 
Logistics
Seating: inside: 30  outside: 20   Breakfast, Lunch and Dinner
Menu: Swiss and Thai Licenced 
Check in
show some love ......
all SM channels and best hashtags
Give a review, tag friends, share into network/s 

Soi 19 is a homestead "home from home". 
Location
9/10 Sukhumvit Soi 19, Soi Wattana, Bangkok  
Longdo map link
Getting there: 
approx 300 mtrs from
BTS (Skytrain) station Asok [street view] enter Soi 19, 150 mtrs on the left is an alley, about 50 mtrs in on the left .. you will see the neon sign
 Longdo map tips: transport, hospitality, tourism in longdo map best search
Website
| | |
| --- | --- |
| embedded below larger window   | "Get the most use a Host" > Bangkok BPAC Small cost Big Smiles! |
Google street map view
Starting point:  in Alley between Soi 19 and Soi 17
Map tips:  summary
Desktop: 
 F
ullscreen: Icon top right | Arrows: direction, click to move | 
White frame on cursor:  click to jump or zoom  | Reposition: drag street Icon (orange person) to desired location.
Hotels
Tip: Copy & paste these hashtags & web page url into your post for search match
Grottino Swiss in Suk Soi 19 Bangkok, .. whilst not well priced compared to most close by no one can produce the culinary taste on their menu. I tried tomato soup (rich and deep) main course Smoked Samon was 1st class. The cheese Fondue is wow
m
edia hub page
BEST HASHTAGS

#SwissGrottino  Industry #BkkDining  #BkkSwissFood #SukSoi19  related #BtsAsoke  #BkkAchiever  #BpacApproved
How to use

How to use Hashtags for Social Media


SM channels
show the love... like, share and stuff 
do more .. 
Copy the media hub link & hashtags (above) and paste into your
post, the hashtags 
will group the posts into a stream
 ... cool!
SM menu QR Codes
Scan the QR codes for fast access to channels 
Save time 
with 
social media posts
copy our hashtags and weblink from 
Hashtags this gig
, then add comments
Donate Photos, videos to our media hub page
Email 
bpac@austhai.biz
, 
include the url (link address) of content (pls do not email us the images/videos, only the links)
Become a roaming reporter !
follow the SM channels, give reviews, tag and share
if we see enough of you we'll create your 
profile page and other free stuff or email us 
bkkroamingreporter@austhai.biz
 with your social media page link