Top
Steve Café & Cuisine  
สตีฟ คาเฟ่ แอนด์ คุยซีน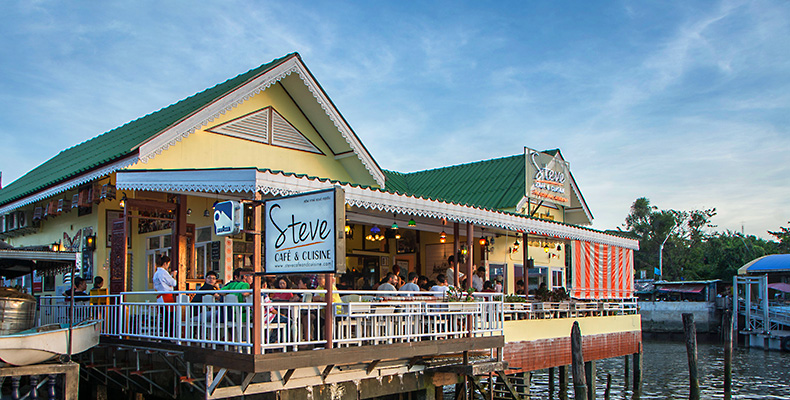 Modern conversion of wooden framed homestead presenting a modern clean caf'e dining for 50 guests indoor aircon or outdoor balcony over the water
At 
Steve Café & Cuisine
, you will experience the unique taste of authentic, home-cook style Thai food and chill out in beautiful riverside atmosphere. Every dish by our expert chef comes with full and fresh ingredients, herbs and spices, to relish your crave for aromatic, tasty Thai recipe. Plus, it comes in friendly price. Whether you are foreigners or teenagers, you can simply drop by and enjoy your delicious time.
At this location is Pier Thewet which is a brief walk to local markets and wat (temple), enjoy the view to the landmark Rama 8 VIII bridge.
Roaming reports
select a channel and see what people are saying 
or view the posts in our Community groups 
Check in S.M.
 show some Social Media love ......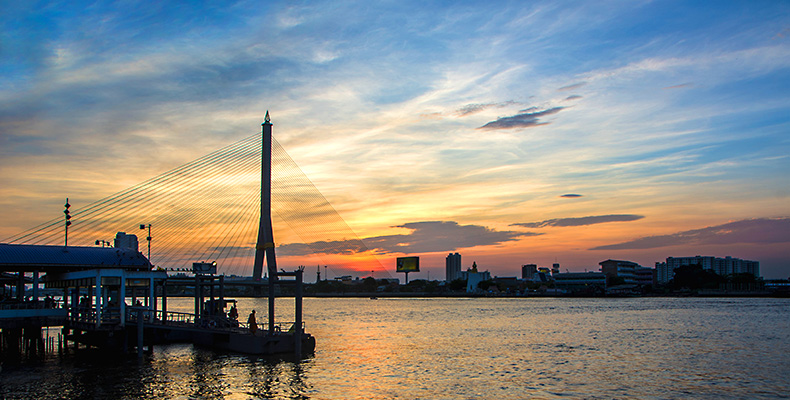 Location
68 Thanon Si Ayutthaya, Khwaeng Wachira Phayaban, Khet Dusit, Krung Thep Maha Nakhon 10300
Google map link in SM menu for GPS navigation
Google map:  for live link, scroll down page to Google street view  
Bookings
check the prices from the various online booking services 
Accredited Viator (TripAdvisor) topic:  ??????    I  
Google+ below: open album  I  by location   I  slideshow
Facebook album at B.Pac: open album
IN PRODUCTION
Gallery this page in SM links below or google search
Google street view
Starting point:  Entrance  - continue along drive way
Street view map tips summary
Desktop:  F

ullscreen: Icon top right | Arrows: direction; click to move | 

White frame on cursor: click to jump or zoom  

| Reposition: drag street Icon (orange person)

Smartphone: get Google street view app
Tour zone Icons
area reserved for zone Icons
Hotels
Hashtags this gig
Tip: Copy & paste these hashtags & web page url into your post for search match



Steve Cafe Cuisine modernised heritage theme cafe on the Chao Phraya river near Pier N15 Thewet in Phra Nakon Bangkok Thailand,SM hub https://goo.gl/4c8iTY

BEST HASHTAGS


#SteveCafeCuisine Industry  #BkkDining  

#BkkFamilyFun  

 #ChaoPhrayaRiverIcon 

 #

BkkAchiever   #BpacApproved

  

  #

BkkZonePhraNakon



live hashtag links: click on a live hashtag link below to see how it works


How to use Hashtags for Social Media

SM channels
show the love... like, share and stuff 
do more ..
Copy the media hub link / hashtags (above) and paste to your
post (Hashtags 
group posts into a stream
 ... cool!)
Share this page
Thai Restaurants Bangkok: last 5 by latest edits
visit page to see sort options and map
Tourism Bangkok
Other stuff
New to town?
Be Served
Serve yourself > D.I.Y. 
New 
to town?
Bangkok 
Novice to Advanced
, multiple search engines
Tour zones
Buy us a coffee
when I roam around town with a few bags of camera gear, phones and compass I get tired 
ultimately I prefer support for visit my local charity project 
Join our Community
Recommended Events
Places visited
Where we have been link
why try .. . see places of interest, sort table by any column
Bangkok Hospitality & Tourism
Donate Photos, videos to to our Community Groups
Become a Roaming reporter
how it works
News