Top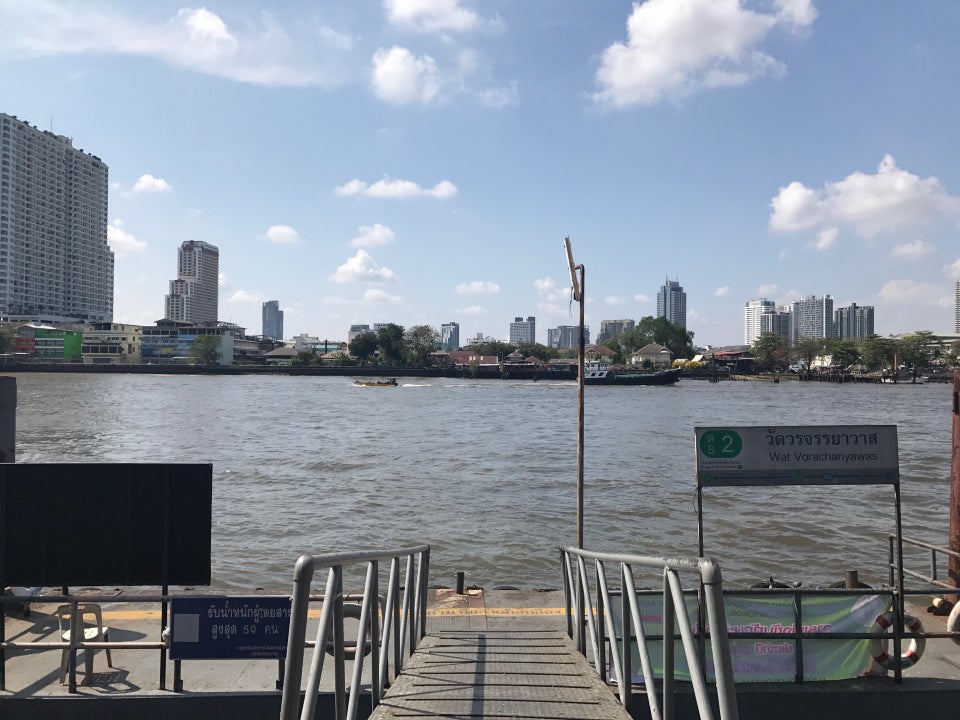 ท่าเรือวัดวรจรรยาวาส (Wat Vorachanyawas Pier) S2
Multiple Thai Massage shops (where the locals go)
This is a easy alternative to Wat Pho the famous temple in zone Rattanakoin of the sleeping buddha and home of Thai Massage school
at the Pier is a massive sleeping Buddha, sunset shots are stunning and there are many thai massage shops on the pier as well as the street that enters the temple grounds
History
Wat Vorachanyawas since 1,790 when it was founded famous for Traditional Thai Massage with over 100 Thai licensed men & women practicing Thai massage as part of Thai Buddhism
วัดวรจรรยาวาส- วัดแห่งนี้สร้างอยู่ริมแม่น้ำเจ้าพระยา หน้าวัดหันหน้าสู่แม่น้ำ เขตของวัดด้านเหนือติดกับคลองบางขวาง จึงเรียกว่า "วัดบางขวางล่าง" ขุนท่องสื่อ โสณกุลได้ทำการบูรณะและปฏิสังขรณ์วัดขึ้นใหม่ในสมัยรัชกาลที่ 2 เมือปี 2341 ....... ธรรมาสน์บุษบก ฝีมือช่างในสมัยกรุงศรีอยุธยาตอนกลาง เป็นบุษบกที่มีลักษณะและศิลปะลวดลายงดงามลงตัวอย่างยิ่ง เก็บรักษาอยู่ที่ศาลาการเปรียญ
Check in S.M.
 show some Social Media love ......
  all channels, best hashtags
like, review, a tag, share
Location
Wat Phraya Krai, Bang Kho Laem, Bangkok 10120
Google map link in SM menu for GPS navigation
Google map:  for live link, scroll down page to Google street view  
Shrewsbury International School Bangkok โรงเรียนนานาชาติ โชรส์เบอรี่ กรุงเทพ
Wat Worachanyawas วัดวรจรรยาวาส is an ancient temple 1790 is home to Thai Massage teaching page
https://goo.gl/2L4nGx
Google+ below: open album  I  by location   I  slideshow
Facebook album at B.Pac: open album
IN PRODUCTION
Gallery this page in SM links below or google search
Google street view
Starting point:  walk thru follow signs 
Street view map tips summary
Desktop:  F

ullscreen: Icon top right | Arrows: direction; click to move | 

White frame on cursor: click to jump or zoom  

| Reposition: drag street Icon (orange person)

Smartphone: get Google street view app
Hotels
Tip: Copy & paste these hashtags & web page url into your post for search match



Pier Wat Worachanyawas (S2) is the Chao Phraya express boat Pier SOUTH of main Pier central Sathorn, the pier has a massive sleeping budda and many Thai Massage shops, this is the easy alternative to Wat Pho, SM hub 

 

https://goo.gl/o4WL7g

BEST HASHTAGS
#BangkokPierWatWorachanyawas  Industry #BkkRiverPier  

#BkkFamilyFun     #

BkkAchiever   #BpacApproved

  

 #1NightBkk    #BkkZoneKhoLaem





live hashtag links: click on a live hashtag link below to see how it works


How to use Hashtags for Social Media


Share this page
Related topics
River Piers:  
last five (5) by latest edits: main page has sort options
River Icons
last (5)  by latest edits
New to town?
Be Served
Serve yourself > D.I.Y. 
New 
to town?
Bangkok 
Novice to Advanced
, multiple search engines
Tour zones
Buy us a coffee
when I roam around town with a few bags of camera gear, phones and compass I get tired 
ultimately I prefer support for visit my local charity project 
Join our Community
Tourism Bangkok
Hotels nearby
Other stuff
Recommended Events
Places visited
Where we have been link
why try .. . see places of interest, sort table by any column
Bangkok Hospitality & Tourism
Donate Photos, videos to to our Community Groups
Become a Roaming reporter
how it works
News