About 
Thai boxing is considered a sport as well as an defense 
arts. This artistic sport is found to be unique and one of Thai martial arts. 
Lumpini Boxing Stadium has been regarded as one with a history as long as Ratchadamneon Boxing Stadium. 
Fight settings of both Thai and international boxing are regularly held and the champion of this stadium is perceived as if the winner of the Thai boxing championship.
Meaning
Muay Thai is a combat sport that finds its origin in a noble art with antique traditions, it is also the Thai national sport. ... 
MUAY literally means "combat" and it derives from the Sanskrit (original Hindu language) word "Mavya" which literally means "unite together".

Muay Thai is referred to as the "Art of Eight Limbs" or the "Science of Eight Limbs", because it makes use of punches, kicks, elbows and knee strikes, thus using eight "points of contact", as opposed to "two points" (fists) in boxing and "four points" (hands and feet) used in other more regulated combat sports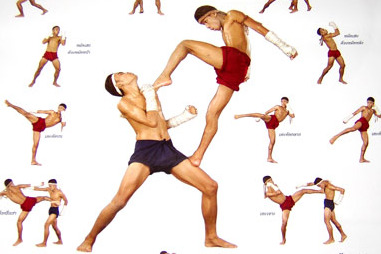 The art of eight limbs, more commonly known as Muay Thai, is the national sport of Thailand. It is widely regarded as the most devastating and feared martial art in and outside of the ring.
Early morning runs and four hours per day of training, pounding through Thailand's hot weather is the staple that makes a Nak Muay (Thai fighter in Thai). It is hard work and dedication that Muay Thai fighters and fans respect.
Legendary martial artist Bruce Lee once stated, "The individual is more important than any style." Thus the key in any martial art is not how many punches or kicks one can execute, but rather how martial arts can help improve one's life.
Ancient art
Muay Thai or sometimes known as "kickboxing" in the Western world is a form of martial arts that involves the use of the whole body especially the arms, hands and legs as weapons and for self defense. Originating as a fighting art developed in Ancient Siam for the soldiers who were defending the country against attacks by the Burmese and Cambodians, it has evolved into an intricate fighting discipline that though may sound brutal but is actually rather graceful and steeped with many traditions and rituals. 
Muay Thai is a popular sport in Thailand though now they don't use it to go around "killing" other soldiers but rather to learn it as a tradition, culture and off course fame. The Western world has also embraced this fighting art form and now there are many tournaments as well as World Championship Competitions along the same popularity line as a good World Boxing Match, More
The Secret to Muay Thai Rank. Muay Thai rank – there is no such thing. Muay Thai rank is a Western concept. ... Here's a secret – if you are good, a belt, armband, or title is not needed to let people around you know your Muay Thai is legit.
Is Muay Thai the same as Kickboxing
Kickboxing and Muay Thai are two completely different martial arts. While there is a lot of crossover (especially now as both sports have arguably greatly influenced each other) between the two, they are NOT the same.Sep 19, 2016
How Long is a Muay Thai Fight 
In basic Muay Thai rules, Muay Thai match formally have no more than 5 rounds, each round take 3 minutes to last, with a two-minute rest period in between. No additional round is allowed. Boxers must regularly wear gloves, each weighing not less than 6 ounces (172 gram) in Thai boxing rules.Feb 17, 2008
Stadiums
There are two (2) recognised venues in Bangkok, other venues are used from time to time for one off events such as MBK (shopping centre), Rivercity shopping plaza (on Chao Phraya river)  which host special events, to keep in touch check the Bangkok Events <> or facebook groups
1. Lumpini Boxing Stadium: 
Rama IV Rd, Klong Toey, Bangkok, Thailand  (tour zone: Silom)   website
2. Ratchadamneon Boxing Stadium: 
Ratchadamneon Nok Rd, Phra Nakorn, Bangkok, Thailand  (tour zone: )   website
Ph: Lumpini:  (662) 251-4303, 280-4550   <> Ratchadamneon:  (662) 281-4205, 281-0879
Buses: Lumpini: 4, 13, 22, 46, 47, 106, 109, 115, 116, 149   <>  Ratchadamneon:  70, 201

Air-conditioned Buses:  Lumpini: 4, 22, 507  <>  Ratchadamneon:  70, 503
Opening hours


Lumpini: every Tuesday & Friday: 18.30 to 22.00 hrs. every Saturday: 17.00 to 20.30 hrs. except important Buddhist Days
Ratchadamneon: every Monday, Wednesday & Thursday: 18.00 to 21.00 hrs. every Sunday: 17.00 to 21.00 hrs. except important Buddhist Days. 
Admission fee                               : Price are subject to change
Lumpini Boxing Stadium                : Thais 350, 500, 1,000 baht  Foreigners 1,000, 1,500, 2,000 baht
Ratchadamneon Boxing Stadium  : Thais 350, 500, 1,000 baht   Foreigners 1,000, 1,500, 2,000 baht
Other Places
Displays / exhibition
High action theatre performance - highly recommended for new comers to the culture 
capacity 500 people 
open air fights monthly or as advertised 
organised high quality events in and around Bangkok, follow their facebook page for updates
Training camps
Buakaw Banchamek
Bookings
check the prices from the various online booking services 
Video
Young Thai Boys fight for prize money 600,000
their technique is excellent 
Brutal 
main in sub pages 
Tours
You can book for a basic tour, typically includes return transfer from Hotel Bangkok CBD and choice of seating in the stadium
ie., VIP, premium or standard and option for meal, in some instance you may get an option to meet the boxers for a photo
check the prices from the various online booking services 
Learn to learn
Although the sports appears aggressive you can learn for and appreciate the skills fro the experience. Many people, of all ages, male and female have enjoyed the journey of learning Muay Tai and adapted the sport for self defence. When you next plan your trip to Bangkok, make a booking for lessons. There places you can try but the most obvious and reputed is the Muay Thai Institute, located in Rangsit, just north of Bangkok International Airport.
The institute was established to promote and retain the culture of Muay Thai, offering accredited training courses for players, instructors, referees and boxers. The added benefit of the institute is you will receive guidance and teaching from the best as they are former champions who hold at least a bachelor's degree in physical education and speak good English. Graduates receive a certificate recognised by the Thai Ministry of Education as well as the World Muay Thai Council which in itself is a fantastic and unique souvenir.

Pls share me 
Social Media
Kick Boxing Muay Tai Thailand, places Bangkok https://thaibis.family/MuayTai
BEST HASTAGS
#MuayTai    #MuayThai  #KickBoxingBangkok   #BangkokAdventure     
Join our Community
Tourism Bangkok
Prices from online booking services 
Other stuff
Recommended Events
Places visited  
Where we have been link
why try .. . see places of interest, sort table by any column
Bangkok Hospitality & Tourism
Donate Photos, videos to to our Community Groups
Become a Roaming reporter
how it works
News