Thailand is widely seen as a paradise for LGBT people, but many say they are treated as second-class citizens

Vid 1
About
Nong Rose Baan Charoensuk, who is transgender, prepares for a boxing match ( Reuters )
Clad in a pink tank top and shorts, her face made up with rouge and red lipstick, Nong Rose Baan Charoensuk, a transgender Muay Thai fighter, is a formidable opponent.
Just ask Karun "Priewpak" Kaemlam, a male fighter who lost a thrilling five-round match to Rose, as she is generally known, last month.
"I wasn't able to fight her strength and big build," Priewpak says.
"She fights like a man because she is really a man," adds Priewpak, who suffered a gash above his right eye in the fight at Rajadamnern Stadium in the Thai capital.
Vid 2
Meet Thailand's first transgender boxer to fight in Europe

Muay Thai boxer Somros Polcharoen, better known as "Nong Rose," 21, reached a career high on Jan 6 when she became the first transgender fighter to compete in Europe (losing on points to French fighter Akram Hamidi). Although not Thailand's first prominent transgender muay Thai fighter—Parinya "Nong Toom" Charoenphol had her story told in the 2004 film, Beautiful Boxer—Nong Rose recently won her struggle to fight at Thailand's biggest muay Thai stadium, Rajadamnoen. Here, she talks about the ups and downs of her muay Thai career.
Interview

When did you start muay Thai training?
When I was eight years old.


How did you get into it?
My uncle is a former muay Thai fighter and he started training me. My older sister and my twin brother are also muay Thai fighters.


Did you always want to become a muay Thai fighter?
I never really had any other dreams when I was a kid. I've always had such a bond with muay Thai.


How many wins have you had so far in your career?
I've had around 80 wins—15 of those were knockouts—out of 150 fights in total.


Did you wear makeup in all those fights?
Yes. I always wear makeup every time I fight.


Rajadamnoen originally banned you from fighting. Why was that?
Because for any standard muay Thai stadium, you cannot wear a top while you fight.


How did you manage to overcome that?
Thanks to Dr. Songchai Ratanasuban [arguably Thailand's most prominent muay Thai promoter], who stepped in and helped me on this. The first time I fought there was in 
August, 2017.
Have any male boxers ever refused to fight you?
Yes, they have. If I look at it positively, maybe they knew I was quite good and wanted to save themselves from getting too hurt. But to look at it from a different point of view, maybe they were afraid to lose to a kratoey.


What other obstacles have you experienced in the ring?
At times, opponents have mocked me and looked down on me. I've beaten them all in the fight, though.


Compared to a few years ago, do you think people are more accepting of you now?
Yes, definitely. I feel a lot more accepted now.


How often do you train?
I train twice a day—morning and evening—from Monday to Saturday and on Sunday I only train in the morning.


What do you want to achieve from muay Thai in the future?
I want to open my own muay Thai camp for foreigners.


How do you feel about the LGBT situation in Thailand?
I think it has improved so much, people are much more accepting. I've also seen a few of them getting married.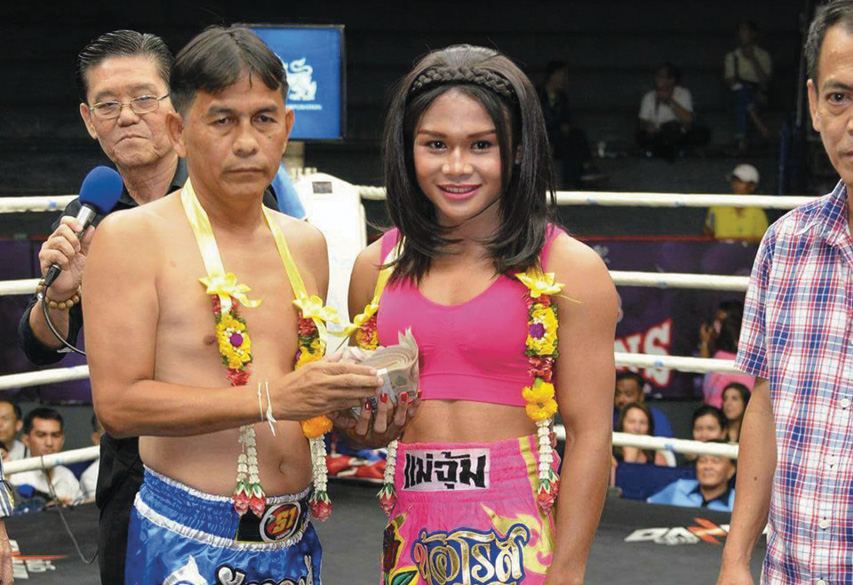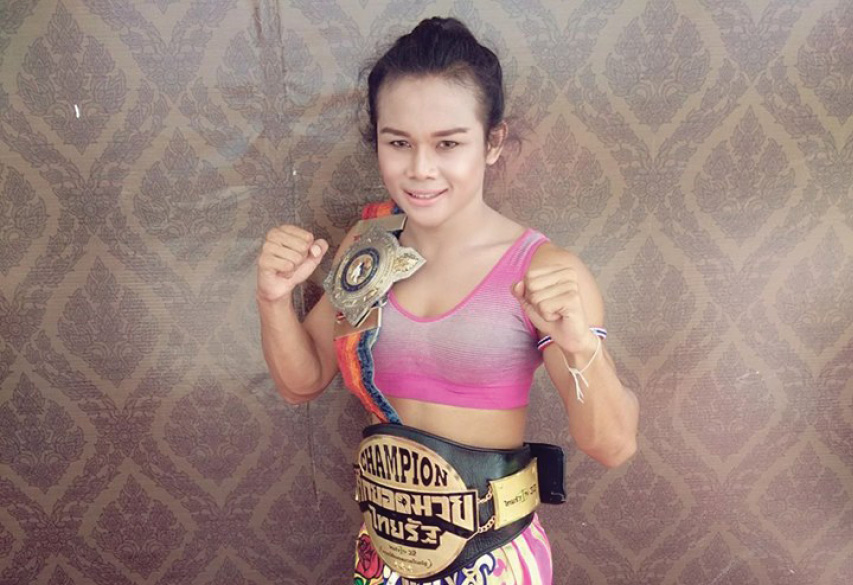 Share this page 
SM 
BEST HASHTAGS
#MuayTai  #KickBoxingBangkok   #BangkokAdventure
Related topics
New to town?
Be Served
Serve yourself > D.I.Y. 
New 
to town?
Bangkok 
Novice to Advanced
, multiple search engines
Tour zones
Buy us a coffee
when I roam around town with a few bags of camera gear, phones and compass I get tired 
ultimately I prefer support for visit my local charity project 
Join our Community
Tourism Bangkok
Other stuff
Recommended Events
Places visited  
Where we have been link
why try .. . see places of interest, sort table by any column
Bangkok Hospitality & Tourism
Donate Photos, videos to to our Community Groups
Become a Roaming reporter
how it works
News