Hidden in the heart of Siam Square, the Park@Siam brings a touch of nature to city living. If you are tired of window-shopping at the mall, try strolling around here. The park is quite small, but size doesn't matter, right?
cafe / (Amazon), fitness, fountain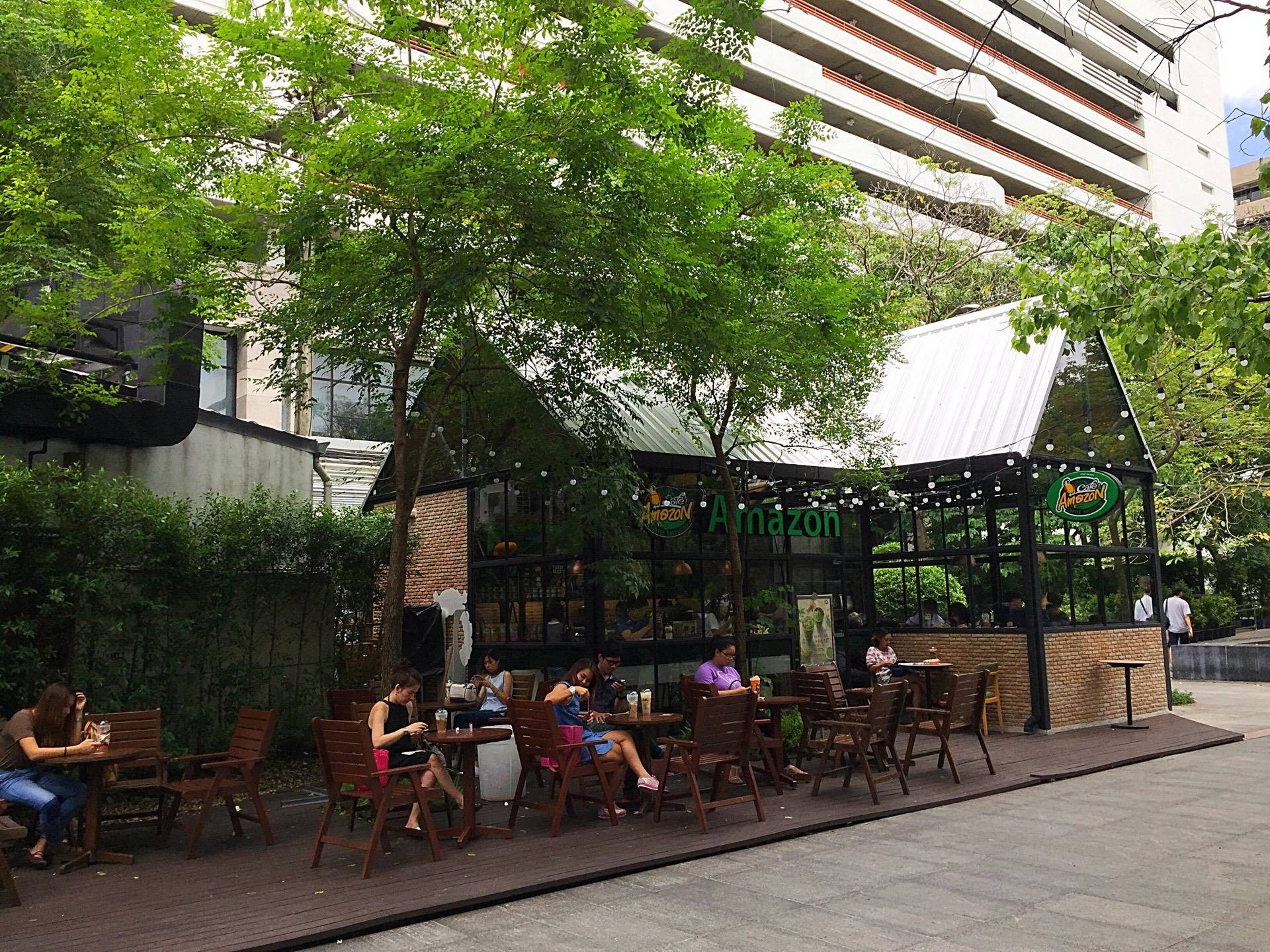 Check in S.M.
 show some Social Media love ......
all SM channels and best hashtags
Give a review, tag friends, share into network/s 
254 Phayathai Rd, Wang Mai, Khet Pathum Wan, Krung Thep Maha Nakhon 10330
Google map link in SM menu for GPS navigation
Google map:  for live link, scroll down page to Google street view  
Options 
Social media hub this page 
360 Spherical photos
Best view with smartphone.
why:
VR: Virtual Reality effect, 
turn device at any angle or better turn around while holding the device for 360 / Spherical view, 
Note: Images are hosted in different sites for different effects
Site: Theta:  
Powerful zoom in / out
click a thumbnail to watch in 360 
  - 
have fun morphing the images
Theta site lets you change the display styles - see  

Street view
Starting point: 
 entrance
Street view map tips summary
Desktop:  F

ullscreen: Icon top right | Arrows: direction; click to move | 

White frame on cursor: click to jump or zoom  

| Reposition: drag street Icon (orange person)

Smartphone: get Google street view app
Hotels
Social Media
SM channels & hashtags below
Like, review & share
your network will see your post when they visit the channel
more channels below.....  
SM channels
show the love... like, share and stuff 
do more .. 
Copy the media hub link / hashtags (above) and paste to your
post (Hashtags 
group posts into a stream
 ... cool!)
Hashtags this gig
Tip: Copy & paste these hashtags & web page url into your post for search match



Park @ Siam is a small (very small) boutique park and gardens annex to university behind major shopping, an ideal retreat, SM hub https://goo.gl/zUjfxC

BEST HASHTAGS
#ParkAtSiam   #BkkPark   #BkkTravelSpot   #BkkGardens 
 #BkkAchiever #BpacApproved   #EtBkkYes  #BtsSiam

live hashtag links: click on a live hashtag link below to see how it works 
How to use Hashtags for Social Media

Tour zones
Buy us a coffee
when I roam around town with a few bags of camera gear, phones and compass I get tired 
ultimately I prefer support for visit my local charity project 
Join our Community
Tourism Bangkok
Other stuff
Recommended Events
Places visited  
Where we have been link
why try .. . see places of interest, sort table by any column
Bangkok Hospitality & Tourism
Donate Photos, videos to to our Community Groups
Become a Roaming reporter
how it works
News