extract from BT Asia City
The burger: The Number One (B330)
Why it's important: Not only is this glitzy California-hailing chain open 24 hours, it's one of the few places that lets you create your own burger from an outrageously long list of cheeses, condiments and toppings.
What's it taste like: One of several gargantuan offerings, this burger comes tantalizingly layered with caramelized onion, bacon, arugula, gorgonzola and thousand island dressing. The prime ground sirloin patties, cooked-to-preference, are no mean feat: you could easily slice these up to share between friends.
G/F, Pullman G Hotel, 188 Silom Rd., 02-352-4192. Open 24 hrs 
The burger: The Traditional Burger (200g/B220, double/B390 with your choice of mixed salad, French fries or curly fries)
Why it's important: Love 'em or hate 'em, this local chain's gone from zero to ubiquity in double quick time (seven branches and counting).  
What it tastes like: Stuffed inside a house-made fluffy bun, the patty of the classic American-style burger comes juicy at rare or medium rare and topped with either sharp American or blue cheese. Some call it too greasy, some too watery, but for us the good times still outweigh the bad.
Narathiwas Soi 15, 02-087-5087. Open daily 11am-10pm. 6 other branches in Bangkok.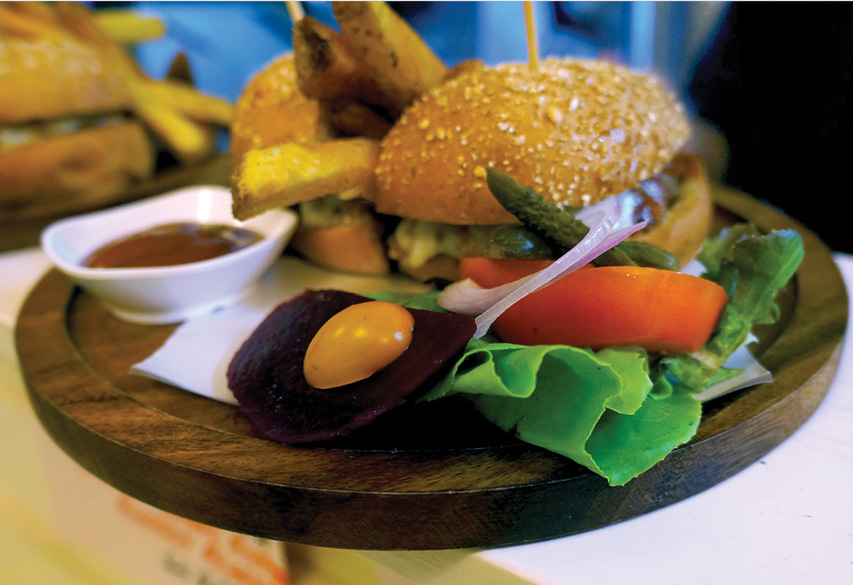 The burger: Tassie Angus Burger (B480 with fries)
Why it's important: When is a burger more than a burger? When it's one of chef Roland Graham's no-expenses-spared gourmet whoppers.
What it taste like: Pint-sized chef Graham puts his heart and soul into every burger, making the thick, juicy patties from quality Aussie beef that's ground in-house and whipping up his own ketchup that's leagues above the bottled stuff. Prepared on a crusty tomato butter bun, this burger's patty is topped with treacle, coffee stout-lacquered bacon, roasted vine tomato, merguez sausage and Swiss cheese. Savory and cheesy, with a kick from the merguez: it's golden and unlike anything else in town.
Sukhumvit Soi 23, opposite Prasanmitr Plaza, 08-052-7336. Open Mon-Sat 5-9pm, Sat noon-3pm
The burger: Thaiger Beef Burger (B150 at the burger truck, B260 at the restaurant)
Why it's important: The burger truck pioneer is the epitome of good ingredients and good value. It's also the burger of the people, scooping top honors in BK's Readers' Choice Awards 2018.  
What it tastes like: These buttery, greasy, no-nonsense handfuls of meat, cheese and brioche have gone down in Bangkok folklore. A chargrilled beef patty that's perfectly seasoned, slices of unmelted cheddar, lettuce, tomato, grilled onions, and their signature Thaiger sauce all served between a Conkey's brioche bun. As a combo, it's hard to beat.
Truck: Sukhumvit Soi 30/1, 084-549-0995 
Restaurants: 30 Sukhumvit Soi 11, 02-255-5532,
The Commons, Thonglor Soi 17 (opening soon)
The burger: Quarter Cow Burger (B340)
Why it's important: The bad boys of the Bangkok burger world still do killer shakes and burgers, while managing to piss off half their customers.
What it tastes like: Go big with two Angus beef patties and two slices of cheddar cheese on a dark chocolate bun (an additional B40), with a side of mini hash browns and homemade black ketchup. Detractors point to the coarsely-ground and super-rare patty, lack of toppings and intense truffle sauce. Fans love it for these same reasons.
112 Phra Athit Rd., 087-363-2629, 081-406-3773. Open Tue-Sun 4pm-midnight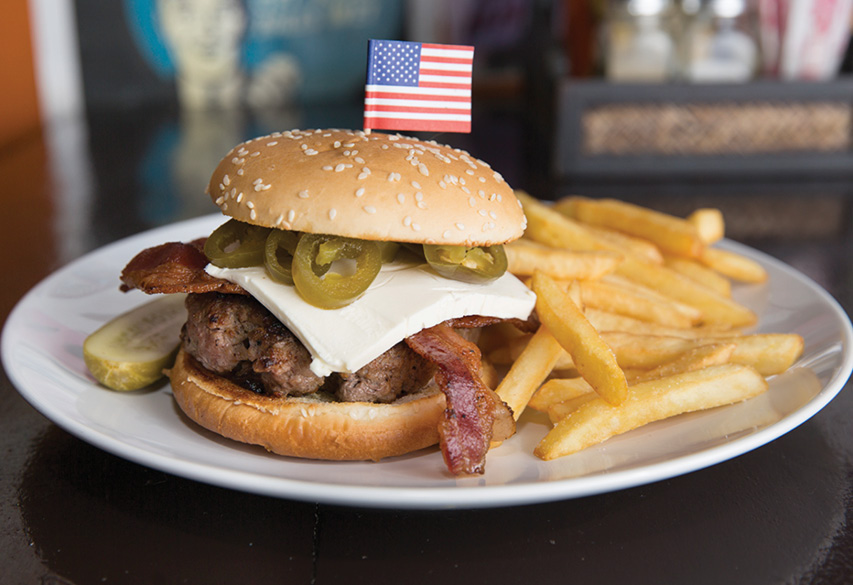 The burger: The BBQ Burger (B250 with choice of sides)
Why it's important: A no-frills, American-style diner whose burgers are worth the trek out to the Rama 9 badlands
What it tastes like: With its throat-searing sauce, crisp bacon and a well-done Thai-French beef patty on a crumbly toasted bun, this burger is artery-clogging, heartburn-inducing goodness, just made to go with an IPA or three.   
598/66 Asoke Din Daeng Rd., 081-438 7221, 02-245-2965. Open Tue-Sun 11am-midnight (kitchen closes 10pm)
The burger: Jamie's Burger (B159 for beef)
Why it's important: This is the reliable, back-to-basics burger joint you want in your neighborhood (now with four branches: Ari, Siam Paragon, Chula and EmQuartier).
What it tastes like: This signature burger comes with a nicely crusted, slightly seasoned patty they say is a mixture of Thai and Japanese wagyu squished between a super-soft, charred bun. Throw in some bacon, cheddar cheese, jalapenos, a tangy, tomato-based house sauce and a generous portion of crisp, chunky cut fries (an extra B50), and you're in business. It's a simple formula, but why mess with it? A warning: burgers are on the small side, but you can afford to double up.
Frank & Release Futsal Field, Soi Sailom, Phahon Yothin Soi 8. 097-001-1108. Open Mon-Sat 5-11pm. 3 other branches in Bangkok.
The burger: Single Beef (B200)
Why it's important: The original burger truck contender to Daniel Thaiger's throne takes basic burgers to beastly heights
What it tastes like: Lean beef patties, rocket, onion ring, thousand island dressing and daily baked buns—these things look pretty basic, huh? What you want to do is upgrade to four of those chunky patties, cooked medium to medium well. The extra crunch from the onion ring takes everything to the next level. We love the softness and simplicity of the bun, but it does tend to give out pretty quickly.
The Up Rama 3, 54 Narathiwas Ratchanakarin Rd., 085-121-3767. Checkwww.fb.com/mothertruckerbkk for other locations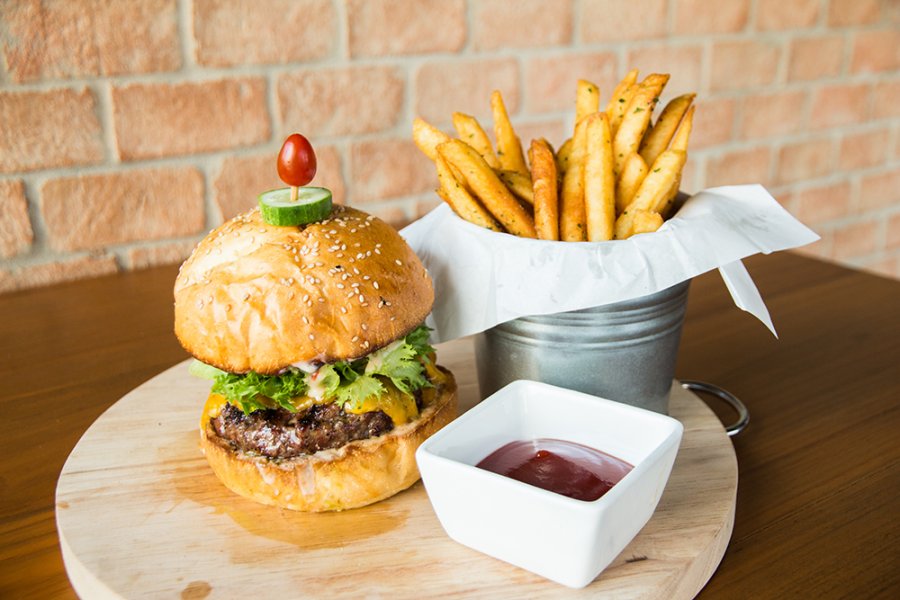 The burger: Manhattan Monster (B550 with French fries)
Why it's important: This beast is quite possibly the only burger we're OK with needing to take a knife and fork to.
What it tastes like: We don't often complain about portions being too large, but that's almost the case here. There's little chance of wrapping your jaw around this hulking mass of bacon, cheddar, pickles, fried egg and onion rings atop a perfectly rounded, 220g ground-beef patty without making a scene. The lightly seasoned patty, though, is grilled with juicy precision.
28 Sukhumvit Soi 22, 02-262-0920. Open daily 11am-11:30pm
The burger: Chiang Mai Spicy Burger (B190)
Why it's important: This Ari shipping container slings a Thai fusion burger that doesn't totally suck.
What it tastes like: The Australian beef patty (made from beef that's never frozen) comes seasoned with local herbs for a flavor that's similar to northern Thai-style larb kua. Added to a soft bun that's made from scratch by a French baker, and topped with crispy pulled pork, the burger is smokey, a bit sweet, and packing in punch.  
Phahon Yothin Soi 5, 084-448-7908. Open Mon-Fri 11am-2pm, 5-10pm; Sat 11am-10pm
The burger: Beef Sliders (B370/two)
Why it's important: It's the closest thing this city has to an In-N-Out Burger.
What it tastes like: Chef Chalee Kader's better known for his French-leaning creations, but certainly knows a thing about beef. Atop a Conkey's brioche bun, the compact patty made from Himawari beef from Korat province comes with a nice crust on the outside, while still retaining a high degree of juiciness. All it needs is a slice of tomato, some raw and grilled onion and a pungent, house-made thousand island sauce.
107 Sukhumvit Soi 53, 02-258-2858. Open daily 6pm- midnight
The burger: Cheeseburger (from B265 for beef)
Why it's important: The Hawaiian franchise is the mall-based burger import it's OK to frequent
What it tastes like: These are no-nonsense, greasy, piled-high then glued-shut-with-cheese burgers which those of us who didn't grow up in the States could only ever look at in films and dream of one day tasting. Order it medium-rare (exactly how it comes) and the quality of the meat stands up perfectly to its light grill treatment. The only contentious thing about Teddy's burgers is the bun, which is weirdly pale, but the last thing this burger needs is more richness.
G/F, Gateway Ekkamai, Sukhumvit Rd., 02-004-1065. Open daily 10am-9:30pm
G/F, CentralPlaza Pinklao,  7/554 Charan Sanitwong Soi 45, 02-884-6336. Open daily 11am-10pm
Exclusively for Citi credit card members:
Get 10% discount on food and non-alcoholic beverage when spending THB 800 or more /sales slip
1 Oct 18 - 31 Mar 19