Open everyday 8:00pm – 5:00am.  3 storey 4star Shopping arcade
within the local night markets. Upstairs on the 3rd flr terrace enjoy food 
court and live band until 3am playing popular music.  Shops have aircon 
or out on the street it's oozing street vendors, this is a must visit low 
price shopping location.
Location: 
On the corner of Thanon Pracharat Bamphen and Soi 2 (also called
Khet Din Daeng). (near Huai Khwang MRT Exit 3) 
map link
Longdo map tricks: position map centre (+), type transport or search by a "category". 
Zone: Huai Khwang - nominal attractions, close to nightlife zone RCA
review by tour guest: 2011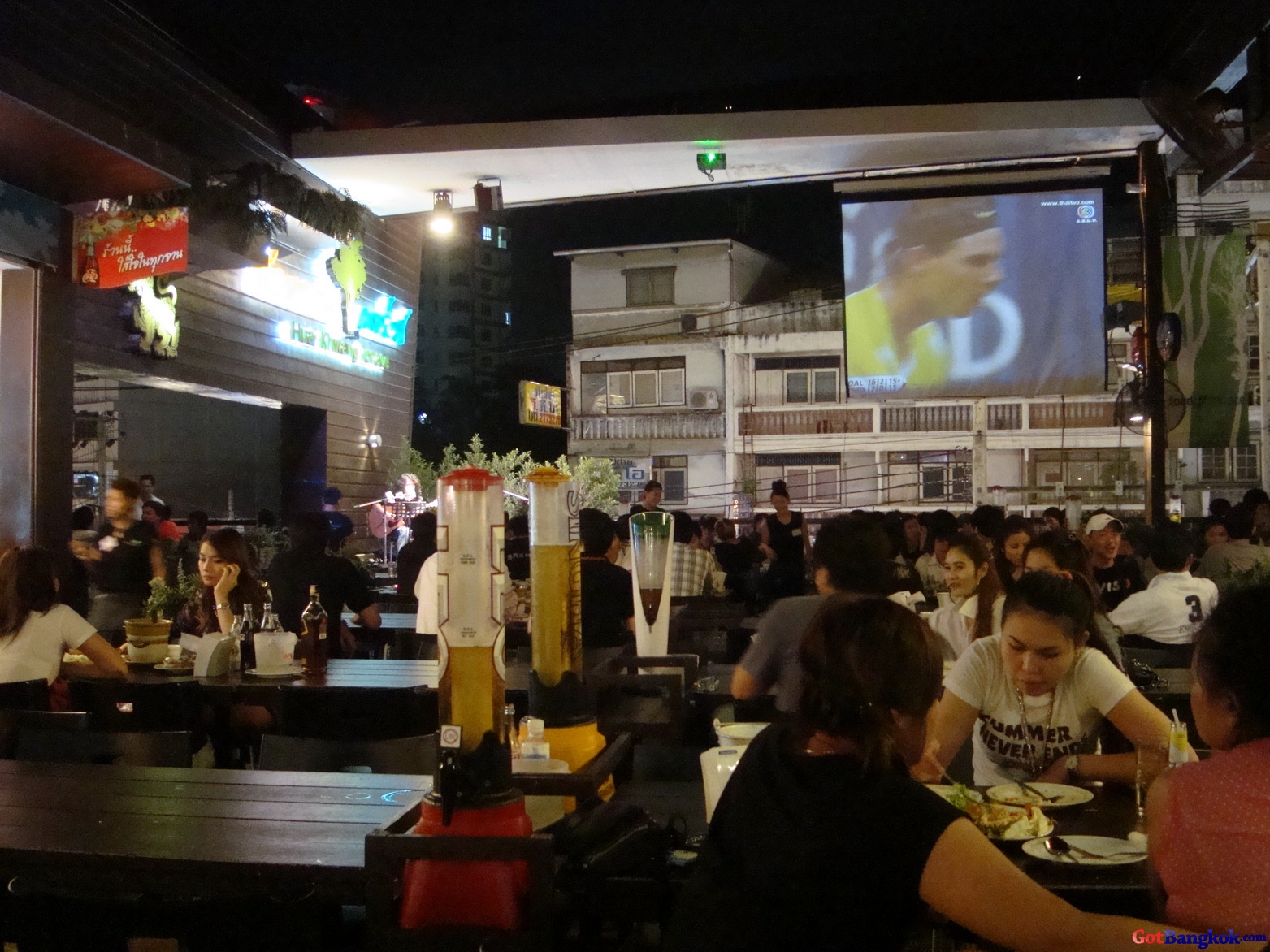 My friends and I were shopping around Huay Kwang night market and we heard a band from upstairs in the Huay Khwang Terrace. So we decided to go take a look, and to our surprise this place was jam packed at 3am, with live band playing popular Thai rock and pop songs, people enjoying their Heineken, Singha, and San Miguel beer towers, and eating plenty of the famous Thai cuisines like pa-nang moo, pad kra paw gai, kai jiaw moo sap, tom yum goong, and plenty others. We sat down, ordered a beer tower and some thai seafood dishes and talked the night away. This place is not too loud, so you can speak to each other at a good comfort level. I will become a regular customer here at this wonderful place! LOVE IT!
The Menu: The choices on the menu here is endless, tons of Thai foods, nam prik kapi, seafoods, french fries, and steak dishes, you will be satisfied with your choices here for sure!
What I Ate: I ordered a plate of spicy thai fried meatballs called "Lab moo tod" and they are very delicious! I highly recommend them, especially good for beer drinking
The Staff: There is plenty of staff, just raise your hand and they are there to help you, and always there to refill your beers and drinks
The Bathroom: The bathrooms here are nice, big, and clean, there is no tissue, but there is a dispenser machine on the wall you can buy tissue for 2 baht
Extras: When you first arrive and walk upstairs there is also video games, 2 basketball machines, live band, karaoke rooms, billiards, this place is packed with things to do