11 dishes on Sukhumvit Soi 38 you need to eat before they're gone
It's the end of an era. One of Bangkok's most iconic street food destinations, Sukhumvit Soi 38, looks set to make way for a new property development. 
The owners of the land plot on which the vendors are staying have given them until next February to leave the premises, but the end might actually be far nearer if BMA officals have their way. 
Now, it's time to bid these cheap eats a fond farewell.

---

1. Congee
Looking down Soi 38 from BTS Thonglor, the bright-lit sign for Joke Moo (Jao Gao Thonglor) may be the first thing you spot. Run by second-generation owners, this spot specializes in delicious, silky pork congee starting at a humble B35. We recommend you add B5 for a soft-boiled egg.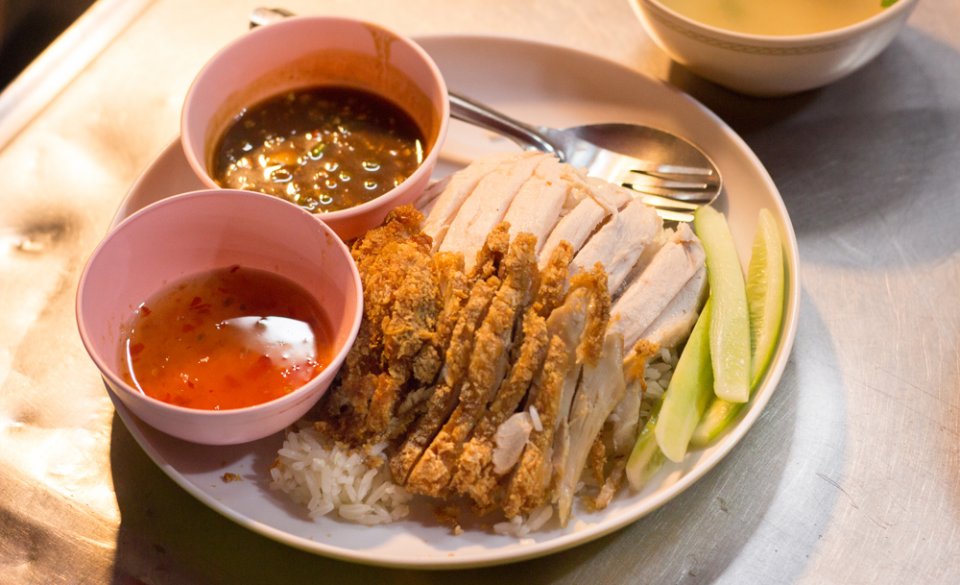 2. Khao Man Gai
Khao Mun Gai Champ Lok is the first khao man gai (Hainanese chicken rice) shop you'll find on the left side of the soi. The options are simple: rice with boiled or fried chicken (both B50) or both (B60). Aside from chicken, you can also order a nice roasted pork in gravy (B50). Compared to other khao man gai stalls around town, we love that they don't skimp on the chicken.

3. Crab Noodles
The ba-mee (egg noodles) stall at the very end of the street food zone has been up and running for more than 30 years (this is their third spot, though). The shop's highlight is undoubtedly the house-made noodles (B50), which they serve with roasted pork and crab. The wontons, too, are not to be missed.
4. Beef Noodles
This is another long-standing establishment. Pa Laem's beef noodles (starting B50) are also not to be missed. The tender bite-size chunks of braised beef are full of flavor while the soup is also balanced, flavorful and aromatic.
5. Guay Jub
The guay jub (wide noodles soup) stall on the right before you reach popular food truck Daniel Thaiger serves a super-satisfying soup (B50) ideal for after a tiring day. The wide noodles are well-cooked and thus retain their shape in the clear and mildly-flavored soup, while the crispy pork is to-die-for.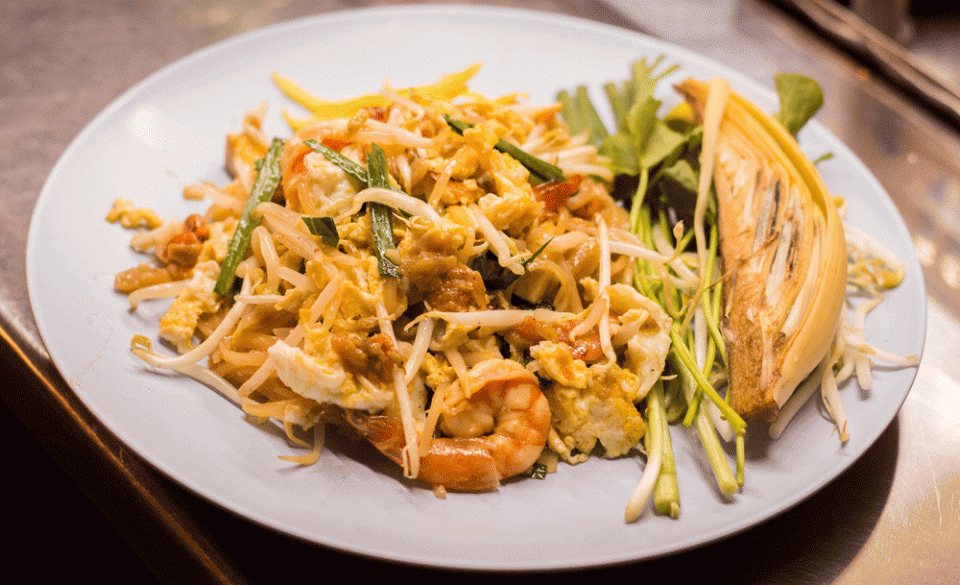 6. Pad Thai
Just a few steps from the corner of the soi, there's a little courtyard in front of Sutti Mansion on your right which is also home to a few stalls. Here, you'll find the long-standing Pad Thai Fai Look (translated to Pad Thai on Fire) stall which claims to have won the Sood Yod Jan Aroi cooking contest a few years ago. The pad Thai (B50) is made with good al dente noodles, which are a bit rounder than the ordinary flat sen jan. Have it with shrimp.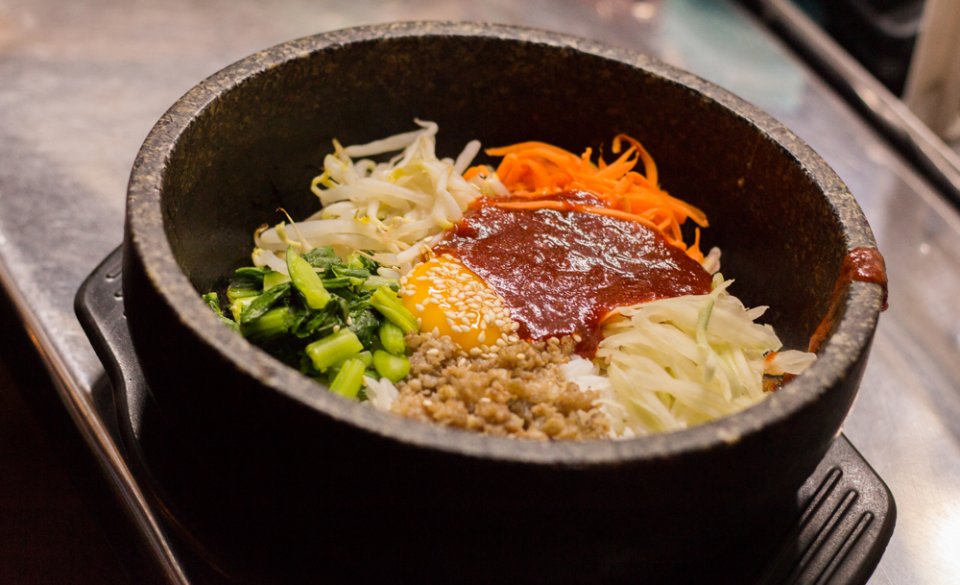 7. Bibimbap
Korean food may sound a bit out of place in this neighborhood, but you'd be foolish to overlook this unnamed stall in the same courtyard, which is run by a living, breathing Korean no less. It really is one of only a few places in Bangkok where you can get a good, sizeable bibimbap (Korean mixed rice) on a hot stone bowl for less than B100. Bibimbap and other staples like kimchi soup and kimbap all come in at B90.
8. Mango and Sticky Rice
You don't have to cross the road for Sukhumvit Soi 55's much-hyped Mae Waree, this soi has a pretty mean mango and sticky rice too. Also situated in front of Sutti Mansion, this shop's sets start at a humble B60. The sticky rice here is well-cooked, not too dry or to oily and goes well with the fresh mango and aromatic creamy coconut milk.
9. Icy sweets
After a big meal, we're big fans of tucking into some sweet treats from Mook Tao Tueng. Apart from its recommended tao tueng (mixed grains and jelly in longan syrup, B25) they also have warm bua loy khai wan (dumplings in coconut milk with egg, B30).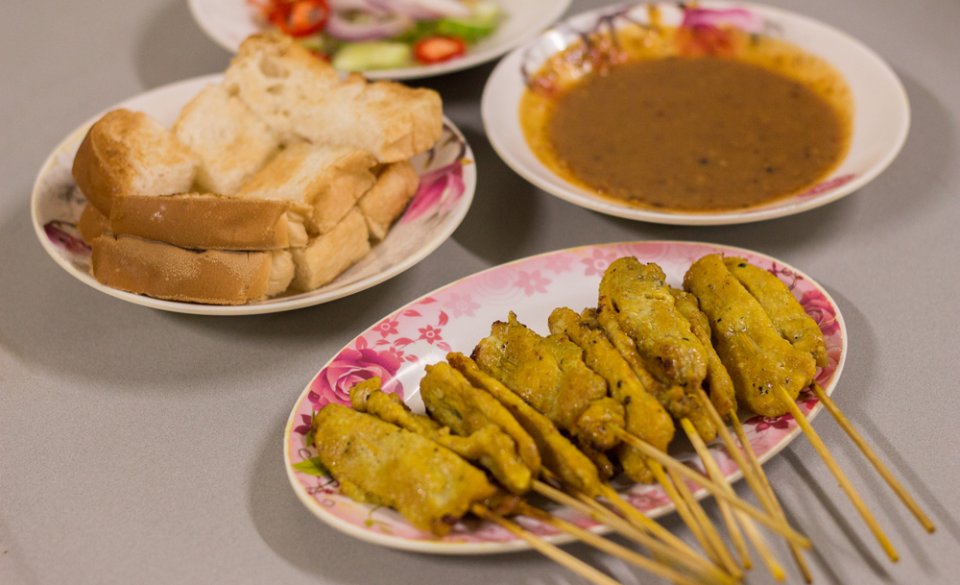 10. Pork Satay
With its heady aroma, it's no easy task walking past Nong Pon pork satay shop on the right hand side of the soi. At B5/skewer, the pork alone is a tasty treat; even better when paired with the crispy toasted bread (B5/slice), peanut sauce and sharp arjard (shallots, cucumber, chili pepper in vinegar syrup).
11. Khao Soi
Not far from the pork satay stall, you'll find an
unnamed
khao soi (Northern-style noodles in chicken curry soup) spot. Here, you're guaranteed a well-balanced soup accompanied by plenty of noodles, a juicy chicken thigh and crisp, deep-fried noodles. We dig the generous portions which are served satisfyingly hot.
- See more at: http://bk.asia-city.com/restaurants/news/dishes-sukhumvit-38-street-food-bangkok#sthash.NmBMhCcK.dpuf