Old Amulet Markets /  Phra Chan market
While moseying from the Grand Palace to the National Museum, many travellers are inadvertently swept into a maze of food stalls and Buddha statues. In fact, they've stumbled upon the bustling Talaad Phra Chan, a century-old market where thousands of Thai Buddhist amulets share space with Thai sweets, fiery woks and no-frills riverside dining.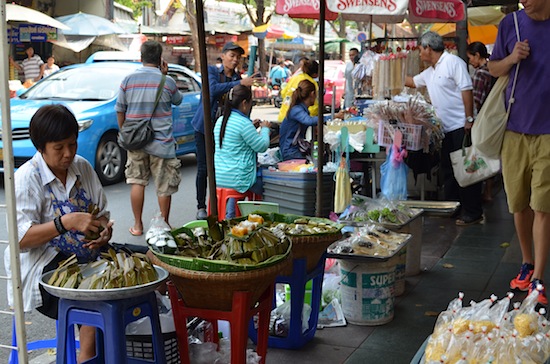 Another colourful day along Maha Rat Road.
Like many markets in Thailand, an exterior of heritage shophouses and brightly coloured umbrellas conceals Phra Chan's true size and scope. The only part of the market that most travellers ever see is the line of amulet dealers who set up on the footpath of Maha Rat road, or the disheveled arrangement of street food carts that greet arrivals to Phra Chan express boat pier. Venture into the market's belly, however, and Phra Chan reveals its secrets.
Beginning just inland from the pier, a host of street vendors sell the usual fresh-squeezed orange juice, green mango with spicy dipping sauce, grilled pork balls and northeastern Thai sausages. Wander into the heart of this heady melange and you'll find a tiny, narrow alleyway extending to the south. It doesn't look like much at first, but a few steps brings you to a string of local-style eateries serving inexpensive Thai staples like krapao (pork or chicken with holy basil, chilli and garlic), stir-fried morning glory and spicy fried catfish salad on cosy roofed terraces with open-air river views.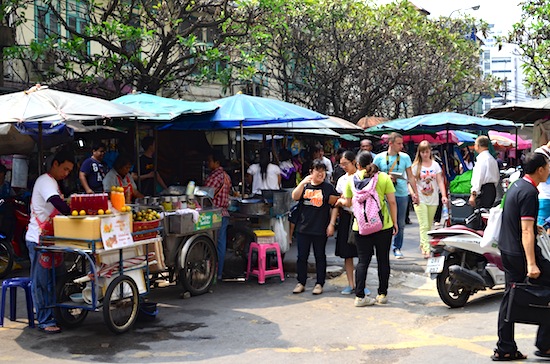 The market's "entrance" near Phra Chan pier.
All of a sudden, this not-so-charming alley converges into what used to be a regular, open-air street buttressed on either side by picturesque two-storey shophouses with pale green shutters. The street has since been covered over by a plexiglass awning that keeps the rain out but allows amber-tinted light to filter in. When we last stopped by, a few cats slept on the worn tile floor, old women sold trays of curry and bowls of noodles, and men in black slacks and collared shirts scoped amulets through magnifying glasses.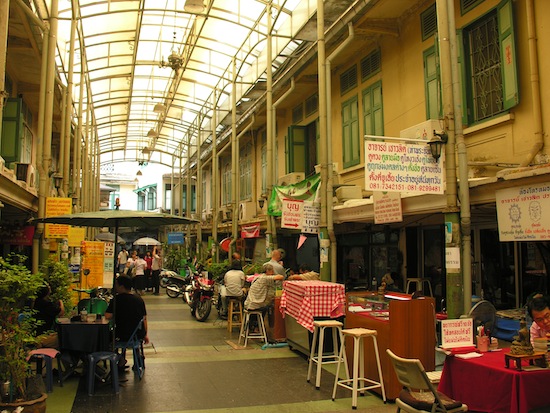 We weren't expecting this part.
Continue down the dingy riverside alley and you'll find the best of Bangkok's famous Buddhist amulet market. Stall after stall are absolutely stuffed with statues of Buddha, various bodhisattvas and Hindu deities, life-like wax figurines of supposedly enlightened Thai monks and thousands of sacred Buddhist amulets accompanied by antique swords or "magic" talismans complete with tiger teeth.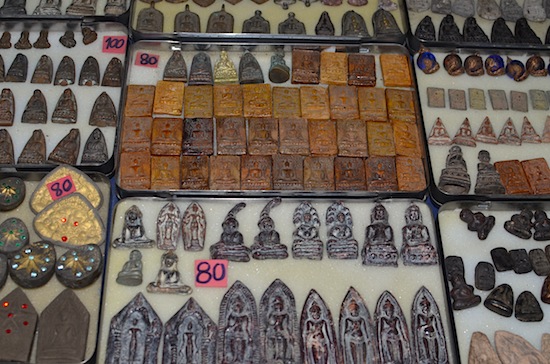 Treat your amulet well — or it might put a curse on you.
Known as krueang rang in Thai, amulets of Buddha or famous monks are collected in Thailand with a similar (though more widespread) fervour as sports memorabilia in America. Dozens of Thai amulet magazines tell fantastical stories of believers who can ward off evil spirits, levitate or become impervious to bullets thanks to the amulets' mystical powers. Monks, it is believed, bestow these powers by harnessing and transferring metaphysical forces through their spiritual prowess. At least, that's the idealised version. Most Thais are happy to accept that an amulet might bring good luck simply because it was blessed by a monk.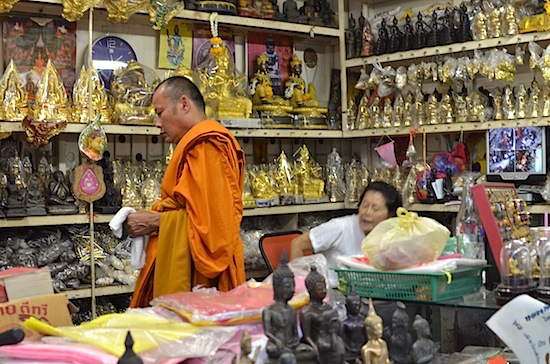 Many of the shoppers are monks.
Most Thai people wear an amulet (or five) around their neck, and they're often hung from the rear-view mirror of cars in a superstitious bid for protection on the kingdom's notoriously treacherous roads. Pricier amulets can be centuries old. Those believed to wield the most potent cosmic powers were molded from, for example, bits of earth from the Buddha's enlightenment site in India, hairs of former Thai kings or robes worn by famous Thai monks.
Like the most sought after stamps or coins, a rare and sacred amulet can fetch many millions of baht. On the other hand, most of the amulets at Phra Chan market were mass-produced in factories and are sold for under 100 baht a piece, making this a good place to pick up an authentically Thai souvenir.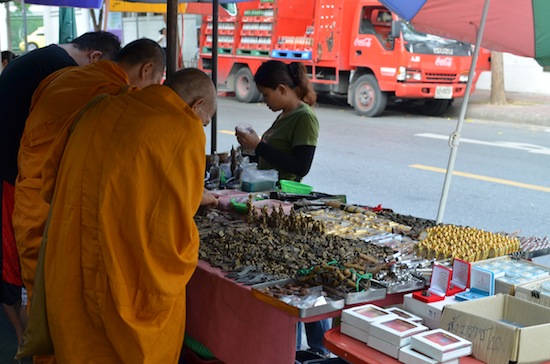 … And more monks.
When you reach the southern side of Phra Chan's dizzying amulet section, another long and dark corridor filled with noodle stands and spirit house repair shops emerges back onto Maha Rat Road, which flanks the western wall of Wat Mahathat. Monks peruse the streetside amulet stands that mix with Thai sweets wrapped in banana leaves, more fresh fruit and the typical sort of Chinese-made trinkets that don't quite demand the same reverence as the amulets.
Phra Chan Market occupies everything between the Chao Phraya River and Wat Mahathat, from Phra Chan pier to the north and almost to the Grand Palce in the south. It's open from early morning until around 17:00.