Sereechai Puttes/Time Out Bangkok
If you are in Bangkok this week, there is one thing you shouldn't miss and that is the city's first ever Bangkok Design Week. From 27 Jan-4 Feb, you can enjoy artworks, installations, showcases and more activities from designers and creative people around Bangkok. There are many things you might like, but one of the highlights is The Wall, the light installations by Lighting Designers Thailand. Ten installations are displayed from 18.00-22.00 in Talad Noi community waiting to be explored. There are lots of people there, but it's totally worth it.
Sereechai Puttes/Time Out Bangkok
Sereechai Puttes/Time Out Bangkok
Sereechai Puttes/Time Out Bangkok
Sereechai Puttes/Time Out Bangkok
Sereechai Puttes/Time Out Bangkok
Sereechai Puttes/Time Out Bangkok
Sereechai Puttes/Time Out Bangkok
Sereechai Puttes/Time Out Bangkok
Sereechai Puttes/Time Out Bangkok
Sereechai Puttes/Time Out Bangkok
If Talad Noi was home to one grandiose attraction, it would certainly be the Sieng Kong Zone. Otherwise known as Sarn Chao Sieng Kong, this area is home to the largest used car parts market in the capital. The alleyways that make up the area consist of small shops cluttered with the used parts, oftentimes piling up and spilling out into the street. Many of mechanics reside in the area and are normally found hunched over an aged automobile or fixing a colorful Vespa.
This cute alleyway is simply oozing with character. A number of small street art instalments decorate its concrete lined sidewalk, with everything from a colourful cat to a woman riding her bicycle enhancing the urban, grey scenery. Meander past the instalments and find the Hon Wong Kung shrine and a stunning view of the Chao Phraya River, just outside its doors. Worn murals make up its exterior and reflect its age. The shrine is the home to an annual ceremony held on the birthday of Cai Shen, the God of wealth and fortune, on the 12th day of the ninth Chinese lunar month.  
Found down this alleyway is the Sol Heng Tai Mansion. The mansion's exterior is entirely inconspicuous of its actual purpose. The Chinese-style mansion, though some would speculate it to be a temple at first glance, is actually a dive centre. The two-story structure is over 200 years old and used to house a Chinese shrine. Today, it is a historical relic that doubles as a dive school. It is the oldest Chinese courtyard mansion in the country, and the outside of the residence is bright red and enhanced with porcelain ornaments.
67/4 Soi Charoen Krung 14, Yaowarat Road, Samphanthawong, Khet Samphanthawong, Bangkok, 10100, Khwaeng Samphanthawong, Khet Samphanthawong, Krung Thep Maha Nakhon 10100, +66 02 639 6262
Otherwise known as Chua Khanh Van, the U Phai Rat Bamrung temple was one of the first Vietnamese temples in Thailand. It was built by immigrants during the Chakri Dynasty in the late 18th century. The property was given to the Vietnamese community by King Rama I so that they could settle down in the area.
Though a majority of the residents of Talad Noi are Thai or Chinese, there used to be a large Roman Catholic Portuguese community residing here shortly after the ancient of Ayutthaya city fell to the Burmese. The community built the Kalawar Church, also known as the Holy Rosary Church. The original church, which was built in 1787, burnt down but was reconstructed in 1897. It is one of the oldest Catholic churches in the country.
Soi Wanit 2, Khwaeng Talat Noi, Khet Samphanthawong, Krung Thep Maha Nakhon 10100
Siam Commercial Bank was the first ever bank in Thailand, and it was built in 1906. The structure is certainly stunning and unusual to the type of architecture visitors to the country are accustomed to seeing. It was built by Annibale Rigotti, an architect hailing from Italy, which could explain why the style is so different.
1280, Yo Tha Road, Talad Noi District Samphanthawong Province Bangkok, 10100, Khwaeng Talat Noi, Khet Samphanthawong, Krung Thep Maha Nakhon 10100
Dubbed as one of the most luxurious shopping centres in the capital, River City Shopping Complex is certainly a change in scenery from the other sites in Talad Noi. The shopping centre is filled with Thai-style arts and antiques which are sold at a monthly auction which unveils all its unique pieces. There are also a number of cafes and restaurants found inside the complex. The River City Shopping Complex is open from 10 a.m. to 10 p.m.
23 Trok Rongnamkaeng, Yotha Road, Talad-Noi Sampantawong, Bangkok, Thailand, +66 02 237 0077
Equipped with great views and some even better prices is River Vibe Restaurant and Bar. Visitors to Bangkok have become accustomed to shelling out one too many baht to enjoy the high up views the sky bars and restaurants in the capital provide diners with, but this is not the case at this eight-story high restaurant. River Vibe Restaurant and Bar is the perfect place to cap off a day spent exploring the riverside community of Talad Noi. The restaurant is charming and has a laid-back vibe, so do not worry about abiding by a dress code. The menu has a good combination of both Thai and international dishes, and it is home to arguably the best pomelo salad in town. The restaurant also doubles as a guesthouse.
On the way, look out for some of the many historical and religious buildings such as: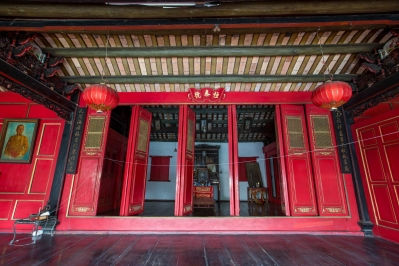 Sol Heng Tai Mansion – a glorious mansion built some 200 years ago by Chinese migrants which now doubles up as a kennel and diving center.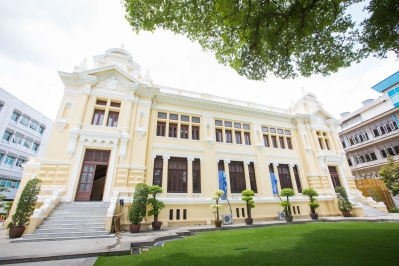 Siam Commercial Bank Building – a mansion designed by the same Italian architect who made Hua Lamphong Station and Ananda Samakhom Throne Hall. Wander in to marvel at the colonial interior designs, or just make a cash withdrawal.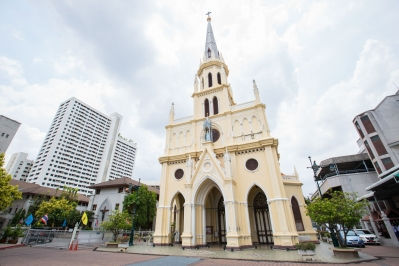 Kalawar Church – step inside this European-style church in the grounds of Kularb Wittaya School, and you may feel as though you've been transported from Bangkok to Rome. Okay, it's no Sistine Chapel, but as churches go in Thailand it's definitely worth a look along your way through Talad Noi.
It's not just the old buildings to look out for. The Sieng Kong Zone is where you'll find piles of spare automotive parts spilling out of the rows of wooden houses along the street. Make sure your cameras are on hand as this is Instagram gold. Along the way, there is plenty of street art lining the crumbling walls of Talad Noi. Most of this is contemporary graffiti style, adding a striking contrasting dimension between old and new throughout the community.
In terms of retail options, this part of town is no Siam, and therefore you won't find any huge megamalls. If you are in the mood for shopping though, there are:
River City Shopping Complex - a modern mall on the banks of the Chao Phraya River offering a range of arts, antiques and dining experiences.
Klongsan Plaza – find the pier just behind the Royal Orchid Sheraton and jump on the ferry across the river to find this compact little market selling mostly cheap woman's fashion and a good range of street food.
Each decaying old shop house here takes on a whole different character of its own, some of which now double up as tiny restaurants, art galleries and cafes—a perfect opportunity to turn your sightseeing tour into a foodie tour at the same time. Most of the eateries here open up shop around lunch time, with a nice mix of classic Thai dishes found alongside some quick street food bites, which are often grilled on makeshift barbecues. 
After a day spent on foot and sweating it out underneath the blazing sun, you've earnt the right dine somewhere with a little more sophistication. At the end of Soi Wanit 2 and right by the water sits the Royal Orchid Sheraton Hotel & Towers, a favorite riverside hotel in Bangkok. All-day dining options here include Feast(for international cuisine with a view), while Thara Thong (traditional Thai) and Riverside Grill (tapas and grill) are two top choices for some fine dining in Bangkok after sunset.
Sarn Chao Sieng Kong (Sieng Kong Zone)
Piles upon piles of seemingly useless junk lines the roads in Sarn Chao Sieng Kong, otherwise known as the Sieng Kong Zone, found in Talad Noi. This stretch of road is home to an abundance of old car parts; indeed, it's the largest area in the city known for selling these used relics.
Wat Pathumkongka
Wat Pathumkongka temple sits just adjacent to Sarn Chao Sieng Kong. Gold-colored Buddhas adorn its rectangular exterior, and a number of glistening white stupas occupies its grounds. The two main structures are tall and glistening in Bangkok's sun, with striking and colorful rooftops.
Stroll down Trok San Chao Rong Kueak
The most street art one sees in Bangkok is a hodgepodge of graffiti, and Talad Noi has an entire quaint alleyway spotted with this artwork. Pass under the archway that says Trok San Chao Rong Kueak, and explorers will stumble upon some Chinese street art. From a black bicycle to an umbrella, visitors will definitely want to pause their explorations for a photograph or two.
It is down this alleyway that visitors will also come across Hon Wong Kung Shrine. It sits right along the river's edge, and during the day, it seems abandoned. It is bright red in color, with gold Chinese writing and faded murals making up its exterior.
Eats, treats, and more
The alleyways and sois (streets) in Talad Noi exude Chinese charm. Visitors will find several Chinese confectionery shops, which are brimming with seemingly strange yet delicious treats. Many Chinese people believe that sweetness equals happiness, thus the number of traditional Chinese bakeries found in this area.
Siam Commercial Bank
The
Siam Commercial Bank
sits just adjacent to the street filled with Chinese eats and street vendors. It is one of the oldest banks in
Thailand
and opened in the early 1900s. Set on emerald green grounds and sitting next to the river, this bank is certainly one of the most picturesque in the city.
Kalawar Church
There once was a large Roman Catholic Portuguese community living in Talad Noi after the city of Ayutthaya fell. They built a church here after King Rama I gave them land during the Rattanakosin period. The church, called the Kalawario at the time, was completed in 1787. The Portuguese slowly began to move out of this area, however, and it became mostly used by the Chinese community who resided here.
The Kalawar Church today, however, is not the same one built in 1787—the old one burnt down. A new one was constructed in 1897 during the King Rama V era and is still here today. It is made up of gothic architecture and decorated with colorful, stained-glass windows. The church on the map is listed as the Holy Rosary Church.
River Vibe Restaurant and Bar
From the far-off Wat Arun to the Kalawar Church, River Vibe Restaurant and Bar in Talad Noi has some pretty incredible views of the capital. This restaurant is one of the best places in the area to stop for a bite to eat or a riverside cocktail. The décor is homely at best, but the restaurant makes up for its lack of luxury dining with its charm and delicious food. The lunch and dinner menu is chock full of Thai and European dishes for relatively reasonable prices. The pomelo salad with shrimp and this incredible view will only cost customers ฿150 (US$4.35).
After exploring this area on foot and in Bangkok's unforgiving heat, one of the best ways to end a day in Talad Noi is by stopping by River City Bangkok. This shopping arena features classic and good quality
Thai souvenirs
, unlike what visitors will find at many of the markets in town. It is indoors and chilly, with air conditioning cooling explorers off after a long day in the sun. Those who still want to check out Talad Noi but refuse to do so on foot should look into the Co Van Kessel Bangkok Tours in this area. The employees are all super friendly and well informed about the area.